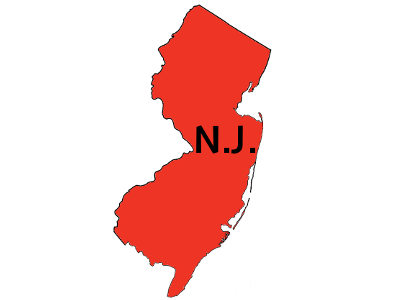 If a referendum to allow up to two casinos in North Jersey is approved by voters, it could mean a number of dominoes will fall. Among those consequences could be action from New Jersey's neighbor, New York.
While the ramifications for Atlantic City have been a topic of debate in the state in recent weeks and months, a new dynamic surfaced this week. New York officials have said they may react if NJ goes ahead with adding casinos outside of AC.
New York allowed four commercial casino licenses in a 2013 ballot measure; three of those facilities are under construction. But as a part of that deal, the state imposed a seven-year ban on allowing new casino licenses in or around New York City. That was done with the hope of limiting competition for the new, upstate casinos while they found their footing.
But this week, lawmakers indicated they may reverse course on that self-imposed NYC ban. If voters in New Jersey approve the new land-based gaming establishments, then New York may decide to allow casinos near the city.
"I'm not interested in creating a border war with New Jersey, but New York has a vested interest in gaming and we're not going to allow one of our neighbors to take away from that," Assemblymember Gary Pretlow said to Tom Precious in a report at Bloodhorse.com. Pretlow chairs the gaming committee in that chamber.
In essence, if NJ allows casinos near NYC, that defeats the purpose of New York's own ban on downstate casinos. Not allowing NYC casinos would simply be creating less competition for the new New Jersey casinos, if the ban were to be left in place.
The New York legislature adjourns this week, however, so it's not clear whether it will act on this issue until after the elections. (The possibility that the state legalizes online poker has a chance to pass this week, as well; of course, there's already regulated online gambling in NJ)
In the meantime, there is plenty of intrigue surrounding the NJ ballot measure. A recent poll indicated that voters are split roughly 50-50 on whether they will vote for or against the casino provision.
And if it does pass, there are varying opinions on how it might affect Atlantic City. The referendum was designed to create an infusion of cash from the new casinos in a subsidy for the troubled coastal town. But many—including some of the casinos themselves—believe the North Jersey casinos would have an adverse effect on AC and create the closure of more casinos.
Fitch Ratings was among those concurring on that concept. From a press release:
Expansion of gaming outside Atlantic City could lead to as many as four additional casino closures, though expansion efforts face an uphill battle, according to Fitch Ratings. Properties most susceptible to cannibalization include Trump Taj Mahal, Resorts Casino and Golden Nugget.
Atlantic City's government, of course, is also trying to stay out of the control of the state government. A five-month plan signed by Gov. Chris Christie gave the city a short window to try to figure out how to pay its own bills after some loans to the state.
The developments in New York are just one more added wrinkle as New Jersey tries to find a way to keep its gaming industry afloat in the short and long term.