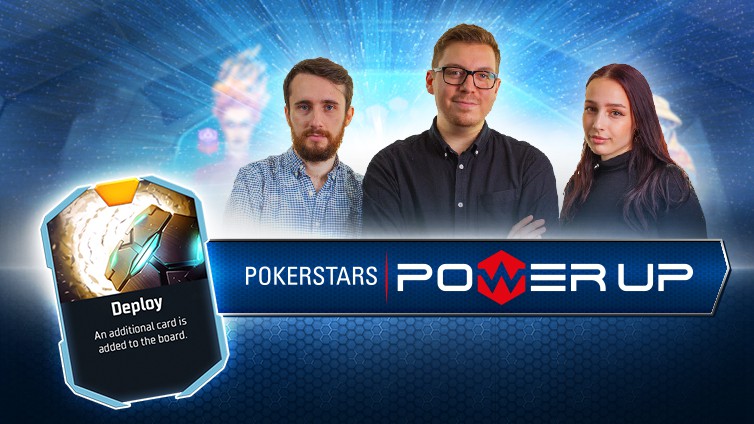 PokerStars, the world's leading online poker site, has joined forces with Twitch streamers OP-Poker as the official ambassadors and community hosts for Power Up—the operator's innovative game that blends online poker with game design elements more common in esports titles like Hearthstone.
In conjunction with this announcement, PokerStars has also released a new Power Up power "Deploy" that allows players to add an additional card to the board. The new card went live as soon as the announcement was made.
"OP-Poker have been instrumental in helping us to build a vibrant Power Up community and fan base; by dedicating hours of time, introducing players to the fun poker variant, discussing strategy, game play and sharing their knowledge and insight with fans," said PokerStars' Chris Straghalis, Director of Poker Product, to pokerfuse.
"This is a thoroughly engaged community who love the game," he added.
Why Play on PokerStars?

Sign Up Today »
Largest player base in the world.
Home of Spin & Go, Power Up and lots of other unique game variants.
Biggest weekly tournament schedule around.
OP-Poker is a team of Twitch streamers and poker content creators based in Brighton, UK. They launched their website in October last year soon after Power Up went live for real money.
"We are very excited to announce that the OP-Poker team are now Ambassadors for PokerStars' Power Up," said OP-Poker to pokerfuse.
"First and foremost we aim to serve our community of players, making sure their voices are heard as the game of Power Up continues to grow and evolve. We are always on the hunt for new and interesting poker formats, if there's a new game around you can be sure we'll be giving it a try! Look out for many community projects and promotions in the coming months!"
OP-Poker currently has a roster of two active poker streamers—Nicholas "Lost_Gambit" Walsh and James "jlhmac" Mackenzie—and a content manager Eva Reberc.
Nicholas Walsh, 29, born in the US and raised in the UK, is a poker player and a web developer. He has over eight years of both live and online poker experience and has been playing poker professionally since 2015. Walsh started streaming PokerStars' Power Up on Twitch in November last year and since then he has been streaming Power Up and other variants of PokerStars regularly.
He recently completed his Power Up Bankroll challenge where the goal was to finish with $1000 from a $30 starting bankroll by playing Power Up games only. He completed the challenge in April with an ROI of 14%.
Englishman James Mackenzie, 29 is a coach and a strategy expert, who has been playing poker professionally for eight years. He started his poker career by playing heads-up cash games at mid and high stakes and then transitioned into Spin & Go's and hyper Sit & Go's.
Mackenzie started streaming Power Up and other variants in June and is also working towards his own Power Up Bankroll challenge. He also produces Power Up strategy content on Youtube.
Eva Reberc, born and raised in Slovenia is in charge of creative content and community management at OP-Poker website. Reberc overlooks the company's social media platforms and creates video content. She is a gamer and also plays poker occasionally for fun.
Since its launch 12 months ago, Power Up has gained a loyal following, PokerStars said to pokerfuse in a statement. OP-Poker through their dedication has helped grow this niche game and engage with the community. It comes as no surprise that PokerStars has appointed the trio to become the game's official ambassadors and community hosts.
OP-Poker was originally created as a resource for PokerStars Power Up. They are the only active community which is dedicated to PokerStars' Power Up. They regularly upload Power Up strategy videos on their youtube channel. The community has now also grown to cover new and innovative poker formats including PokerStars' new novelty cash game variants – such as Showtime and Unfold Hold'em.
The duo of Power Up streamers streams on their twitch channel every day of the week except for Sunday.
New Power Up Card "Deploy"
OP-Poker also announced the release of a new power card called Deploy. This is the tenth power of Power Up and the first addition since the game got launched. The new power changes the dynamics of the game as players can now add additional cards to the board with up to a maximum of two additional cards.
It costs just 3 points and for sure will have the Power Up players rethink their strategy.
Power Up Promotion
To celebrate their official partnership with PokerStars, OP-Poker is currently running a "Snipe our Streamers" promotion on Twitch. In this promotion, players will be given away $15 Power Up ticket if they complete an easy task.
During each stream of OP-Poker this week, OP-Poker will announce select Power Up games as "snipe games". When a snipe game is announced, viewers who successfully register and are on the same table with either of two OP-Poker streamers, they will be eligible for a $15 Power Up ticket.
Players will then have to take a screenshot with their username visible and will have to share their screenshot to OP-Poker's dedicated Discord channel. Once approved, they will be credited a $15 Power Up ticket within 72 hours. However, a player can win a maximum of one ticket during the promotion period.
PokerStars' Power Up was first revealed in February 2017 and was available for play to select play money players in the United States. A few months later, PokerStars launched it across certain international dot-com markets for play money alpha-testing. After further tweaks, PokerStars launched Power Up for real money in October across major global clients. However, since then not much progress has been made. It did expand the buy-in levels and made some changes to the game structure, but the company chose not to promote Power Up at a large scale.
Now that PokerStars has announced its official ambassadors, we can certainly expect to see further promotions and new features on this hybrid game of Power Up.