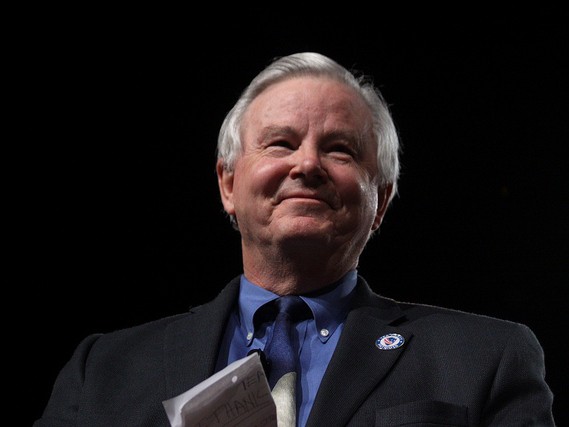 Republican Congressman Joe Barton introduced his eagerly-awaited bill that would regulate online poker, Friday.
H.R. 2366, the "Internet Gambling Prohibition, Poker Consumer Protection, and Strengthening UIGEA Act of 2011", made available on scribd, would make internet poker legal on a federal level, and has consumer protection provisions regarding cheating and problem gambling. The bill has bipartisan support with nine Democrat and four Republican co-sponsors.
The bill proposes an opt-out rather than an opt-in system, requiring specific action on the part of the state to remove themselves from being included in the regulation. It would allow for intrastate online poker if a state were to pass legislation prior to the federal bill becoming law.
The bill focuses on consumer protection, calling for strict penalties for collusion and use of bots with offenders facing up to three years in prison. The bill does not specifically outlaw the use of HUDs or tracking software, and does not address other common clauses in the T&Cs of poker rooms such as ghosting and multi-accounting.
Additionally, the bill would require licensed operators to:
Have effective means to prevent minors from playing poker on-line,
Identify and help treat problem gamblers,
Allow players to self-exclude and limit losses, and
Prevent money-laundering.
The use of credit cards for depositing on online poker sites is specifically prohibited, but it is likely debit cards will be permitted.
"Protecting American Freedom"
In a press release Friday, player advocacy and lobbying group the Poker Players Alliance came out in strong support of the bill.
"I thank Congressman Barton for his commitment to protecting Americans' freedom to play poker on the Internet," said Former Senator Alfonse D'Amato, chairman of the PPA. The group worked extensively with Barton in the writing of the bill, and Barton originally announced his intention at a PPA rally.
It is unclear whether the bill permits non-US players to play. The player pool has not been explicitly defined and the language is ambiguous: there is explicit prohibition on "accepting bets" from players outside the US; however it leaves open the possibility of a poker network with different poker rooms for US and non-US players, sharing a common player pool.
Only large established gaming companies will be allowed to apply for licenses for the first two years. It is highly unlikely that companies indicted in Black Friday – PokerStars, Full Tilt and Absolute Poker/UltimateBet – to obtain licenses.
It is also unlikely that they would be able to license their software. According to PPA Florida state director Martin Shapiro, the provider "would need to get a Certificate of Suitability issued by the same State Agency that issues the license to the site." The certificate requirements include background checks for criminal convictions, experience and honesty.
"A Game of Skill"
As with all bills, the journey toward the president's desk is riddled with stumbling blocks, where it could be vetoed or out-voted as it passes through committee, House and Senate. The regulation of online poker is often referred to as a "toxic issue" economically and legally, with staunch and stubborn opposition.
But perhaps the tide is turning. Two of online poker's most vocal opponents, Congressman Spencer Bachus (R-AL) and Senator Jon Kyle (R-AZ), have both shown a softening on their stance.
According to a January article in the Washington Times, a high ranking GOP staff member said that keeping online gambling illegal "is a huge priority" for Bachus, the current chairman of the House Financial Services Committee. However, since Barton announced his planned legislation, Bachus told the Las Vegas Sun that he was "not opposed" to considering Barton's proposal, "but if there is gambling, it has to be regulated."
A recent update on Jon Kyle's website says he would "consider carefully" bills introduced to "carve out an exception for games like poker which many believe is a game of skill" as long as bills leave in place "the broader proscriptions against online betting."
And Barton's bill seems a good fit. The debate over whether poker is predominately a game of skill or chance – which has been used by courts in the past to keep poker outside of the law – would be finally settled with the passage of this bill. The wording of the bill is specific in defining poker as skill game:
Poker is distinct from the class of games of chance traditionally defined as gambling in that, players compete against each other, and not the person or entity hosting the game (sometimes called "the house"), and that over any significant interval, the outcome of a poker game is predominantly determined by the skill of the participants.
The bill also strengthens the UIGEA, with all online gambling strictly prohibited barring the exceptions of poker, horse betting, lotteries and skill games. Also included is the provision of a blacklist – maintained by the US department of Treasury – that would identify illegal online gambling sites. This would alleviate the onus placed upon the banks to police bank transactions for those that violate UIGEA.
In an interview Barton gave with the Associated Press, he said "We're going to try to get a bill on the president's desk in this Congress." The current session of congress is scheduled to end in December.
The bill will likely have many iterations on the way to becoming law. Amendments are common and can change the complexion of the bill as it progresses through Congress.