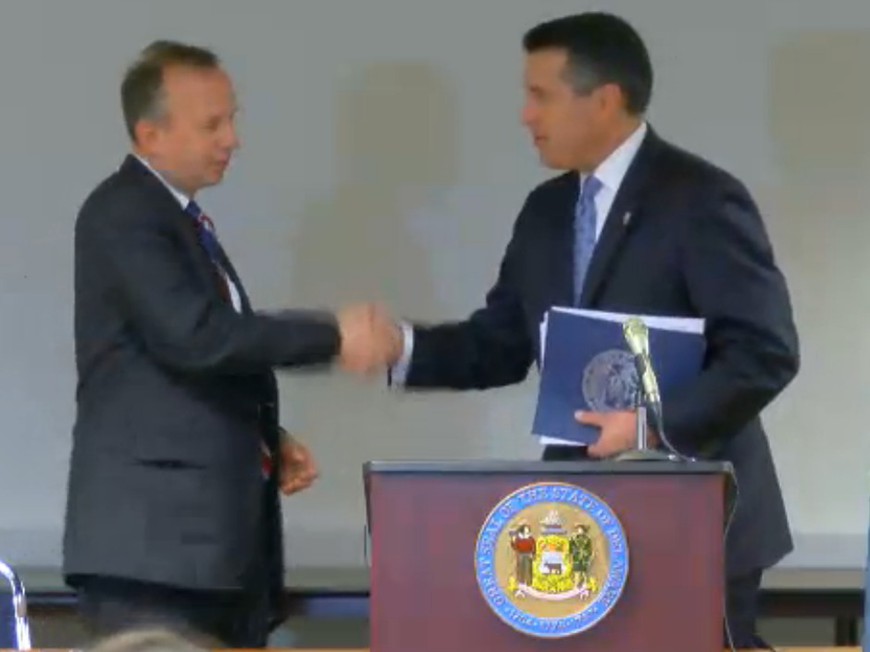 Governor Brian Sandoval of Nevada and Governor Jack Markell of Delaware signed a historic agreement on Tuesday that allows for the sharing of player liquidity between internet gambling operators in both states.
The agreement "authorizes internet poker operators in Delaware and Nevada to open up their games to players in both states," according to Markell.
The agreement makes the online poker offering in both states "more diverse, more competitive and more enjoyable," he added.
Players in Nevada and Delaware will still be required to physically be present within state borders in order to play. Players will log into one of the current internet gaming providers that serves their state as they do now. However, this new agreement will allow operators to pool their player liquidity, essentially allowing players in Delaware to play against players in Nevada.
Each state will receive tax on the rake and fees attributed to the players within their state and the laws and regulations of each state will still apply to the players within their state.
The agreement is designed to allow other states to join and establishes a minimum regulatory standard to be met by all participating states.
Currently the only other state that has regulated internet gaming is New Jersey. Sandoval has had conversations with New Jersey in regards to joining the compact. "We would love to have New Jersey as a partner," Sandoval expressed. "We hope additional states do participate. We all benefit if more states participate," Markell added.
Established as part of the agreement is the Multistate Internet Gaming Association, a Delaware Limited Liability Company that is authorized to adopt rules and procedures to add new games. Members of the board of the new company will vote on the addition of new states that meet certain requirements and are looking to join.
No specific date has been set for when players will actually be able to compete with players outside the state in which they are located. Working with technology providers is the next step. Decisions on how the terms of the agreement will be implemented can proceed now that the legal hurdles have been cleared. "It's in everybody's interest to push as quickly as we can," Markell remarked.
888poker is the poker software provider for the three casinos licensed in Delaware to provide internet gaming; however, 888 is not one of the three online poker operators currently offering online poker to players in Nevada, though WSOP.com does use software provided by 888.
In a statement to pokerfuse, Seth Palansky, Vice President of Corporate Communications for Caesars Interactive Entertainment said: "We are very pleased with agreement between Delaware and Nevada. It's another case of forward thinking and an endorsement of the importance of pooled liquidity especially for lesser populated States. As Nevada set the blueprint for regulation, they now are setting the blueprint for inter-state collaboration."