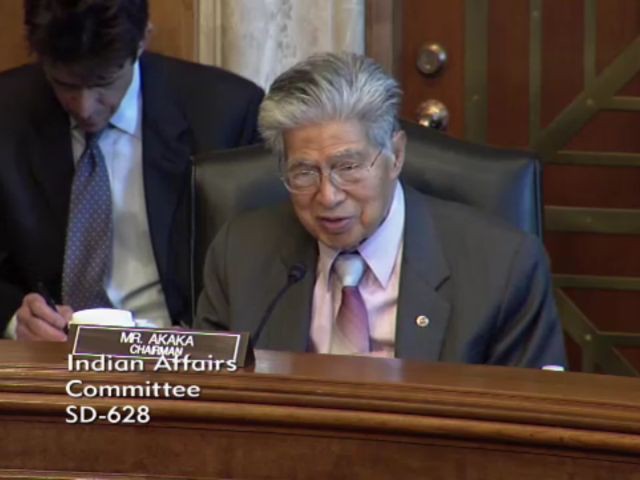 The US Senate Committee on Indian Affairs held a hearing on Thursday to discuss "What's at Stake for Tribes" as a result of the recent reinterpretation of the Wire Act by the DOJ. Three panels consisting of six witnesses testified before the committee that was chaired by US Senator Daniel Kahikina Akaka.
This was the second hearing on Internet Gaming held by this committee; the first was held in November of last year. However, the discussion this time was quite different. With the DOJ effectively removing any barriers that had existed on the federal level from preventing states from offering online gambling, the tribes expressed great concern over maintaining the integrity of their existing gaming compacts with the states.
The Honorable Robert Odawi Porter, President of the Seneca Nation of Indians from Salamanca NY warned the committee that a "power grab" by the states would grant them "monopolistic control" that would erode the tribes' exclusivity rights and potentially "destabilize if not destroy [their] businesses."
Kevin K. Washburn, the Dean at the School of Law for the University of New Mexico, testified that "Congress needs to act" because online gaming puts tribal gaming interests at risk. He also identified a core group of regulations common to all jurisdictions regulating gaming to make his argument that the federal regulations were a "far more efficient" manner in which to handle Internet gaming in the US.
Professor I. Nelson Rose testified that as the current laws stand, tribes are at a disadvantage when it comes to competing with the states which are free to form compacts between other states and even other countries. But, even though tribes can establish compacts with other tribes, they are still confined to providing gaming to patrons that are physically on reservations. He also stated that if state lotteries, which already offer subscription based tickets online in some states, decide to begin offering instant tickets, those games will virtually be no different from online slot machines.
Patrick Fleming, representing the Poker Players Alliance (PPA), made it very clear that there are distinctions that separate online poker from other forms of online gaming. The most prominent of which were that online poker is a peer to peer game that actually has a positive influence on traffic at B&M casinos while other online gaming played against the house, stands to threaten the tribes' casino interests.
Much of the testimony at the hearing indicated that legislation of online gaming on the federal level would be more advantageous to the tribes than allowing the states to possibly infringe on the existing rights that the tribes are currently afforded.