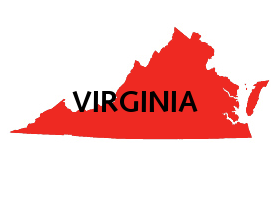 The Virginia Supreme Court has agreed to hear the appeal of a poker-hall operator attempting to prove the skill-game aspects of poker. His 2011 suit was dismissed by a Virginia Circuit Court.
Charles Daniels, of Portsmouth, will be appealing the verdict that shuttered his Poker Palace operation. His case has been bolstered by a recent federal court ruling declaring poker to be a game of skill. Daniels will be assisted by the Poker Players Alliance in his appeal, as he was in his initial trial.
The appeal will focus on two points, that the Virginia gambling law under which Daniels was prosecuted is unconstitutionally vague, and that poker itself is a game of skill, as declared in the recent Eastern District of New York federal case of US v. Dicristina by presiding judge Jack Weinstein.
However, the Dicristina case is not binding on the Virginia matter, and may be subject to an appellate process itself.
Daniels had operated his Poker Palace for several years without legal difficulties, and had raised up to $700,000 for charities, money generated directly from the room's proceeds, before local authorities promised to beef up enforcement against the area's gambling halls in 2010.
A decision in the case is expected in early 2013.