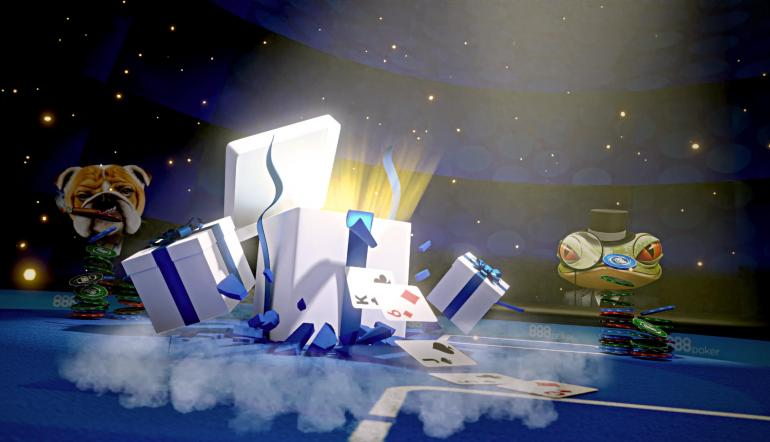 There is a new Sunday game on 888poker starting this week, and there are some big unique prizes on offer to the winner. The operator has announced a new addition to its Sunday schedule—the $10,000 Sunday Made to Amaze tournament—and the first official tournament runs this Sunday at 6 p.m. GMT.
If it was just a $5 buy-in with $10,000 guaranteed, it would still be good value for the low-stakes crowd. But what makes this new regular tournament unique is that it is both rake-free and adds some extra major prizes to the top spot each week.
The new tournament comes during a period of rapid growth for the online poker operator, with increasing revenue, major product investment and a fresh focus on casual players. It follows on from a string of new regular tournaments and promotions put on by the operator this year.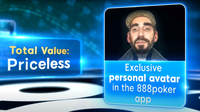 In addition to the big cash prizes guaranteed, the winner of each week's tournament will receive a truly unique prize. Some of the exclusive prizes on offer will include private tournaments with thousands in value, Big Shot Main Event tickets for a year, or a personal avatar in the 888poker app.
Players do not need a special ticket to get into the game. Anyone can buy in for $5, plus there are also some ways to win free tickets to the game as well.
Two Ways to Freeroll
There are two freeroll paths to a $5 ticket on 888poker: twice daily Sunday Made to Amaze Qualifiers, and the daily $1,500 Funky Gift Drops Freeroll. Between the two games, there are 345 tickets given out every day.
There are two Sunday Made to Amaze Qualifier qualifier games on offer each day, with 45 tickets available between the two. The first runs at 5:05 p.m. GMT and has 30 tickets up for grabs, while a second one runs at 1 a.m. GMT with 15 tickets available.
The games are a hyper-turbo format with one minute blind levels. Players start with 100 big blinds, but a start stack is down to 30 bigs within 3 minutes, and 10 bigs within 7. The two Made to Amaze Qualifier qualifier games are open to depositors only. Any player with a valid account who has made a deposit can jump into the games for a free shot at the big Sunday game.
The Funky Gift Drops Freeroll runs once a day with a whopping 300 $5 tickets on offer. Players need to get a bit lucky in advance to get a shot at them, however: they are awarded through gift drops on real money poker games, and only players with a ticket can get into this freeroll. Any real money game on 888poker has a chance for a prize drop that includes a ticket.
Exclusive Top Prizes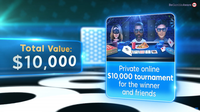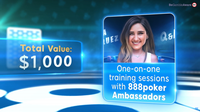 What makes the Made to Amaze tournament stand out are the unique prizes on offer each week to the winner of the tournament.
A similar, unannounced promotion ran in conjunction with the new app launch in November of 2020 and the prizes this time around are very similar to the huge special gifts handed out last time. The prize will be different each week, and will be announced each week via email and within the 888poker app.
The first prize on offer this week is $1,000 for every win the player's favorite team gets in the upcoming UEFA Euro 2020, so football fans will have a keen eye on this week's tournament. The full slate of possible prizes are:
Your year of birth in $1

BLAST

tickets
One year's free entry to the Big Shot Main Event tournament
A private $2,000 weekly tournament for you and friends
$500 for every goal scored by your chosen football player during

UEFA

Euro 2020
A free entry to all events in the next XL Series
Your own personal avatar in the 888poker app
$1,000 for every win made by your chosen national team during

UEFA

Euro 2020
A free entry to all events in our next

PKO

Series
iPhone 12
Sony PlayStation 5 console
Building on Success
This big new game is just the latest in a series of highs for 888poker this year. After the successful launch of their new client last year, they added a lot of value since, with things like the 24/7 Freerolls Festival, which kicked off in February of this year.
It also recently put on the huge WPTDeepStacks London Online which generated well in excess of $2 million in prizes. The ambitious $1,000,000 Main Event guarantee was exceeded by $87,000, and the series overall saw solid prize pools.
They've also seen good news this year on the cash game front. After spending much of the early part of 2021 with the lowest cash game traffic of the major global operators, they overtook partypoker at the end of March, and have held on to that position ever since.
This new event also ties in with the beginning of the XL Spring Festival, which kicks off this weekend. It also slots in to an already big regular Sunday schedule that includes a $50,000 guaranteed Big Shot 525, and the $150,000 Big Shot 109 Main Event.
Now with the $10,000 Made to Amaze, there is Sunday value across the buy-in range. The first official tournament starts this Sunday, May 30.