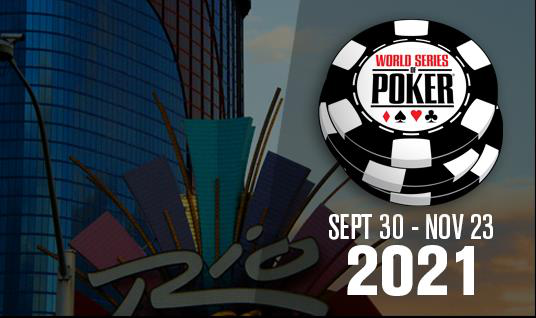 After some controversy ensued from the posting of rule 115 regarding the upcoming live World Series of Poker (WSOP) event in Las Vegas starting September 30, the operator was forced to issue a clarification.
It was an additional wrinkle in what may well become the most unusual live WSOP in history.
It all started with the release of the WSOP tournament rules, and a tweet from poker media guru and official Tweeter for WSOP, Kevin "Kevmath" Mathers. He posted a screenshot of Rule 115 that seemed to give the WSOP wide latitude in policing positive Covid-19 cases and contacts during the live series.
Controversy erupted on Twitter after the post, as some players interpreted the rule as allowing disqualification with no recompense even for players who don't show symptoms or test positive for the virus. The rule seemed to make it clear that close contact with a positive person was enough to remove a player from an event, even if that person doesn't test positive.
Further, there seemed to be no provision for vaccinated players in the rule, which appeared to treat all people in contact with a positive case as equally dangerous, regardless of vaccination status. While the WSOP pointed to "guidelines promulgated by the Centers for Disease Control," many players wondered if the rule went too far, with too little nuance.
WSOP

Issues Clarification

A few days later, after a significant amount of discussion on social media, the official WSOP Twitter account issued a clarification tweet that addressed some of the concerns raised by Mathers' highlighting of Rule 115. Significantly, a new clause addressed the status of vaccinated players under the new rule.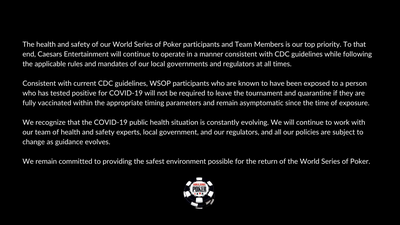 "Consistent with our current CDC guidelines, WSOP participants who are known to have been exposed to a person who has tested positive for COVID-19 will not be required to leave the tournament and quarantine if they are fully vaccinated."
Exposed players are still required to remain asymptomatic and meet all the CDC requirements for "fully vaccinated" such as proper timing, but the clarification offers an olive branch to players who arrive at the series having taken all the precautions.
Tough Spot in an Uncertain Game
Right at the start of the 2021 WSOP hype this year, organizers cautioned that the situation was constantly evolving, and nothing was set in stone. Ty Stewart, WSOP Executive Director, expressed that caution in pokerfuse's exclusive interview back in June.
WSOP

.com USA
: The world's most recognizable poker brand is legal in
Nevada, New Jersey
,
Pennsylvania
, and
Michigan
!
Massive Value

100% deposit bonus up to $1000 + $50 in free play
The only online poker network that spans across multiple states
Compete for real

WSOP

bracelets and rings in official online events from your own home
Frequent reload bonuses and lucrative monthly promotions
Since then, with increased vaccination rates, but also an increasing wave of the Delta variant, things have been in flux, and it is understandable that the rules are changing as time goes on. The new clarification goes some way to appeasing vaccinated players, but still leaves the unvaccinated facing some uncertainty.
The difference is understandable, with WSOP stating they are following CDC guidelines. The evidence shows that while breakthrough cases do happen in vaccinated people, vaccines are highly effective in preventing infection in the first place.
That means, given the same exposure level, a vaccinated player is far less likely to become infected than an unvaccinated one, so the two-tiered system based on vaccination status has good science behind it. As evidenced by the ensuing Twitter thread however, it clearly didn't satisfy everyone.
WSOP is in the middle of what may be its biggest hand in history, and the board is still evolving. Even planning a live series in Las Vegas this year was a big gamble from the start, but this latest play looks to be a good move as the board plays out.
While the situation is still evolving, the live edition of the 2021 World Series of Poker is scheduled to kick off on September 30. It opens with a COVID-19 charity tournament and the classic Casino Employees game, and continues with the huge $5 million guaranteed The Reunion on Oct 1. Meanwhile, there are still online bracelets to be handed out in the *2021 GGPoker WSOP Online*.