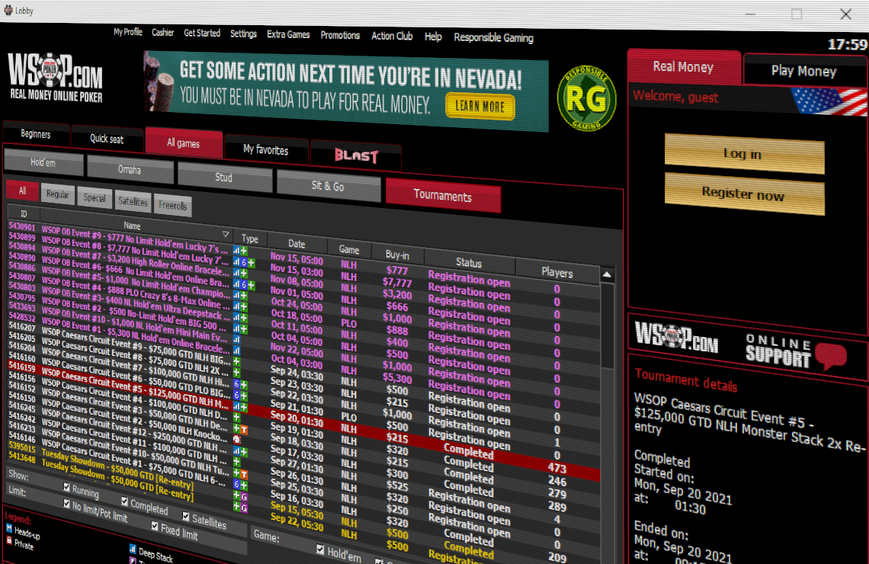 The first two online events to run parallel to the live portion of the 2021 World Series of Poker (WSOP) in Las Vegas are now complete, and it looks like there is a lot of interest in the online games. Despite players' attention being focused on the real felt, more than 1,200 entries generated more than $1.25 million in prizes over the first two events.
Over the course of the live series, WSOP.com will play host to 10 online bracelets, with the hardware awarded in games running every Sunday through the series. Most Sundays will have a single chance to win a bracelet online, while the first weekend, as well as another in November, will be double-bracelet Sundays.
WSOP

.com USA
: The world's most recognizable poker brand is legal in
Nevada, New Jersey
,
Pennsylvania
, and
Michigan
!
Massive Value

100% deposit bonus up to $1000 + $50 in free play
The only online poker network that spans across multiple states
Compete for real

WSOP

bracelets and rings in official online events from your own home
Frequent reload bonuses and lucrative monthly promotions
With the first weekend of play under their belts, two of those online bracelets have already been awarded. The first Sunday saw two games running at completely different ends of the buy-in spectrum.
Between the two games, more than $1.25 million in prizes has already been handed out, with 1,223 entries combining to create that pile of money. The high-roller freezeout event to start the online series drew 156 players for a $780,000 prize pool, while the $500 event combined for more than 1,000 entries and nearly $500,000 in prizes.
2021

WSOP

Online Bracelets – Live Series Edition
Market
Date
Event
Name
Buy-in
Entries
Prize Pool
Top Prize
NJ+NV
Oct, 03
#1
NL Hold'em Freezeout
$5,300
156
$780,000
$210,600
NJ+NV
Oct, 03
#2
NL Hold'em

BIG

500
$500
1,067
$480,150
$89,356
NJ+NV
Oct, 10
#3
NL Hold'em Ultra Deepstack
$400
NJ+NV
Oct, 17
#4

PLO

Crazy 8's 8-Max
$888
NJ+NV
Oct, 24
#5
Championship
$1,000
NJ+NV
Oct, 31
#6
2x Re-entry
$666
NJ+NV
Nov, 07
#7
NL Hold'em High Roller 8-Max
$3,200
NJ+NV
Nov, 14
#8
Lucky 7's No Limit Hold'em High Roller
$7,777
NJ+NV
Nov, 14
#9
Lucky 7's No Limit Hold'em
$777
NJ+NV
Nov, 21
#10
Mini Main Event
$1,000
PA
Nov, 21
-
Mini Main Event
$1,000
New Online Bracelets at a Glance
The new online events were added to an already unprecedented year for online bracelets as the live series approached. The concept of online bracelets was only just coming into favor as the pandemic hit, with the very first one awarded in 2015.
By 2019, the number of online bracelets was up to 9, all of them awarded on the US WSOP.com client to players playing in New Jersey, or in Nevada. It is this series from 2019 that this year's added component most closely resembles.
In 2019, the online bracelet events also ran on Sunday evenings through the series, and while there is an extra event for the NJ/NV crowd this year versus 2019—two extra events in total if you count the unprecedented WSOP PA event on November 21—the pattern of handing out online bracelets on Sunday night has been revived.
It is hard to compare this year to 2019, however, as there is not a one-to-one relation between the events. For example, 2019 had nothing even approaching the $5,300 event from this past Sunday, never mind the $7,777 buy-in scheduled for November 14.
There is little question online numbers are down this year compared to 2019 so far. Even without direct comparisons, the first event in 2019 drew more than 2,800 entries for a prize pool of over $1 million. That was for a $400 entry, compared to this year's $500 opener which drew just over 1,000 entries for a prize pool that didn't hit half a million dollars.
WSOP

Online Bracelet Events Overview 2019
Event
Buy-in
Prize Pool
Entries
#7

NLHE

$400
$1,017,000
2825
#24

PLO

6-Max
$600
$656,640
1216
#38

NLHE

Knock Out Bounty
$600
$673,200
1224
#46

NLHE

Turbo Deep Stack
$500
$795,150
1767
#55

NLHE

Double Stack
$1,000
$1,266,350
1333
#68

NLHE

Championship
$1,000
$1,662,500
1750
#74

NLHE

High Roller
$3,200
$1,802,720
593
#76

NLHE

6-Max
$800
$1,170,000
1560
#88

NLHE

Summer Saver
$500
$836,550
1859
That said, it is an unprecedented year across the poker landscape, and comparisons between the pre-pandemic world and the post-pandemic world will always be problematic. Add in the fact that in 2021, the world is still emerging from an unprecedented 18 months, and it seems clear that comparisons this year with the past will be high on error.
There are still eight more bracelets to be awarded on the NJ/NV client over the rest of the 2021 WSOP, as well as an unprecedented 9th bracelet in Pennsylvania near the end of it all. One thing the 2021 WSOP makes clear however—the era of the online bracelet is very much alive.