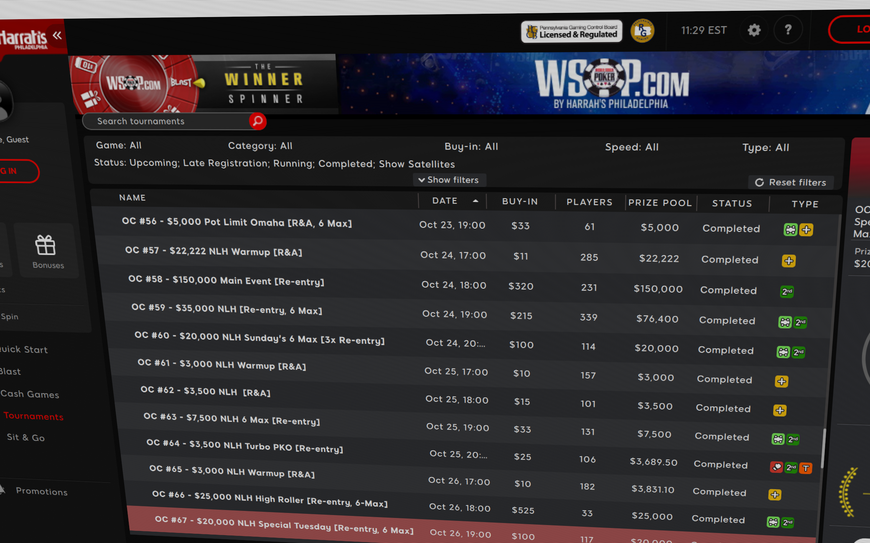 After 17 days of action, the WSOP PA Fall Online Championships (FOC) is now complete. While there were 67 games on the schedule, in the end only 66 were completed for a total of $765,319 collected on total guarantees of $1,010,166.
From October 10 through October 26, the FOC played out on WSOP PA over the past 17 days, with more than $1 million in total guarantees.
With all the events in the books now, the results may well not have been what the operator was looking for—*but players were certainly happy.*
WSOP

.com USA
: The world's most recognizable poker brand is legal in
Nevada, New Jersey
,
Pennsylvania
, and
Michigan
!
Massive Value

100% deposit bonus up to $1000 + $50 in free play
The only online poker network that spans across multiple states
Compete for real

WSOP

bracelets and rings in official online events from your own home
Frequent reload bonuses and lucrative monthly promotions
In the end, just a bit more than $765,000 was collected across the 66 games that ran. The 67th game, a $525 High Roller with $25,000 guaranteed, was scheduled for October 23, but it apparently didn't run.
Everything else in the series went off without a hitch but ended up falling about 8,000 entries short of the number required to hit the guarantee.
WSOP

Fall Online Championships – Summary
| | |
| --- | --- |
| Completed Events: | 66 |
| Total Gtd: | $1,035,166 |
| Gtd in Completed Events: | $1,010,166 |
| Collected so Far: | $765,319 |
| Difference: | -$244,847 |
| % Gtd Collected: | 76% |
| Entries Required: | 26,178 |
| Entries Recorded: | 18,293 |
| Did Not Run: | 1 |
| Gtd Not Awarded: | $25,000 |
The Series in Detail
The FOC finished 17 days of action this week, and while the results were great for players looking for extra value, the operator was forced to cough up some cash to cover guarantees across the series. Out of 66 events that ran, just 14 of them managed to break the guarantee.
The biggest prize pool of the series was one of the games that didn't hit guarantee. The $300 Main Event had $150,000 guaranteed, but it only managed to find 347 total entries to collect $104,100. That was more than 30% below target.
WSOP

PA
: The world's most recognizable poker brand is now fully legal and regulated for online poker in
Pennsylvania!
Top Welcome offer

$50 freeplay after the first deposit, 100% match up to $1000 & extra $10 in free play with code FUSEBONUS

Modern software

Top-quality poker client for mobile and desktop play thanks to new Poker 8 software

Blast poker

Compete in jackpot sit and go's around the clock and win up to 10,000x your buy-in
That wasn't the worst performer from the operator's perspective though. Sundays during the series featured rebuy/add-on Warmup games that cost just $11 to enter (with $22 add-ons) with $22,222 guaranteed.
None of those Sunday Warmup games came even close to that optimistic guarantee, ranging from about 58% to 66% below the promised amount. Over the three Sunday Warmup games, the operator was forced to pay out $41,456 in overlays, a little bit less than the total paid out to cover the Main Event guarantee.
Not every game had overlay, however. A total of 14 games went above and beyond the guarantees, and several were stellar performers. There was a 6-Max game on October 24 that more than doubled its guarantee, finding 382 entries for the $215 buy-in. That put $76,400 into the prize pool, more than twice the $35,000 guarantee on the event.
Five other games went more than 20% above their guarantees, including a cheaper 6-Max that cost $10 to enter. It guaranteed $3,000 but collected more than $4,000 on the back of 442 entries. A $40 PKO game on October 19 also broke its guarantee by more than 30% with more than $6,500 in a $5,000 guaranteed prize pool.
In the end, $765,319 was collected for $1,010,166 in guarantees over 66 total games that ran, with one game that didn't run. While that won't be what WSOP PA was looking for from the series, it seems clear players will be happy with all the extra money the operator gave out during the series.
WSOP

Fall Online Championships – Full Results
October 10
Warmup
$11
$22,222
2,222
850
$9,410
October 10
Sunday Special
$100
$75,000
824
402
$36,582
October 10
Sunday 6-Max
$100
$35,000
385
200
$18,200
October 10
Turbo Deepstack
$20
$10,000
549
319
$5,806
October 11
Warmup
$10
$3,000
330
442
$4,022
October 11

NLH

$30
$7,500
275
229
$6,252
October 11
6-Max
$55
$20,000
400
275
$13,750
October 11

PKO

$20
$3,000
165
191
$3,476
October 12
Warmup
$10
$3,000
330
399
$3,631
October 12
Special Tuesday
$100
$25,000
275
222
$20,202
October 12
Tuesday Showdown
$55
$15,000
300
260
$13,000
October 12

PKO

$40
$5,000
139
159
$5,724
October 13
Warmup
$10
$3,000
330
372
$3,385
October 13
Deepstack
$20
$10,000
549
455
$8,281
October 13

NLH

$33
$12,000
400
328
$9,840
October 13
Super Turbo
$50
$15,000
330
163
$7,417
October 14
Warmup
$10
$3,000
330
339
$3,085
October 14
6-Max
$100
$15,000
165
146
$13,286
October 14
Deepstack
$30
$10,000
366
328
$8,954
October 14
Turbo Deepstack
$50
$12,000
264
183
$8,327
October 15
ShowME
$20
$3,000
165
179
$3,258
October 15
DeepStack & Super Addon
$30
$15,000
549
410
$11,193
October 15

PKO

$30
$7,500
275
204
$5,569
October 15
Turbo Deepstack
$50
$7,500
165
117
$5,324
October 16
Deepstack
$33
$10,000
333
278
$8,340
October 16
Freezeout
$50
$7,500
165
130
$5,915
October 16
High Roller
$525
$25,000
50
48
$24,000
October 16

PLO

$33
$5,000
167
162
$4,860
October 17
Warmup
$11
$22,222
2,222
687
$7,620
October 17
Player Appreciation Tournament
$100
$75,000
824
469
$42,679
October 17

NLH

$55
$25,000
500
262
$13,100
October 17
Sunday 6-Max
$20
$10,000
549
343
$6,243
October 18
Warmup
$10
$3,000
330
366
$3,331
October 18

NLH

$15
$3,500
259
264
$3,564
October 18
6-Max
$33
$7,500
250
222
$6,660
October 18
Turbo

PKO

$25
$3,500
149
191
$4,489
October 19
Warmup
$10
$3,000
330
307
$2,794
October 19
Special Tuesday
$100
$25,000
275
215
$19,565
October 19
Tuesday Showdown
$55
$15,000
300
267
$13,350
October 19

PKO

$40
$5,000
139
181
$6,516
October 20
Warmup
$10
$3,000
330
283
$2,575
October 20
Deepstack
$20
$10,000
549
476
$8,663
October 20

NLH

$33
$12,000
400
269
$8,070
October 20
Super Turbo
$50
$15,000
330
133
$6,052
October 21
Warmup
$10
$3,000
330
313
$2,848
October 21
Deepstack
$30
$10,000
366
340
$9,282
October 21
Turbo Deepstack
$50
$12,000
264
206
$9,373
October 21
6-Max
$100
$15,000
165
155
$14,105
October 22
ShowME
$20
$3,000
165
152
$2,766
October 22
Deepstack & Super Addon
$30
$15,000
549
355
$9,692
October 22

PKO

$30
$7,500
275
210
$5,733
October 22
Turbo
$50
$7,500
165
120
$5,460
October 23
Deepstack
$33
$10,000
333
257
$7,710
October 23
Freezeout
$50
$7,500
165
120
$5,460
October 23
High Roller
$525
$25,000
50
Did Not Run
Did Not Run
October 23

PLO

$33
$5,000
167
142
$4,260
October 24
Warmup
$11
$22,222
2,222
818
$8,180
October 24
Main Event
$320
$150,000
500
347
$104,100
October 24
6-Max
$215
$35,000
175
382
$76,400
October 24
6-Max
$100
$20,000
220
167
$15,197
October 25
Warmup
$10
$3,000
330
308
$2,803
October 25

NLH

$15
$3,500
259
225
$3,038
October 25
6-Max
$33
$7,500
250
140
$4,200
October 25
Turbo

PKO

$25
$3,500
149
157
$3,690
October 26
Warmup
$10
$3,000
330
421
$3,831
October 26
High Roller
$525
$25,000
50
48
$24,000
October 26
Special Tuesday
$100
$20,000
220
185
$16,835