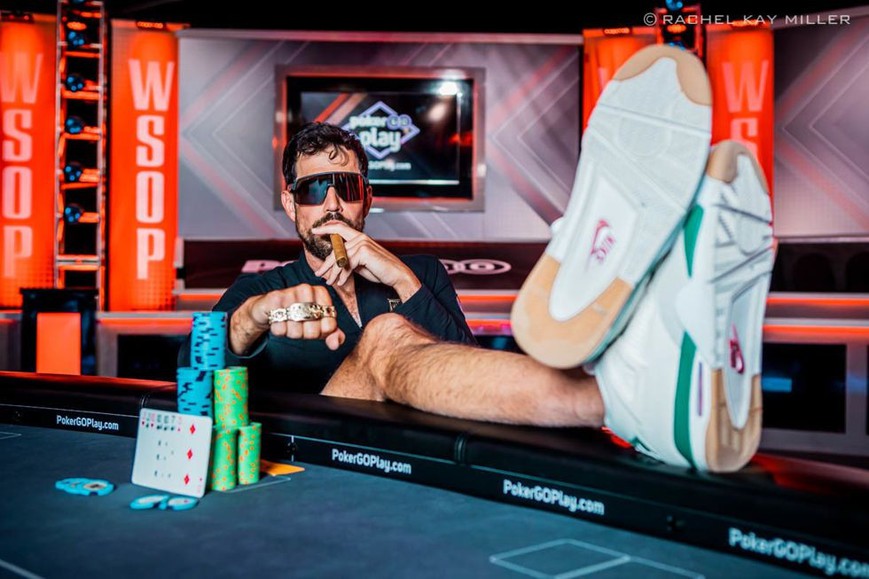 It looks like another big week is shaping up on PokerGO as poker's premier broadcaster brings exclusive endgame action from the 2023 World Series of Poker (WSOP) in Las Vegas. PokerGO is a great way to assuage at least some FOMO for fans stuck at home during this summer's most epic poker party.
None of the big games on this week's schedule will be bigger than the week-ending $250k Super High Roller. That is the priciest game in the whole series this year, and fans will get two days of action from the nosebleed game on June 17 & 18.
Other highlights from the upcoming week include four $10k events with three Championships, plus the $10k Secret Bounty game. Monday features the final table of the massive Gladiator game that played its final starting flight on Saturday, June 10. That game drew more than 23,000 runners for a prize pool of more than $5.6 million and the biggest field by far so far in this series.
One of PokerGO's own also had a pretty decent week last week as Nick Schulman proved he works as well behind a stack of chips as he does behind a microphone. Schulman, who is focusing on the on-felt work during the WSOP, is part of the iconic Poker After Dark commentary duo with Ali Nejad, and he picked up his fourth bracelet this past week after winning the $1,500 Stud game.

Last verified: December 2023
Special Signup Offer
15% off your annual subscription with code POKERFUSE
Full 2023

WSOP

coverage
100s of hours of on-demand poker content
Exclusive offer to pokerfuse readers
Watch PokerGo on your PC, tablet, TV, or phone
June 11 – 18 PokerGO Highlights
It is a big week upcoming on PokerGO with Championships and nosebleed games across the board. The "little" game featured this week is the $300 Gladiator event, but it was only "little" in buy-in. The tournament became the largest field of the whole series and one of the hugest live poker fields ever, with more than 23,000 runners over the four starting days.
The final day of that massive game will be featured on PokerGO on Monday, June 12, and with more than $5.6 million to play for, it will be a fascinating final.
Also featured this week will be a non-WSOP event. The $3500 BetMGM Poker Championship will finish out on Tuesday, June 13, with the streamed final table on the secondary channel.
The first $10k Championship game goes on the main channel on Tuesday, June 13. That one will be the Omaha Hi-Lo event, and the week will also include the Razz and 2-7 Triple Draw Championships.
As if that were not enough, there will be a $10k Secret Bounty on Friday, and the week concludes with two days of action from the most expensive game on the WSOP schedule this year, the $250k Super High Roller. See below for the full schedule and timings on the main and secondary channels.
Jun 11 – 18 on PokerGO
Date
Event

MONDAY

, Jun 12 – 15:00
Event #18 $300 Gladiators of Poker [Horseshoe Table]

TUESDAY

, Jun 13 – 15:00
Event #25 $10K Omaha Hi-Lo Championship [Horseshoe Table]

TUESDAY

, Jun 13 – 17:00
BetMGM Poker Championship $3,500 Main Event FT

WEDNESDAY

, Jun 14 – 15:00
Event #29 $100K No-Limit Hold'em High Roller [Horseshoe Table]

THURSDAY

, Jun 15 – 18:00
Event #33 $10K Razz Championship

FRIDAY

, Jun 16 – 18:00
Event #35 $10K No-Limit Hold'em Secret Bounty

SATURDAY

, Jun 17 – 18:00
Event #38 $10K Limit 2-7 Triple Draw Championship

SATURDAY

, Jun 17 – 15:00
Event #40 $250K No-Limit Hold'em Super High Roller

SUNDAY

, Jun 18 – 18:00
Event #40 $250K No-Limit Hold'em Super High Roller