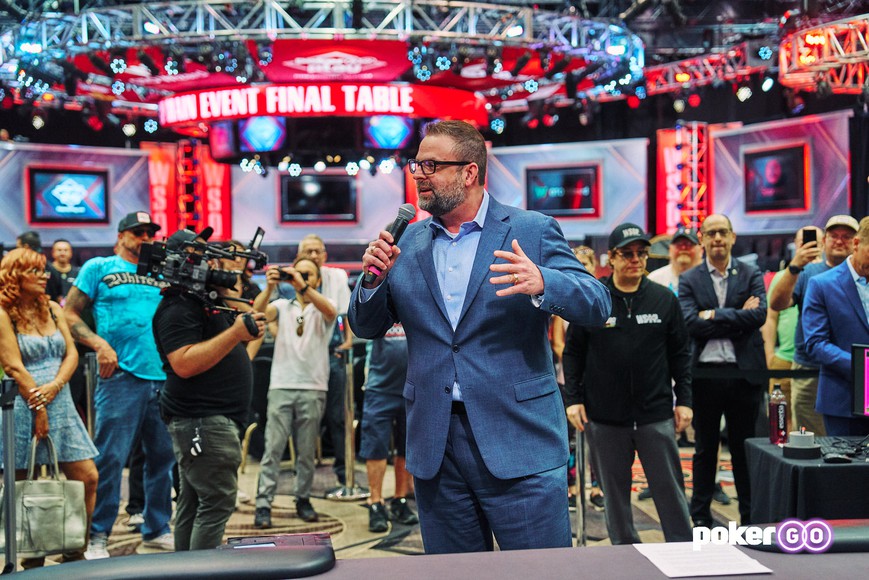 The biggest poker party of the year is coming to a close with the beginning of the second last week of action from Horseshoe Las Vegas and Paris Las Vegas Hotel & Casino.
With the final event set to run on July 18, the days are ticking down until the end of the World Series of Poker (WSOP), and that means only one thing — the biggest game in poker is currently crushing dreams, but working towards granting a $12.1 million dream to one player — and PokerGO will bring all the highs and lows from the biggest event in the game.
The $10k buy-in is seen as the pinnacle of No-limit Hold'em, requiring ironman levels of stamina to survive nine days of poker, advanced skills to navigate tough spots, and good luck to get there when needed.

Last verified: November 2023
Special Signup Offer
15% off your annual subscription with code POKERFUSE
Full 2023

WSOP

coverage
100s of hours of on-demand poker content
Exclusive offer to pokerfuse readers
Watch PokerGo on your PC, tablet, TV, or phone
One player will navigate all the challenges and emerge the winner next week, but this year there is a bit extra to play for — the 2006 prize pool and field size records were finally capped. And they weren't just beaten, but crushed.
When the dust settled on entries after Level 7 of Day 2D, entries hit 10,043 for an astonishing record prize pool of $93,399,900. The winner is set to pocket $12.1 million, $100,000 more than Jamie Gold's record 2006 win (though not without some controversy).
2023
WSOP

Main Event Prize Pool Data
Entries: 10,043
Prize Pool: $93,399,900
Paid: 1,507

1st: $12,100,000
2nd: $6,500,000
3rd: $4,000,000
4th: $3,000,000
5th: $2,400,000
6th: $1,850,000
7th: $1,425,000
8th: $1,125,000
9th: $900,000
PokerGO is All About the Main
The focus this week for nearly everyone in Las Vegas will be the record-breaking Main Event. With the biggest prize pool in not just Main Event history, but all of live poker, there is a lot of interest in this year's event with the 2023 Champion set to cap Jamie Gold's previous record win from 2006.
In fact, eight of the nine players who make the final table in the Main this year will walk away millionaires, with 9th place collecting a still decent $900k.
Appropriately, the PokerGO schedule is wall-to-wall Main Event coverage starting with Day 3 coverage on Sunday. Throughout the entire rest of the week, all resources from the broadcaster will be focused on the Big Show with daily coverage starting at 2 pm on most days. By the time this week ends, they will be on the final table of the biggest live game ever held and set to make eight millionaires.
Growing the Biggest Game Ever
The poker boom of 2003 created massive attendance for the WSOP in the mid to late 2000s, and that "Moneymaker effect", named after the accountant turned 2003 Main Event winner, led to 2006 becoming the biggest live prize pool ever with more than $80 million through more than 8700 entries.
That was the peak for the Main, however, and as the years wore on, observers of the game began to wonder if they would ever see numbers like that again for live poker. When the COVID-19 pandemic hit in 2020, and live poker across the world went into mothballs for up to a year, some wondered if the live game could even survive what was a massive financial hit.
What happened when live poker returned likely surprised nearly everyone, as it came back with a vengeance, with some truly massive festivals as 2022 wore on and more venues opened back up again for full poker action.
Last year's Main Event gave a tantalizing taste of what was to come, missing the 2006 record by only about 100 entries, setting up this year's record-smashing run.
There was a time when many observers thought the 2006 record might be unbeatable in a changing live poker landscape. Now, in the wake of that record being well and truly smashed this year, it seems clear that live poker is only set to get bigger.
This Week on PokerGO – July 9 – 16
| Date | Event |
| --- | --- |
| Sunday, July 9 14:00 | Main Event: Day 3 (Part 1) |
| Sunday, July 9 18:30 | Main Event: Day 3 (Part 2) |
| Sunday, July 9 21:45 | Main Event: Day 3 (Part 3) |
| Monday, July 10 14:00 | Main Event: Day 4 (Part 1) |
| Monday, July 10 21:30 | Main Event: Day 4 (Part 2) |
| Tuesday, July 11 14:00 | Main Event: Day 5 (Part 1) |
| Tuesday, July 11 21:45 | Main Event: Day 5 (Part 2) |
| Wednesday, July 12 14:00 | Main Event: Day 6 (Part 1) |
| Wednesday, July 12 21:45 | Main Event: Day 6 (Part 2) |
| Thursday, July 13 14:00 | Main Event: Day 7 (Part 1) |
| Thursday, July 13 21:45 | Main Event: Day 7 (Part 2) |
| Friday, July 14 14:00 | Main Event: Day 8 (Part 1) |
| Friday, July 14 21:45 | Main Event: Day 8 (Part 2) |
| Sunday, July 16 16:00 | Main Event: Final Table – Day 1 |