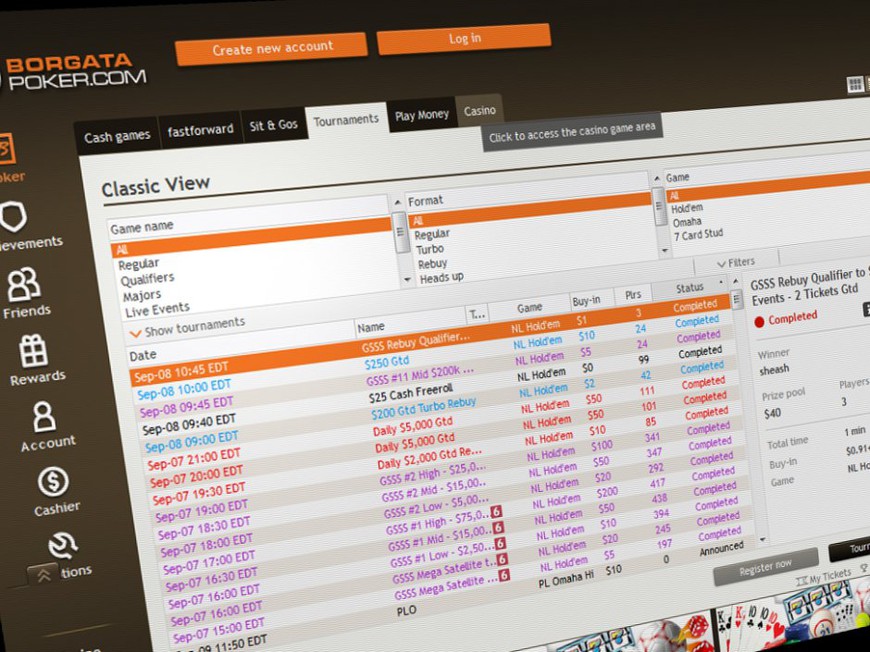 The partypoker/Borgata Garden State Super Series (GSSS), the most ambitious online tournament series yet in the New Jersey online poker market, finished on a high this weekend with the biggest attendances and prize pools of the two week series.
The big turnout in the last day is in no small part thanks to the prize money added. In total an extra $50,000 was added to the final six tournaments on Sunday, ensuring all guarantees were easily met.
The added money was part of an apology issued by partypoker New Jersey following the issues last weekend that saw all of the Sunday tournaments—including the series Main Event—canceled due to "technical difficulties."
The highlight yesterday was the high tier of Event 19, a $185+$15 full ring freezeout tournament with $75,000 guaranteed and $20,000 in added prize money. In total 509 players entered the tournament, creating $95,000 in prize money. With the added $20k, the tournament was the only $100,000+ tournament of the series, by far the largest in both prize money and number of entrants.
All other events on Sunday easily surpassed their guarantees. Event #19 Low attracted 431 players to buy in for $50, generating a prize pool of almost double the $10k guarantee (with $5000 added on top).
The high-roller of the weekend and the last tournament of the series, a $500-buyin 7-max tournament with a $50,000 guarantee, attracted 137 players and paid out (with the $10k added on) over $73,000.
The high turn-outs are hardly surprising given the added money. Taking event 19H as an example, the added money worked out to $40 per player, meaning every player who entered won $25 each (in equity), after accounting for the $15 rake. In total, $22,000 was collected in rake, leaving party to pick up a $28,000 tab.
Still, the numbers show that the players will play when the games run. The network will be relieved that the weekend tournaments ran smoothly.
| | | | | | | | |
| --- | --- | --- | --- | --- | --- | --- | --- |
| event | buyin | rake | entrants | guarantee | prize pool | added | pay out |
| 19L | $45 | $5 | $431 | $10,000 | $19,395 | $5,000 | $24,395 |
| 19M | $91 | $9 | $377 | $20,000 | $34,307 | $5,000 | $39,307 |
| 19H | $185 | $15 | $509 | $75,000 | $94,165 | $20,000 | $114,165 |
| 20L | $45 | $5 | $318 | $10,000 | $14,310 | $5,000 | $19,310 |
| 20M | $91 | $9 | $295 | $20,000 | $26,845 | $5,000 | $31,845 |
| 20H | $465 | $35 | $137 | $50,000 | $63,705 | $10,000 | $73,705 |