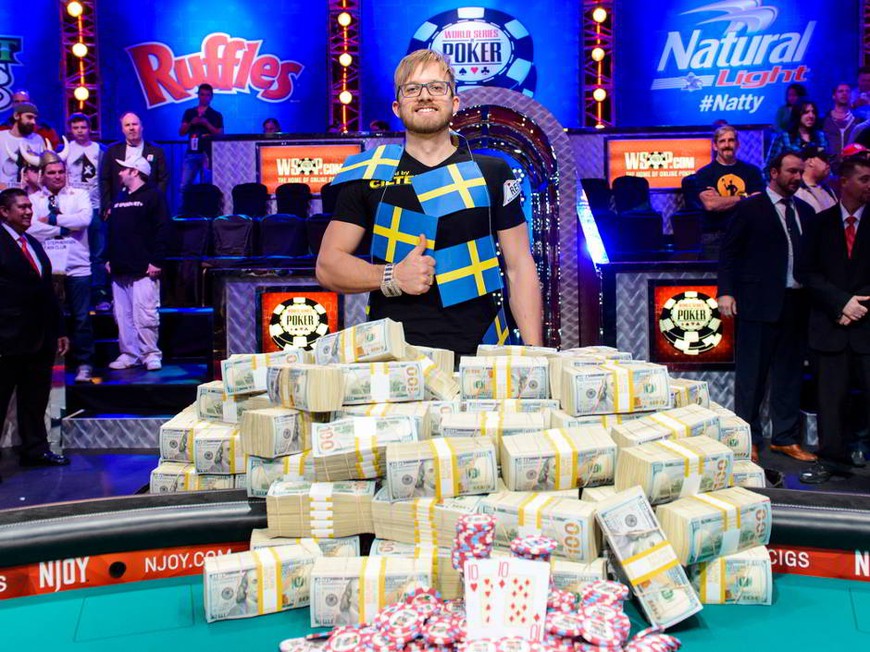 Twenty-seven year old Martin Jacobson of Stockholm, Sweden won the 2014 World Series of poker Main Event Tuesday night and captured the $10 million first place prize along with the coveted WSOP bracelet valued at $500,000.
Jacobson, who resides in London, England—which has favorable tax laws regarding winnings from gambling—becomes the first Swedish player to win the Main Event title.
"It is surreal," said Jacobson shortly after the victory. "I have been so focused the past couple days. I felt comfortable and surprisingly calm. I don't know, it just felt like it was meant to be."
Jacobson began the most prestigious poker tournament in the world in grand fashion back on July 5 when he finished as the Day 1A chip leader. But the Main Event is not only a test of one's poker skills, but also of their mental and physical toughness as the contest took place over 10 grueling days in which Jacobson bested 6,682 others that had ponied up ten thousand dollars to play.
Jacobson began the Final Table on Monday 2nd to last in chips, but was able to grind his way to the final three, and on Tuesday, to victory.
A total of 693 players cashed in the Main Event which awarded $62,825,752 in total, and $5,147,911 to runner-up Felix Stephensen from Oslo, Norway. The two Europeans battled it out for 45 minutes before both players found themselves all in—Stephensen with the Ah9h and Jacobson with two red Tens.
Though the flop brought a nine, the turn bricked off to give Jacobson the win. The remainder of the November Nine finished as follows:
3rd place: Jorryt van Hoof, 31 of Eindhoven, Netherlands, $3,807,753
4th place: William Tonking, 27, of Flemington, New Jersey, $2,849,763
5th place: Billy Pappaconstantinou, 30, of Lowell, Massachusetts, $2,143,794
6th place: Andoni Larrabei, 22, of Basque, Spain, $1,622,471
7th place: Daniel Sindelar, 30, of Columbus, Nebraska, $1,236,084
8th place: Bruno Politano, 32, of Fortaleza, Brazil, $947,172
9th place: Mark Newhouse, 29, of Los Angeles, Calif., $730,725
Perhaps the biggest story to come out of the 2014 World Series of Poker Main Event was that of ninth place finisher Mark Newhouse, who for the second consecutive year made the November Nine only to be the first player to bust out each time.
His horrific endings to the 2013 and 2014 events overshadow the great accomplishment of making back-to-back final tables against two of the largest fields in poker tournament history. All eyes will be on Newhouse next year to see if he could exorcise his demons and make a third consecutive November Nine.