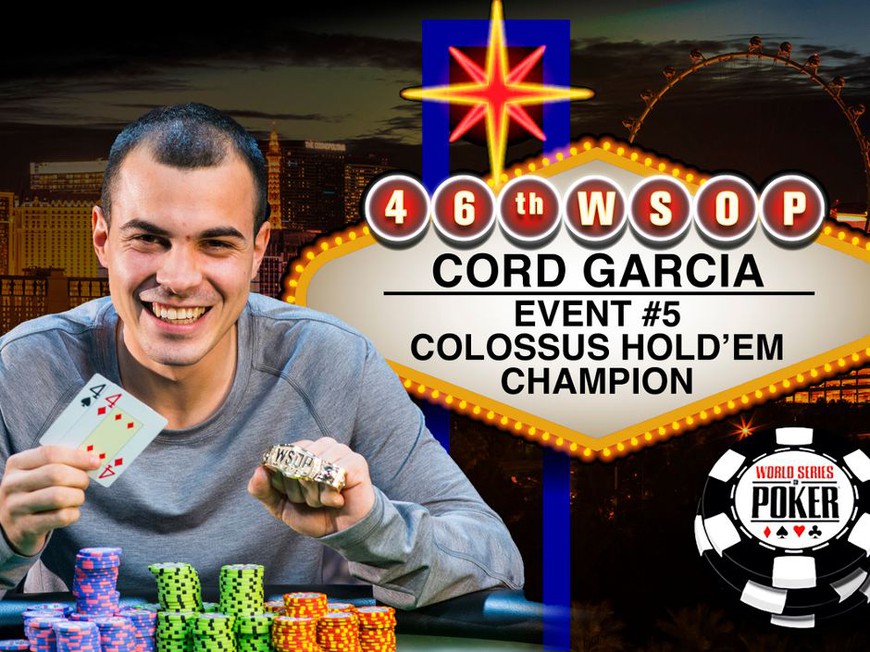 Event #5:
THE

COLOSSUS

$565 No-Limit Hold'em

Cord Garcia from Houston, Texas, has won the largest live tournament ever held. As if the Colossus had not been remarkable enough for its new records, it turns out that third placed Ray Henson is sharing a house with Garcia for the duration of the WSOP.

Garcia built his dominating chip stack after a three way all-in where he showed AA against Henson's AK and the A2 of underdog Paul Lentz. Henson was crippled and Lentz was sent home in fourth place with $234,927 as a consolation. Garcia picked up $638,880 and his first bracelet for the win, Brad McFarland took $386,253 for second and Henson, $308,761 for third place.

None of the players at the final table were strangers to making the money in WSOP or WSOP circuit events, providing apocryphal evidence that getting to the final table of a huge field event still demands a large measure of skill despite the acknowledged enormous amounts of run-good that is also required.
Event #8: $1,500 Pot-Limit Hold'em
24 year old Paul Michaelis was the second first time bracelet winner of the day, and the first of the series to be from outside the US.
"I was running insane basically. I had a straight flush against a nut flush, I had a couple sets. My bluffs worked out. Everything worked perfectly actually," said Michaelis.
Born in Germany, Michaelis now lives in Vienna, Austria. He defeated Tom Marchese heads up to win the event, denying Marchese his first bracelet, which has still to come, despite his $10 million in live tournament winnings.
Event #9: $1,500 Razz
Max Pescatori started the day well down the leaderboard in the first Razz event of the WSOP, but fought his way into contention to end up with his third WSOP bracelet.
"This is very sweet, that's for sure," Pescatori said, "I've done good here, but nothing matches winning. I knew this game was strong for me, so I felt that this gave me a good chance to get my third in this one."
The event attracted 462 entries creating a prize pool of $623,700, enough to give Italian professional player Pescatori a payday of $155,947. Ryan Miller failed to win his first bracelet, after losing to Pescatori heads up, and Eli Elezra had to be satisfied with fifth place and $32,345 instead of the third WSOP bracelet he coveted.
Event #10: $10,000 Heads Up No-Limit Hold'em Championship
The day ended with the last match in the Championship heads up tournament still to be played. Paul Volpe and Keith Lehr will start the final day with equal stacks as they battle for the bracelet and first prize money of $334,430.
Both players already have their first WSOP bracelets safely under their belts, Volpe won his last year in the No-Limit 2-7 Draw Lowball $10,000 Championship event, and Lehr in the 2003 $3,000 Pot Limit Hold'em.
Event #11: $1,500 Limit Hold'em
The Day 1 chip leader Vasili Firsau failed to survive to Day 3 which will begin with just 28 players from the original field of 660.
Kevin Song who has a WSOP bracelet dating back to the pre-poker boom days of 1997 starts as chip leader, with Shannon Shorr, Brandon Cantu and David Chieu still in the field. Cantu is looking for his third WSOP bracelet.
Event #12: $1,500 No-Limit Hold'em 6-Handed
The first day of the six handed $1,500 NLHE event began with 1,651 players, and a prize pool of $2,228,850.
206 remain to play on Day 2, with the prize money not far off. 180 players will be paid, with $457,007 going to the eventual winner.
Bryan Campanello leads the event going into Day 2. He has one bracelet to his name so far, after winning a seven card Razz event in 2013.
Event #13: $2,500 Omaha/Seven Card Stud Hi-Lo 8 or Better
This poker variant may be less popular than some, but the Omaha/Seven Card Stud Hi-Lo 8 or Better event managed to secure enough entries to create another $1 million plus prize pool.
Six time bracelet winner Layne Flack ended the day as chip leader, but with 264 players remaining, including Maria Ho and Scott Clements, as well as a couple of dozen other formidable adversaries further down the list, Lack will have to run very well to secure his seventh victory.