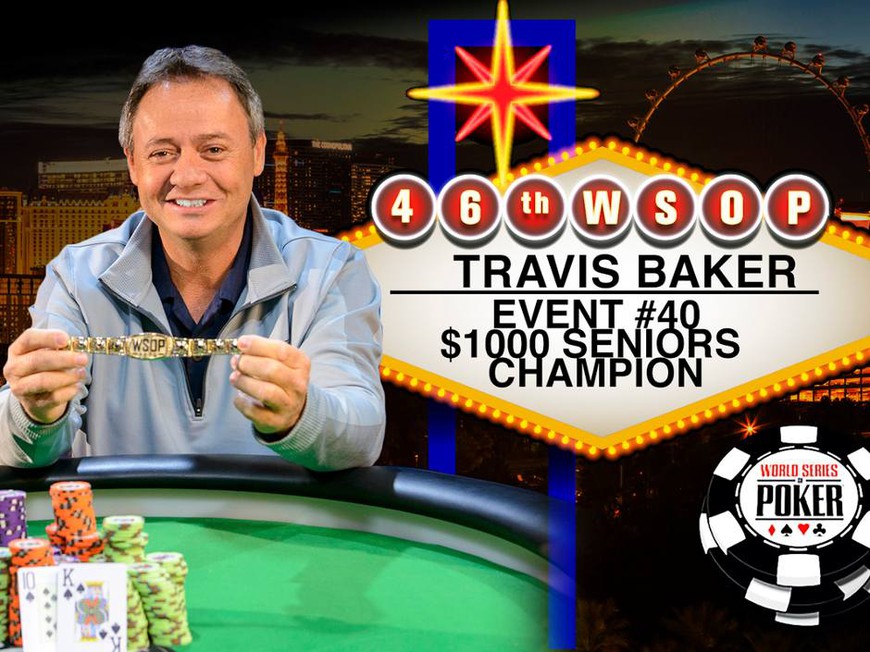 Event #40: $1,000 Seniors No-Limit Hold'em Championship
This year's first Seniors event provided yet another opportunity for the WSOP dream to come true, as 50 year old construction worker Travis Baker turned his $1,000 buy-in into a life-changing first prize of $613,466.
"I have no idea what I'm going to do with the money," Baker said, after his stunning victory when he demolished his final table opponents. "I haven't even had time to think about that yet."
"I'm just a regular weekend tournament player from Oklahoma," Baker added. "I saw Moneymaker win in 2003 and since then, I've been playing mostly small tournaments around, like in Choctaw and Hard Rock Tulsa. But I've never experienced anything like this."
A monster field of 4,193 took part in the event which saw Baker bust his last four opponents in just 35 minutes.
2012 November Niner Steve Gee was one of those lucky few to make the final table, but he couldn't contend against Baker's amazing run and exited in 8th place.
Event #42: $1,500 Extended Play No-Limit Hold'em
Old school British player Barny Boatman, one of the original members of the "Hendon Mob" leads the final 26 players in event #42 as play goes into Day 3.
Boatman has over $1 million in WSOP winnings, more than half of which came from his victory in the 2013 NLHE event where he won his first gold bracelet.
Behind Boatman on the leaderboard are seven other non-US players filling out the top ten chip counts. In second place is Brazilian Luis Duarte who has already cashed in this year's Colossus and Monster Stack events and in third is Artem Metalidi who has three cashes to his name so far. Metalidi's best WSOP performance was in 2012 when he was runner up in a $3,000 6 max NLHE event.
The event attracted 1,914 players taking the prize pool to more than $2.5 million. The winner will take home $478,102.
Event #43: $1,000 Super Seniors No-Limit Hold'em
The second Seniors event began with 1,533 players but is now down to the final 25. Wayne Knyal has a substantial chip lead (779,000) over second placed Jon Andlovec (652,000).
Back in 6th place is Perry Green who managed to win three WSOP bracelets after retiring from a 30 year career in the military. All three bracelets were won in the late 1970s, but as recently as 2013 he final tabled Event #31: $1,500 buy-in Pot-Limit Omaha Hi-low Split-8 or Better.
If Green makes it through to his fourth bracelet, he will also enjoy first prize money of $262,220.
Event #44:
THE
POKER
PLAYERS
CHAMPIONSHIP
The flagship event, which even outshines the Main Event in terms of professional prestige, has to be the Poker Players Championship with its $50,000 buy-in.
The entry list reads like a who's who of poker, and the Poker Hall of Fame nominations for the next 20 years will likely include players from the starters in this year's event.
84 players found $50,000 from their bankroll to enter the event which is now down to 47 players after two days of relatively deep stacked play.
High roller tournament regular Scott Seiver leads the way with 688,500 chips having also finished Day 1 with the biggest stack.
Abe Mosseri, Matthew Ashton and Dee Tiller ar the other three players with more than 600,000 chips in front of them, but these leads are vulnerable to challenges from the rest of the field, in which none of the players are accustomed to giving up early.
Ben "Sauce123" Sulsky, David "ODB" Baker, Michael Mizrachi, Dan Shak and Mike Gorodinsky all have over 300,000 chips.
The $3,696,000 in prize money begins to payout when there are 12 players left. The winner will take away a massive check for $1,270,086 and one of the most highly prized victories in all of poker.
Event #45: $1,500 No-Limit Hold'em
Perhaps the most popular of all WSOP tournament formats, the $1,500 No-Limit Hold'em events, always draw large fields. This time, 1,655 players stumped up the entry money, building a total prize pool of $2,234,250.
260 players survived Day 1, led by Brayden Fritzshall who has amassed 194,700 chips. Andrey Pateychuk has sixth place chips, and Eric "Basebaldy" Baldwin also has over 100,000 chips.
Loni Harwood, Jason Koon, Ari Engel and Faraz Jaka are not too far behind, and 2001 Main Event winner Carlos Mortensen has a very viable stack of over 50,000 chips.
Event #46: $3,000 Pot-Limit Omaha 6-Handed
Russian player Arseniy Makhaev has the chip lead at the end of the first day of the 6 handed $3,000 Pot-Limit Omaha event.
There were 682 entries which have now been whittled down to 154 remaining players. Erick Lindgren's creditors will be rooting for him—last week he declared bankruptcy for the second time. He is sat in eight place with over 150,000 chips.
The prize pool is $1,861,860, with $437,575 going to the winner. Even that wouldn't be enough to cover all of Lindgren's debts. In addition to other debts totalling in the millions of dollars, he has been sued for $2.5 million which he has owed to Full Tilt since 2011.