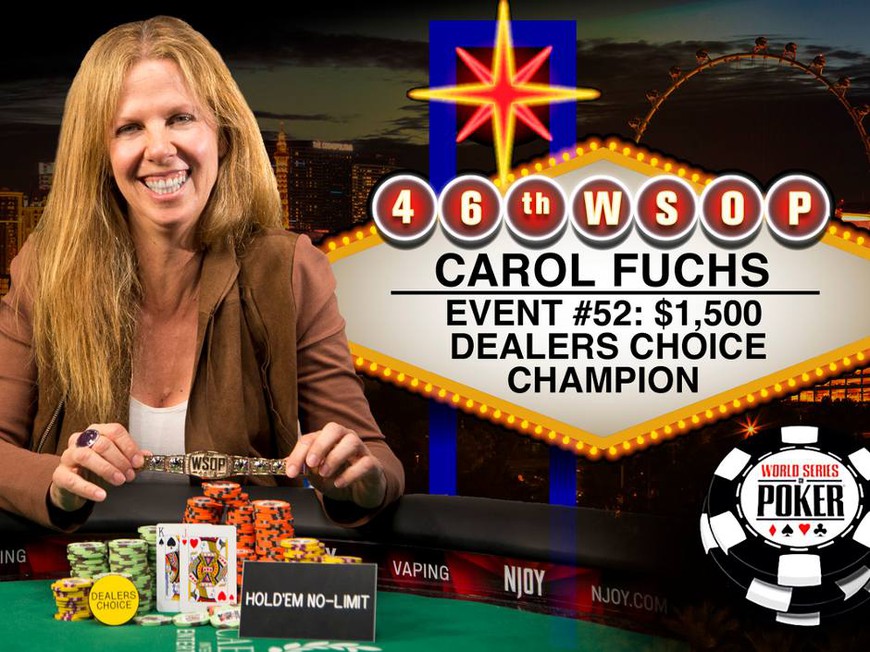 Event #47: $2,500 No-Limit Hold'em
Matt O'Donnell won his first WSOP bracelet and first prize money of $551,941 in one of the most exciting heads up finishes so far in the WSOP 2015.
The chip lead switched between O'Donnell and his opponent Timur Margolin several times until Margolin finally lost a race holding a pair of sixes versus Q-J as the flop fell A-A-Q.
Last year O'Donnell came close to a bracelet in the $10,000 buy-in Pot-Limit Omaha Championship, but finished in second place.
"When I had the chip lead last year, I was outside and was hearing – 'the bracelet is yours, you're going to win it," O'Donnell recalled. "I'd been here before but that way of thinking wasn't going to happen this time. I didn't get excited until after I won. Thankfully, I closed it out this time."
Irishman Andy Black made it as far as fourth place before his luck ran out, Jeff Gross finished in 6th, and PokerStars Team Pro Andre Akkari took 8th place money.
Event #49: $1,500 Pot-Limit Omaha Hi-Lo 8 or Better
Victory went to amateur Young Ji in the $1,500 Pot-Limit Omaha Hi-Lo 8 or Better event. The 52 year old player from Alaska took home $231,102 after beating an impressive field packed with big name pros.
"When I face a stronger player, it gives me the extra motivation to play better, said Li. "Every single time I went outside on break or even used the restroom, I was brainwashing myself subconsciously. Telling myself, focus. I was constantly in battle within myself to go through all these pros."
Eric Seidel, Vanessa Selbst and Erik Baldwin could not stick with Li's pace. Connor Drinan managed to keep the hopes of his first bracelet alive until busting in fourth, and three time bracelet winner George Danzer failed to secure his fourth bracelet after finishing in 8th.
Event #50: $10,000 Limit Hold'em Championship
29 year old Ben Yu has been coming to Las Vegas every summer for the WSOP since he turned 21. Finally he has broken through the professional players' most celebrated barrier to win his first bracelet.
The competition at the end of the event was as tough as it gets, despite the fact that only 117 players entered the event.
To get to the $291,456 first prize, Yu had to carve his way through a final table that included WSOP bracelet holders, Jesse Martin, Justin Bonomo, and Marco Johnson.
"It feels really good to play against the best players, and win," Yu said. "Beating up on weaker players is a better way to make money. But the way to improve is to continually test yourself."
Event #51: $3,000 No-Limit Hold'em 6-Handed
Justin Liberto plans to get married on July 25 and now that he has won $640,711 in the $3,000 No-Limit Hold'em 6-Handed event, he won't have to worry about paying for the honeymoon.
Liberto's tournament career got a huge boost last year when he final tabled the Millionaire Maker event to win $400,408. This gave him the confidence to gradually switch to playing poker full time.
"When I came to the series a few years ago and finished 4th in the Millionaire Maker that allowed me to bypass some steps that most players would normally have to go through," Liberto said. "I was careful not to overshoot my goals after that. Now, getting this win just makes things a lot easier."
Liberto was the short stack with just Seamus Cahill to beat to win his first WSOP bracelet. A late surge took Liberto into the pole position where he stayed until the final hand in which Cahill's K-6 was a massive underdog to Liberto's K-Q all-in pre-flop.
Event #52: $1,500 Dealers Choice
Hollywood screenwriter Carol Fuchs has shown that not just female players, but amateur female players are perfectly capable of taking home the gold with her win in the $1,500 Dealers Choice event.
This was Lucas' second WSOP cash and her biggest, winning first place prize money of $127,735. The Dealer's Choice event requires players to be able to compete in any one of 18 different poker variants. As if that was not a big enough challenge, when the final table assembled, it was packed with top name professionals.
Robert Mizrachi, who won the event last year, and Scott Clements brought the final table bracelet count up to five. Online specialist Christopher Klodnicki and the tournament's runner-up, Ilya Krupin were less well known, but similarly fearsome opponents. Krupin has five cashes at the WSOP, all of them achieved this year.
"It's encouraging when someone like me who is an amateur, and a woman, and – let's just say someone 'older than 30' – wins something big like this," Fuchs said. "I respect what the pros do, but for a non-pro to come out here and win, is encouraging for all players and especially for amateurs and women."
Event #53: $10,000/$1,000 Ladies No-Limit Hold'em Championship
Carol Fuchs's comment applies even more forcefully to the victor of the Ladies No-Limit Hold'em Championship where 66 year old Florida Realtor Jacquelyn Scott won her first bracelet.
"Poker is a sport," Ms. Scott said. "And what makes it so great is that anyone can play and if the cards go your way, you can win. Age isn't a detriment as long as you can hold the cards and know what you're doing."
The event drew a field of 795 female players. The entry fee is stated at $10,000, but female players receive a 90% discount so that it costs them only $1,000 to enter. The unusual situation arose after men insisted on entering and event which exists on the WSOP calendar to promote the game to women.
Scott will return to her home in Florida with her winnings of $153,876. She is a regular player at the Hard Rock Casino in Hollywood, and has entered the WSOP Main Event in six previous years.
Event #54: $10,000 Pot-Limit Omaha Championship
Alexander Petersen from Denmark has joined an elite club of players who have a WSOP record consisting of one cash/one bracelet. In this case the cash was for $927,655.
Petersen has been a professional online player for over 10 years, but previously he has treated visits to the WSOP in Las Vegas as "holidays" from his real job. This year he decided to take the $10,000 Pot-Limit Omaha Championship seriously.
"Coming to Las Vegas was always a break for me, away from playing," Peterson explained. "This is first event I played here where I really took it seriously, and it paid off."
Four of the players at the final table had WSOP bracelets. David Kitai and Jason Mercier had three each, and Shaun Deeb and Hasan Habibi each had one.
387 players entered the event building one of the largest prize pools of the series so far at $3,637,800. PokerStars Team Pro Jason Mercier was the man to take Petersen to the final hurdle. Mercier was hungry enough for his fourth bracelet and had a big chip lead, but Petersen crippled his chip stack on the very first hand of heads-up play.
Only a few minutes later, Mercier was all in pre-flop and looking down at a board which ran out in favor of his opponent. Second place money of $572,989 couldn't take away the shocked expression on his face.
Event #56: $5,000 Turbo No-Limit Hold'em
Kevin MacPhee captured his first WSOP bracelet and $490,800 by defeating Ukrainian player Igor Yaroshevskyy heads up in the $5,000 Turbo No-Limit Hold'em event on Sunday.
Both of the final two players were nearly eliminated on the same hand when play was three-handed. The chipleader at the time, Pascal Theodosiadis, found himself with a decision to make after both MacPhee and Yaroshevskyy were all in pre-flop. Theodosiadis, holding pocket Queens, decided to look for a better spot and folded. His Queens would have held up, and he would have won his first bracelet. Instead, Yaroshevskyy stayed alive by winning the hand, and Theodosiadis eventually finished in third.