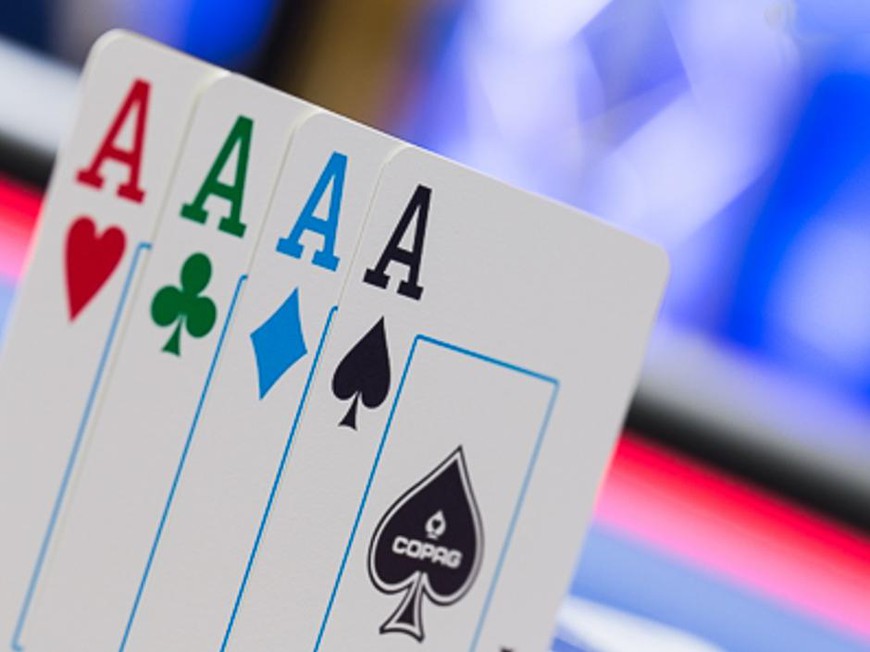 The European Poker Tour has introduced four color decks into some of the events at its current stop in Malta and will also trial them at other stops on the tour and in PokerStars' live poker room in Macau.
In the four color decks which are a common option to use in online poker, the black clubs and red diamonds have been replaced with green and blue respectively.
Card maker Copag produced 1000 of the four color decks for the Amaya owned EPT. According to Neil Johnson, Head of Live Poker Operations Europe, the decks will also be tried out in upcoming events at the EPT stop in Prague and in the PokerStars Live room in Italy while half of the decks produced will be sent to the PokerStars Live room in Macau.
The idea to use a four colored in live play came from a tweet sent Johnson and officials at the World Poker Tour and The World Series of Poker asking for a four color deck to be used in live events. After polling his peers Johnson decided to green light the idea and include them as a trial in a few upcoming live events.
Mixed Feedback
"There's going to be some positive and some negative feedback" says Johnson. "But I'm not suggesting we put them in the Main Event…. there's been no final decision on their long-term use, we've got 500 decks and I'll imagine we'll keep using them until they're gone. By that point we'll have plenty of feedback and when we come to order our decks for Season 13."
So far only a few response from players using the four color deck in Iive events have been recorded and reactions seem to be mixed.
EPT regular Kenny Hallaert told a representative from the PokerStars Blog that lighting made it difficult to identify the new colors.
"We started with the green light on the table and that especially wasn't good. The green and the black cards looked the same. Then we switched to the white light and it was better but still tricky with the cards on the board due to reflection." Hallaert said. "Basically, there's no need for a four-color deck when one-tabling a live tournament," he continued.
Team PokerStars Pro Jake Cody had his own take:
"I play with a four-color deck online as I think it suits it better. When you play a lot of tables, especially when the tables are tiled, it's easier to see when hands are suited or not. I'm more of a traditionalist live and I just love looking down at black aces, for example."
He then offered a suggestion. "Maybe if the colors were brighter than the ones we're using, the green and blue are quite light in color and it can be quite difficult to tell them apart. Also, the light rim around the table makes it harder."
Poker pro Mike "Timex" McDonald is squarely in favor of the four color decks.
He commented to PokerStars:
"Online I always use the four-colour deck and I always use that feature. If you're multi-tabling and playing on a screen with a low resolution it's really helpful and the same goes for the idea of this live four-colour deck. The light isn't necessarily consistent across different parts of the room; sometimes it's dim; sometimes people are wearing sunglasses at the table and it can be difficult to tell club from spade and if it's particularly dark even a spade and a heart can look similar. Having bright green and bright blue colours will really help that."
What do you think? Are you a fan of four color decks?