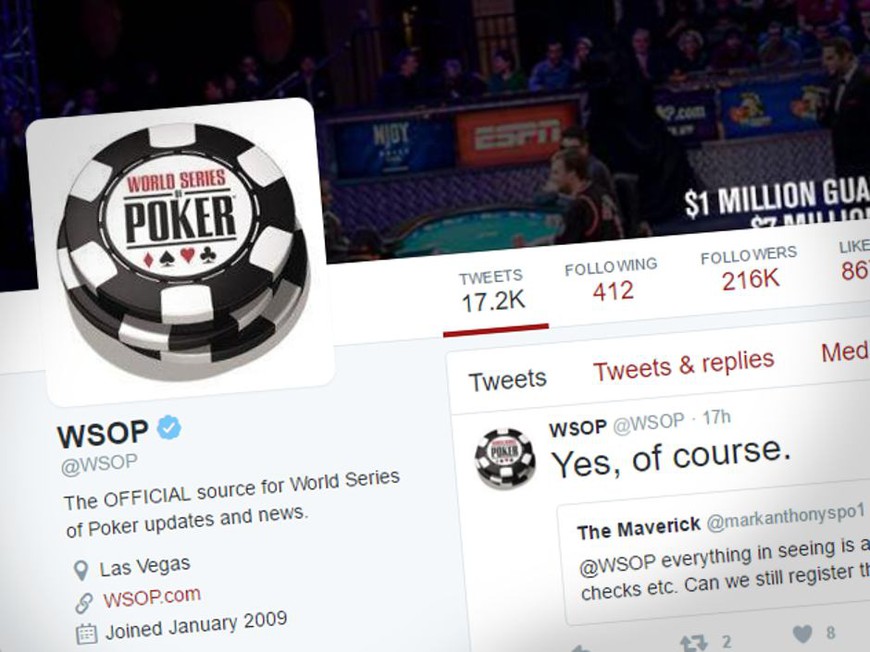 Organizers of the 2016 World Series of Poker (WSOP) are putting social media front and center as part of its media strategy with the introduction of new social components and tools for its events.
Two of the most significant moves made by the WSOP to make the series more "social media friendly" can be seen by the introduction of a new social sharing tool for players to share their chip counts and the creation of a "Twitter Czar," a role that has been filled by none other than poker twitterati Kevmath, aka Kevin Mathers from PocketFives.
WSOP

ChipIn

The new live reporting chip counting tool, ChipIn, will allow players to share their chip counts during bracelet events from their table or seat. Players can update their chip counts as often as they like from any smartphone or tablet which will then add them to the official WSOP "chip count list." The list will also show the top 10 counts in the entire tournament.

To register, players simply need to provide their name, date of birth and casino rewards number.
Kevmath's Involvement
In what the WSOP is calling their first "Twitter Czar," Kevmath will be taking the reigns of the WSOP and WSOPcom twitter accounts for the entire duration of the series.
Based in the Rio All-Suite Hotel & Casino in Las Vegas, Kevmath will be using the twitter platforms (including his own) to answer questions and give updates on both the live and online action.
Kevmath will also be monitoring the WSOPChipIn account to stay on top of player chip updates. Twitter followers can expect live chip count updates as the series progresses.
Other improvements to the series include an "eQueue Payout Process," that will text players when their cashouts are ready at the cage, and a new more comprehensive format to the web live stream that will include coverage of all the activity, not just the Final Tables.
Headphones are now also permitted up until the Final Table of an event.
The series runs between May 31 – July 18 at the Rio All-Suite Hotel & Casino in Las Vegas.