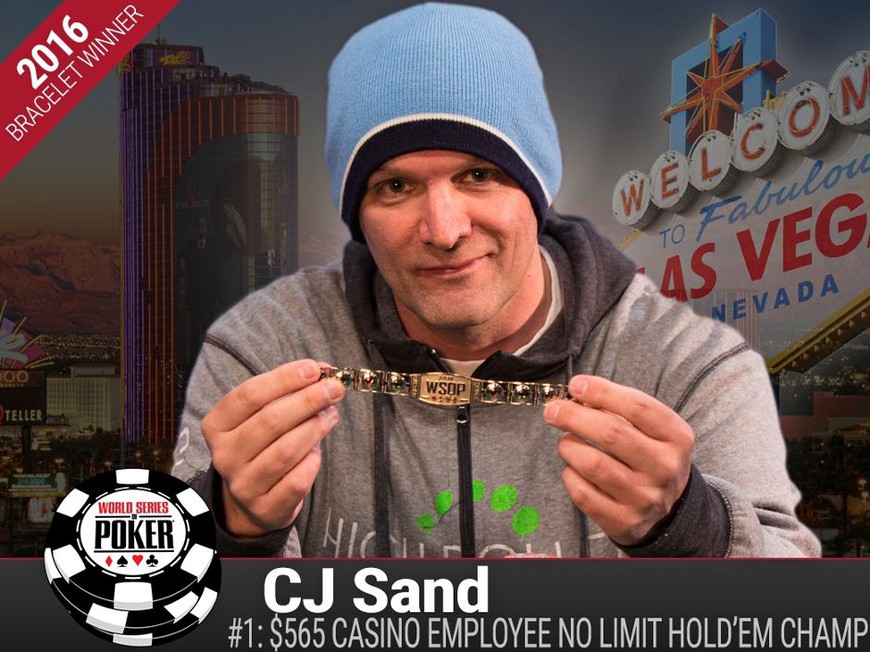 The $565 buy-in No-Limit Hold'em Casino Employees Championship, Event #1 of the 2016 World Series of Poker (WSOP) crowned its winner on Friday as Christopher Sand won his first-ever WSOP bracelet.
Winning $75,157 in prize money he exceeded expectations (after finishing in-the-money—1,596th place—in last year's "Colossus I" tournament). Besting the other 731 entrants, the victory represents the biggest cash prize of his tournament career.
Sand who is currently employed at Caesars Palace as a sports book writer and cashier said in his victory interview: "This is amazing. My mom first taught me how to play poker when I was 13 years old, so this is 30 years in the making."
"I don't ever get too high or too low, because I know it's poker," Sand continued to say. "But at this moment, it's a real high. I'm blessed. This bracelet is for my mom who is watching over me in heaven. There was a little magic with me tonight and I know where it came from. Poker is one of the best memories I have over her….poker is in my veins and now I have this — all because of her."
Kerryjane Craigie, a poker manager from the UK finished as the runner up—collecting $46,420 in prize money.
Event #2: $565 Colossus II No-Limit Hold'em
Anything can still happen in Colossus II as it doesn't finish until Tuesday June 7, but currently Ben Lindemulder is comfortably in the lead with a 5,325,000 chip stack, almost 2 million more than the next biggest stack. He has been chip leader since Day 1 of the event.
The massive field of 21,613 players was down to just 846 when Day 2 kicked off.
The remaining players played eight one-hour levels ending in 77 players surviving the day to advance to Day 3 (today). The 1st place prize is $1 million—a mega 1,770 times the buy-in, and a total of 3,245 players made the money—the most in any live tournament ever.
Event #3: $10,000 Seven Card Stud Championship
The $10,000 Seven Card Stud Championship will finish later on today as the six remaining finalist battle it out.
Seat 1: George Danzer – 340,000
Seat 2: Robert Mizrachi – 1,371,000
Seat 3: Ted Forrest – 447,000
Seat 4: David Benyamine – 373,000
Seat 5: Matt Grapenthien – 1,157,000
Seat 6: Steve Weiss – 682,000
The finalists have 14 bracelets total among them—with Robert Mizrachi sitting comfortably as chip leader. Ted Forrest will be chasing his 7th bracelet, David Benyamine looking for his 2nd and George Danzer is shooting for his 4th.
Notably, Chris Ferguson, ex Director for Full Tilt poker and former 2000 World Series of Poker Main Event Champion, registered and played the events—marking the first time since Black Friday 2011 that he has set foot back in The Rio All Suit Casino and Hotel in Las Vegas to play a WSOP event.
"I'm just here to play poker" is as much as PokerNews would get out of him when asking questions about why he had stayed away from the WSOP for so long.