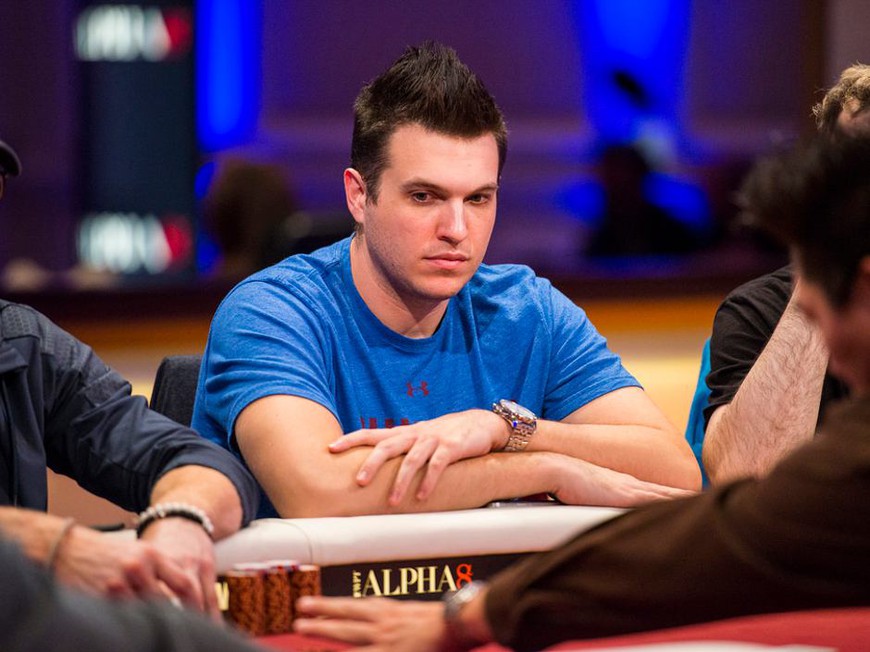 Have you noticed the symbol gN on Twitter recently, as a prefix to the likes of Doug Polk, Joey Ingram and Ryan Fee's accounts? Well it all has to do with the fact that they are part of a new team of poker players, called GrindNation put together by Polk to help grow the game of poker to new and existing audiences, especially within the Twitch community.
The band of merry men (and women) who make up the team are familiar to those in the poker community: Doug Polk, Ryan Fee, Bryan Paris, Courtney Gee (courtiebee on Twitch), Joey Ingram, Adrian Fénix, Hristivoje Pavlovic, Henri Buhler, SrslySirius (Thomas Keeling), Matt Colletta and JNandezPoker.
"I wanted to be a part of Team #GrindNation because I thought the idea of being in a team would be fun and that it would be something that had a lot of long term potential," Joe Ingram told pokerfuse. "I also thought it would be fun to get together with the 'Big Papi' Doug Polk on something."
"I'm excited to be part of such an elite group of content creators," said Courtney Gee, the only woman on the team. "I'm looking forward to promoting the game with them now and in the future."
So let's jump right into it with the man behind the team, Doug Polk, to find out more about the goals and aspirations of the team and what GrindNation really means.
What is GrindNation and what was the motivation behind starting it?
GrindNation is a team of poker players that have come together to help promote poker, help promote each other, and try to grow poker within the Twitch community.
When you look at Twitch and when you look at gaming, then you look at poker… poker is a decent amount smaller than a lot of these different games, and I couldn't help feel that part of it is because people haven't really banded together to create teams.
So I think the natural question people might have about GrindNation is, "Okay, so what does GrindNation actually do?" And the answer to that is, we do content, we stream, we do videos, we do videos together … I always do videos with Joe Ingram, with Courtney Gee, etc. And we help support each other, we help support the team, and try to make poker grow.
What are your hopes, aspirations and core goals for the project?
I don't really off-the-bat have long-term goals for the Team because it's something that's never really been tried before? There's never been a team of poker players in such a format, so it's hard for me to be able to say, "I want us to be able to be this big, or accomplish these things."
For now, my goal is just to increase awareness of the team, and increase the awareness of individual people within the team and make decisions about how to grow as we go along.
Hopefully down the road I would like to see it become a bigger thing that is more well-known and we're going to take the steps necessary to try and make that a reality. But at the same time we don't want to just be like, "Oh yeah! We're going to be as big as these gaming teams," because it remains to be seen if that's really possible within the poker space.
What skills/expertise do your specific gN team members bring to the table? How did you go about choosing the members of team GrindNation?
So, the team has quite a different mix of different people and just to give kind of an example of what their different strengths are… we have Joey Ingram, who is one of the best YouTube poker content creators out there. He has probably the best podcast in poker and is very focused on the YouTube side of things.
We also have people who are very good at poker. We have JNandez, who's one of the top Pot Limit Omaha cash game players… maybe not Top 5 or Top 10, but a very respectable top player. And then we have Bryan Paris, who is the second-most winningest player in online poker touranment history (according to PocketFives.com), which is obviously a very respectable thing. I think only Chris Moorman is ahead of him.
And then we also have people that are doing a great job of growing their fan base on Twitch. We have "courtiebee" who does YouTube and Twitch and she's growing steadily across both platforms.
We have 'buehlero,' who's kind of a young kid coming up in the game and has been streaming for 7-8 months and has just been growing nonstop. And then we have Adrian Fenix, who is a good cash game player and one of the only cash-game players on Twitch.
And we have 'all-in-pav.' I always mess up his channel name. It's 'Hristivoje' on Twitch. He's an Australian player. Another young guy who is coming up in the game. So we try to have a mix of people that are either established as personalities in poker. People who I believe have a lot of people to grow. People who have shown the ability to put a lot of great content out there… people who have shown to be great poker players.
We have a lot of variety of strengths within the poker team and I just wanted to make sure we had people to fill those different roles on the team.