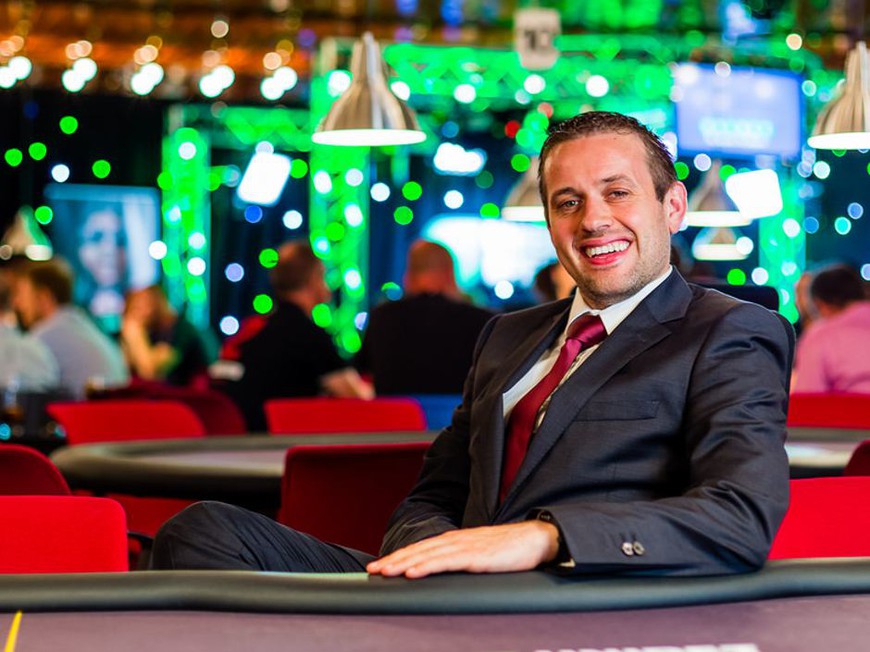 Next week, nine players will gather in Las Vegas to finish the 2016 World Series of Poker Main Event where the winner will take home $8 million in prize money.
Pokerfuse caught up with November Niner Kenny Hallaert over the summer and had a chance to get his thoughts on a variety of topics.
In part one of our interview, Hallaert talked about how he got started in poker and his perspective on the game as both a player and a tournament director.
In part two, we learn what Hallert has done to prepare for his seat at the World Series of Poker Main Event Final Table, his thoughts on the more than three month break for the November Nine and what it means to him to be a poker ambassador.
What kind of preparation are you doing? Have you hired a coach? Are you studying with anyone in particular?
I've hired Jared Tendler. He will prepare me for the mental part of it. I think that's very important, so I'm going to work a bit on my mental game.
I'm not the best poker player in the world. I will never be. And with just three months, it's impossible to become a good poker player. I consider myself a "normal" poker player, and I don't think I can become an extremely good player in just three months. That time is too short, even if you devote in a lot of time. But I will work a bit on my game, I will have people who will be assisting me with improving my game. But I have confidence in my own game. After all, I have made it to the Final Table.
I will look into my leaks and try to tweak those a bit, but I cannot solve all of my leaks completely in three months. It's too much work in total. Plus, there is the risk that maybe you might just start doubting yourself because you've learned so much and you get confused or worried about certain things.
What other preparations are you making?
Obviously there's a lot of practical stuff that needs to be arranged as well, I want to make sure that everything that's necessary for the people at the rail to help me out is taken care of and make sure that we have backup plans for everything.
I have the luxury of having already been in Vegas the last two years fort the November 9, so I have quite a good idea of the atmosphere, of what to expect as a player, as a spectator and how things work. So that's definitely something I can use to my advantage.
In fact the last three years, I've had good friends at the Final Table. Michiel Brummelhuis in 2013, but I wasn't there in Vegas for the Final Table. Then Jorryt van Hoof made it the year after, and I decided to go. I was already a bit in doubt about whether I should go or not go when Michiel made it, but in the end I decided not to go. But then with Jorryt, I was like "yeah, now I will go."
And then, Pierre Neuville, the first Belgian player ever to make the November 9, made it last year. I had a fun time two years ago so I decided to go back last year.
Especially if it's a friend of yours who makes it to that stage, for you to watch that player, you really learn to appreciate it. It's always in your mind, "one day I want to be one of those nine guys sitting there." It was amazing to make it to that stage this year. It's a dream.
Every year, it's my favorite tournament. Even back in 2008, it was my dream to play. Because when I started in 2004, one of the first things I discovered when I was trying to find out what poker was all about was those YouTube videos of the World Series. And you say "one day, I want to be there. I just want to be at that table, just playing." By 2008, I had already played my first World Series, and I had the luxury to be able to play the Main Event that year as well. Even from that time, I said, "I never want to miss this tournament, ever again."
"I think the moment you register for the Main Event, you know you aren't just registering for a poker tournament, you know if you win, you have to be a good ambassador for the game."I've played it ever since. I cashed for the first time in 2013. I had a deep run last year, when I finished 123rd, and when I was knocked out, I was a bit disappointed. I had a feeling that that was a unique opportunity, a once-in-a-lifetime chance to make a deep run. I was a little bit disappointed, and then all of a sudden this year, I make it even further. It's surreal. You manage your expectations every year because there are 6700 people playing, and only nine seats at the Final Table. Plus the level of play is kind of high, so you're thinking it probably will never happen. So many better poker players than me never make it to the November Nine.
I knew if I dedicated myself, focused on the game, put some hard work and commitment into it, and the cards fell right, good things were possible. And all of a sudden, that happened seven days straight in the Main Event. And I was fortunate enough to be one of the nine, the "chosen ones."
Was it good for you to have the three month break before the Final Table, or would you rather have just played it out at the time?
I was playing good. I was in the zone. I wouldn't have minded playing the Final Table the next day. I'm used to playing long sessions for many days from playing online. There were times I would play 14 or 16 hours sessions for several days in a row. Although, I was also kind of happy as well when they said it was over because mentally you're really exhausted. It's a long grind. We finished almost at the end of Level 35, which is 70 hours of play throughout 7 days. It's extremely long.
And you know, a single mistake can cost you your tournament life. At the end of Day 5 and 6, I made 2 small errors, which fortunately for me turned out in my favor! But those small errors might have been from fatigue, because you're so tired. But then, the adrenaline you get from being that deep in the Main Event makes up for a lot of it. I think, compared to the other players, it might have been better for me if we would have continued to play on, but I didn't really mind the break, so that I could prepare as much as possible now for the Final Table.
Do you have any special plans for your rail? Some people adopt themes, we saw a lot of characters in the past couple of years at the November 9.
I don't have any specific plans, the Final Table ends on November 1st. I promised everybody that was there to support me in Vegas that I will be throwing a party on the 2nd, whether I come 9th or 1st. So I'm going to do that, but apart from that, I'm not going to do a lot of stuff.
T-shirts, anything?
I found a sponsor that will provide Polo shirts for the people at my rail. But I want to keep the focus on the Main Event because these days will be the most important days of my poker career.
I will likely never have another chance like this. Hopefully I will, but realistically I'm not to ever be sitting there again at the Final Table. So it is very important for me to be well prepared and I don't want to be distracted a lot doing a lot of activities with my rail just before or during the Main Event. I want to focus on the event itself. Once the event is over we're going to throw a good party, and have some fun there.
Recently the topic of being a 'poker ambassador' has been something being debated in the poker world. What are your thoughts on that?
I think you have to be a good ambassador for the game. The way I look at thing, that three month break during the WSOP Main Event isn't just for the players. It's for way more than that. It's to build up the tension towards the Final Table, have it live televised. The WSOP and ESPN are going through great effort to make poker popular again each year. And every year basically there are nine people randomly chosen to be an ambassador for the game.
This year, I'm happy to be one of them. It's our job as poker players to be good ambassadors for the game: to be open to the press, to present the game of poker in a good way, and one person – the eventual winner – will be an even bigger ambassador after the Main Event, for the next twelve months.
So, I think the moment you register for the Main Event, you know you aren't just registering for a poker tournament, you know if you win, you have to be a good ambassador for the game. Because if you want to continue playing that game, the game that we all love, as long as possible, then we have to make sure the game is well promoted and that we are good ambassadors for the game in general.