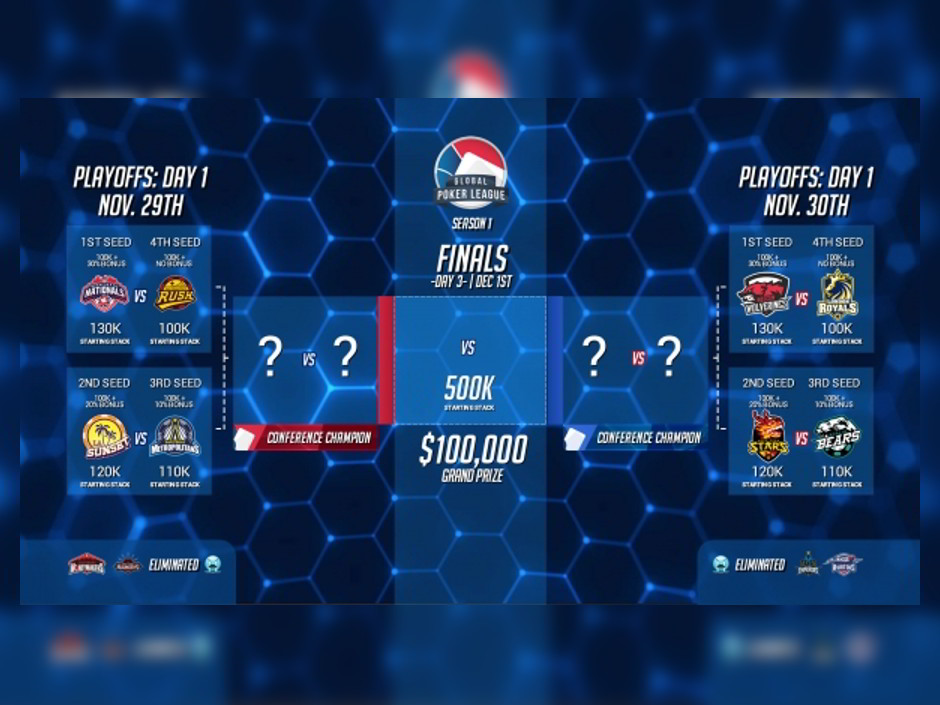 November 29 will see the start of the Global Poker League playoffs with the Montreal Nationals, LA Sunset, San Francisco Rush and the Sao Paulo Mets battling it out in the Americas conference. The Moscow Wolverines, Hong Kong Stars, Berlin Bears and London Royals follow on November 30 to fight for the Eurasia title.
The winners from each conference will square off on December 1 with the winner being crowned GPL champions.
The schedule has been released and now we know who are facing off in November.
GPL

Americas: November 29

The #1 seeded Montreal Nationals have drawn the #4 seeded San Francisco Rush in the first round. The Nationals will start the match with a 30% chip advantage as a result of their top seeding.

The #2 seeded L. A. Sunset will face the #3 Sao Paulo Metropolitans with 20% more chips in their starting stack.
GPL

Eurasia: November 30

In the Eurasia conference the #1 Moscow Wolverines will take their 30% chip advantage against the #4 London Royals, and the #2 Hong Kong Stars will enjoy their 20% chip advantage in their matchup against the #3 Berlin Bears.

"We had to adjust a lot of our ambitions in real time" said the man behind the GPL, Alex Dreyfus, in a recent press release. "Not all of our initiatives were successful and we realized that we have a long journey ahead us, but as far as Season 1 goes – we made it. Against all odds, we built and ran a League from scratch through a full cycle of competition. That's a big achievement, and my team and I are very proud to have accomplished this much."
PokerStars
It was announced nearly a month ago (30 September) that PokerStars has signed up as lead sponsor and exclusive online poker sponsor of the Global Poker League. The GPL also recently made the logos of its 12 teams available for use as avatars for PokerStars players. We are yet to find out how PokerStars will be involved in the playoffs.
At the time of the partnership announcement Eric Hollreiser, PokerStars' Director of Corporate Communications said: "The Global Poker League brings an innovative team-based twist to poker and we are happy to support [parent company] Mediarex in their quest to bring poker to new audiences."
The two companies are now on a "quest to bring poker to new audiences."
Here we can look back on the GPL Summer Series.