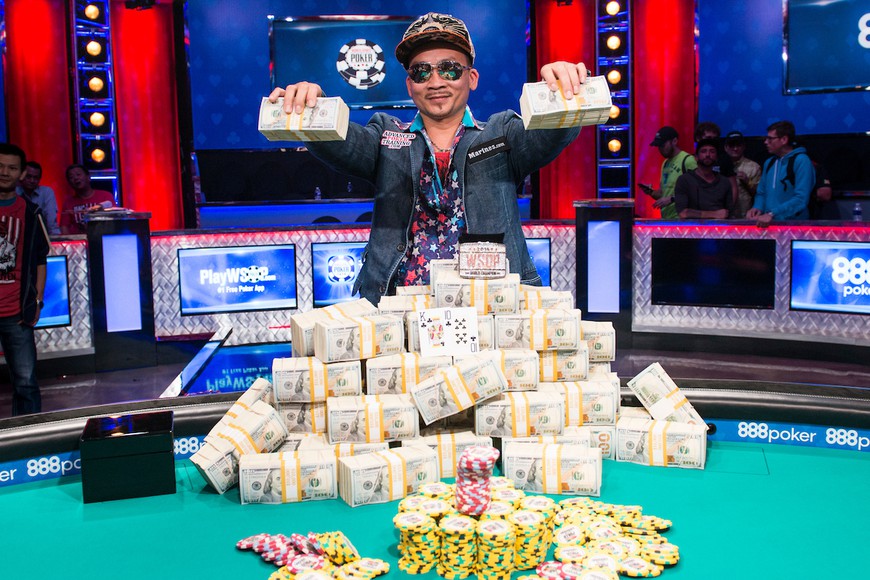 Qui Nguyen has done it. He has won most prestigious event in poker—the World Series of Poker Main Event. Nguyen captured his first WSOP bracelet and the $8,005,310 first place prize money after battling heads up for 8 hours with 27 year old poker pro Gordon Vayo whose second place finish earned him $4,661,228.
Qui Nguyen
Following in the footsteps of Scotty "The Prince of Poker" Nguyen who claimed the Main Event title back in 1998, Qui Nguyen becomes just the second Vietnamese-born Main Event champion.
"Thank you to all my friends and family," said Nguyen moments after the victory. "I'm so excited. I don't know what to say. I just tried to remind myself to never give up, to never give up. It was tiring, it was tough, but I wanted to stay aggressive and never give up and thankfully for me it worked out."
All of Nguyen's family were there at the rail to support him and it showed as they were definitely the more vocal of the two rails.
Cliff Josephy exited in third place earlier on during the final day of play, cashing for $3,453,035. Here is what "JohnnyBax" he had to say about busting out and his experience of making so deep into poker's biggest event.
"Nguyen did the unimaginable"
The WSOP said in a roundup of the tournament that Nguyen had "an aggressive style", and even though he was "arguably the least accomplished player at the table coming in, Nguyen did the unimaginable by constantly playing pots, applying pressure and putting his tablemates to tough decisions. In the end, the combination of cards, fortitude and aggression led Nguyen to capture poker's ultimate championship."
The runner up finish for Gordon Vayo will be the biggest cash of his career despite keeping his head down this summer and playing 21 WSOP gold bracelet events and cashing in eight of them.
"It was a little frustrating at times, but he played phenomenal" Vayo remarked. "I didn't get a lot of hands heads up, but all the credit to Qui, he played great."
The $10,000 buy-in event began back in July with a field of 6737 players vying for a total prize pool of $63,327,800 and $8 million earmarked for the eventual winner.
The rest of the November Nine finished as follows:
4th place: Michael Ruane, Hoboken, New Jersey, $2,576,003
5th place: Vojtech Ruzicka, Prague, Czech Republic, $1,935,288
6th place: Kenny Hallaert, Hansbeke, Belgium, $1,464,258
7th place: Griffin Benger, Toronto, Canada, $1,250,190
8th place: Jerry Wong, Coconut Creek, Florida, $1,100,076
9th place: Fernando Pons, Palma, Spain, $1,000,000