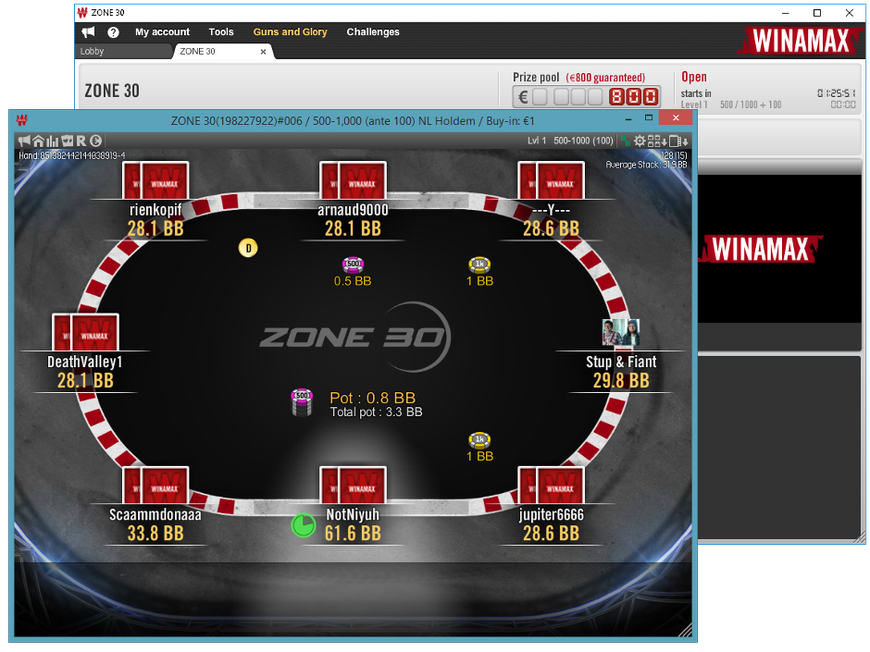 Winamax has announced its latest experimental online poker tournament concept: Zone 30, where there is no game clock or fixed blind levels. Instead, the blinds will increase when a player is knocked out to a level where the average stack is always 30 big blinds.
The new-format tournament now populates the lobby, with ten guaranteed tournaments scheduled daily. A total of €8700 is guaranteed in these tournaments to get action to these games, including an ambitious €5 buy-in tournament in the evening with a €2500 prize pool.
When the tournament starts, the stack size starts at 30,000 chips with blinds of 500/1000 and a 100 ante. As players are eliminated, the blinds will increment so that the average stack always remains at 30 big blinds. The idea behind the new concept is that, from the first hand, the action should be intense, as players are always close to elimination. Yet, as the tournament progresses, stacks will remain deep enough to allow for some post-flop play.
According to Winamax, the format was inspired after the Adrenaline Poker Series, a live event with the same blind structure. The event debuted in Dublin in February, then was held again in Brussels last month, apparently sponsored by Winamax.
Winamax has made a name for itself in pushing the envelope when it comes to innovative new formats. Zone 30 joins a myriad of non-standard tournament formats now available on Winamax—some, like Zone, are Winamax firsts; others were inspired by the competition. Current variants on offer include Expresso, the industry-first lottery sit and go; Hit and Run satellite tournaments; and Mix Max hybrid events.
In cash games, the site offers its "Fight Club" heads up fast-fold tables, Short Track short stacked games, and its mini-game, Cash Game Bingo, recognized as the first permanent card collection promotion.
Competitor PokerStars has also made a name for itself in the last two years for bringing fresh new tournament formats to market. Of particular note is Bubble Rush, where the blind structure starts fast then slows down as the tournament progresses. In that respect it has the same goal as Winamax's Zone 30—to make the starting levels of the tournament more exciting. Other PokerStars tournament innovations in the last year include Knockout Poker and Beat the Clock.
Winamax currently operates exclusively under French license, though accepts players in other European countries. It is by far the largest online poker operator in France; by cash game traffic it controls approximately 50% of the market.
However, the operator is planning an ambitious expansion. With expectant shared liquidity agreements that will allow operators to pool player pools between Europe's segregated markets, the operator is understood to be interested in expanding into Italy, Spain and Portugal.
This article originally appeared on Poker Industry PRO and has been republished here as a courtesy to our readers. Please visit Poker Industry PRO for more information on the industry intelligence services that are available, or email sales@pokerindustrypro.com to get a free trial.