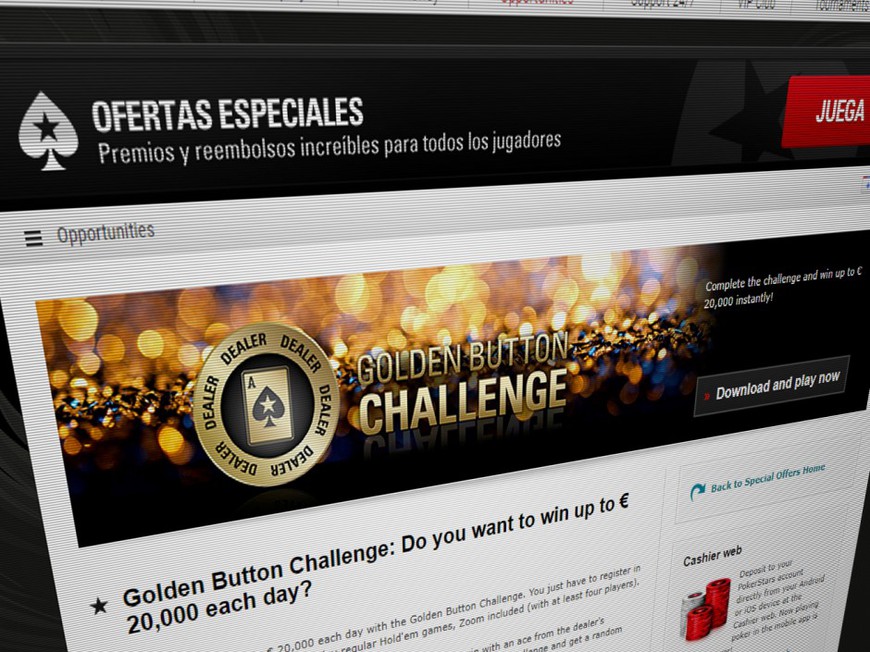 The promotion on PokerStars' segregated European sites last month featured Golden Button Challenge, a new personalized collection promotion that is likely to find its way to the wider dot-com international market.
Having run in Spain, Portugal and France, the promotion tasked players with accumulating bonus points by winning hands at Hold'em cash games when holding an ace; doing so when in the dealer position awarded extra bonus points.
Achieving a certain target is rewarded with an instant cash prize, from 50 cents up to €20,000. Players had the chance win a prize every day during the promotional period.
Like all cash game promotions before it, typified by the likes of CardMatch and Card Hunt, Golden Button Challenge was personalized. The daily target was not publicized and differed on a per player basis. The prize payouts also changed based on player type.
Player Buckets
The promotion on the Spanish website goes into detail on how players are categorized, giving a candid look at just how different the prizes can be depending on which bucket PokerStars places a player. Rewards can be up to twenty times greater for some players over others.
According to details on the Spanish website—the information was not shown in the French or Portuguese site, and may have differed between jurisdictions—players were placed into one of four groups, A through D. For Group A players, their prizes were slight. From B through to D, prize payouts were progressively more valuable.
"Keep in mind that to further improve the experiences of our customers we have customized the payment tables to suit different segments of users," the terms and conditions explain. Players can find the probability table that corresponds to them—and thus, into which "bucket" PokerStars has placed them—in their own "Challenges" window.
Every group had a top prize of €20,000, though the likelihood that this was awarded varied greatly—from 1 time in 100,000 for Group A, to a not-nearly-as-remote 1 time in 10,000 for group D. But the biggest difference was in the more frequent prize payouts.
For group A player, a 50 cent prize was awarded almost 60% of the time, and €1 prizes made up almost all other wins. For a Group D player, their lowest prizes were €5 and €10, and a €100 prize was awarded 10% of the time.
The expected value of each group prize is shown in full below.
---
Golden Button Challenge: Bucket Value for Each Customer Group
| | |
| --- | --- |
| Group | Bucket value (Euros) |
| A | 0.99 |
| B | 2.45 |
| C | 6.44 |
| D | 18.45 |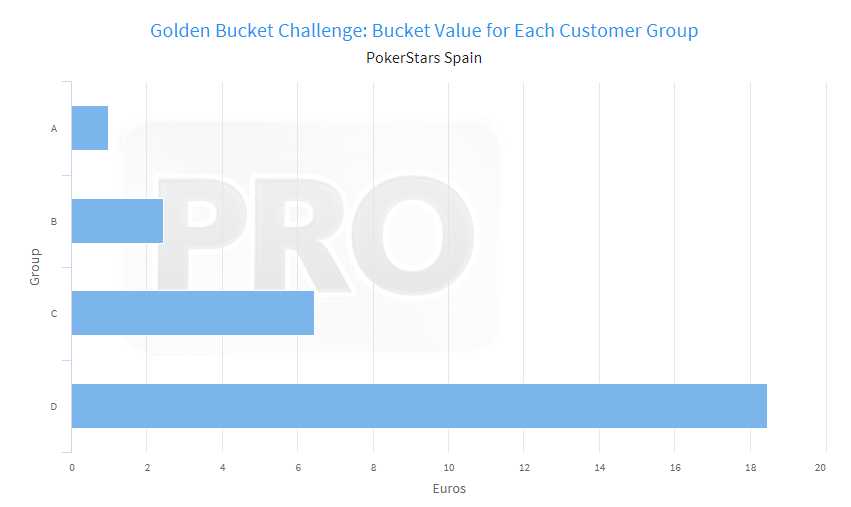 ---
Personalized Rewards
It is worth repeating that the targets for achieving a prize are unknown, and may have been set to counterbalance these lopsided values; the Group A prizes could have been much easier to achieve, and vice versa. Even so, the idea of players segmented into four buckets—and the large disparity between the value in each—offers a fascinating insight into just how aggressively PokerStars is pushing its player personalization.
It is particularly pertinent given the rollout of PokerStars new Stars Rewards VIP program.
Much to the chargrin of high volume players, which have pushed back against "opaque" VIP systems in the past, PokerStars' new Rewards program has player categorization and personalization at its core. The amount of playthrough required to earn a "Chest"—the new rewards mechanism for paying out daily random prizes—differs for every player.
"Reward point requirements depend on the Chest type you are playing towards," a Rewards FAQ explains, "but are also personalised based on your profile. Some of the factors which impact points requirements are recent activity, game-type and net deposits."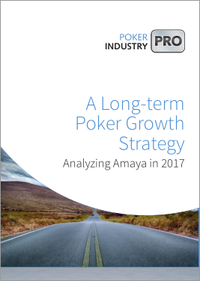 PokerStars hopes that this flexibility will allow them to better reward their core player base—recreational and net-withdrawing players—while discouraging high volume players who play only to extract value from the rewards program, so called "rakeback pros."
For deeper insight of PokerStars' new rewards program, and how it fits into its broader poker business strategy, read our exclusive 25-page report, A Long-Term Poker Growth Strategy. It is part of a set of six publications covering Amaya's online gaming business in 2017, available exclusively to our corporate customers.
This article originally appeared on Poker Industry PRO and has been republished here as a courtesy to our readers. Please visit Poker Industry PRO for more information on the industry intelligence services that are available, or email sales@pokerindustrypro.com to get a free trial.