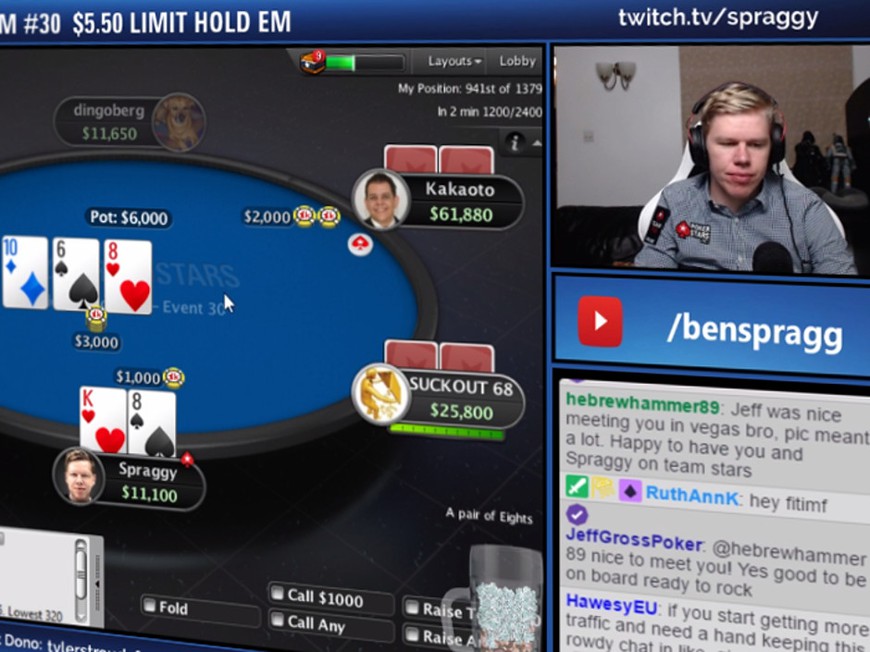 The use of live streaming as a method to promote poker continues to grow unabated. PokerStars added two new members to its Team Online last week, and earlier this week, partypoker added a dedicated live streamer to its roster of ambassadors—just the latest in a series of Twitch-focused signings by the world's top online poker rooms.
What stands out with the latest crop of new ambassadors is that these players are, first and foremost, live streamers—their appeal comes not from success playing poker online or live but from their entertainment value and dedication to their craft.
From the signing of the most successful poker live streamer, Jason Somerville, in early 2015 to Jeff Gross earlier this month, poker companies have steadily added poker players with live streaming skills to their rosters of ambassadors to promote their brands and showcase their products to live streaming viewers.
888 made a big splash in the live streaming pool earlier this year with its signing of Parker "TonkaaaaP" Talbot, arguably the biggest name on Twitch unsigned at the time. Unibet padded its list of live streaming ambassadors earlier this year with the addition of 2013 Irish Open Main Event winner Ian Simpson and Twitch streamers David Vanderheyden and Charlotte van Brabander. Partypoker has added dozens of new ambassadors over the last two years, and many stream on Twitch.
Live Streaming First
Introducing poker to new audiences has been one of the most appealing factors of live streaming, and online poker operators have used sites like Twitch and YouTube as new distribution channels for their marketing materials.
Now, brand ambassadors that specialize in live streaming poker have become routine. PokerStars' latest additions to Team PokerStars Online are Fintan "EasyWithAces" Hand and Benjamin "Spraggy" Spragg. These may lack the wide-spread name recognition or notable results on the felt; their most appealing attribute appears to be their live stream audience: Both Hand and Spragg have approximately 18,000 followers on Twitch.
"It's what I've been working towards and even now it hasn't hit me," Hand said in a press release last week. "Of course you win money in poker but I feel, however long I'm in Team PokerStars Online, when I look back on it in years to come, it's something tangible and it's going to be something to be proud of."
Hand and Spragg join other notable Team Online live streamers Jamie Staples and Kevin Martin, as PokerStars seems to be shifting the focus of Team Online away from players that have gained prominence solely from their online poker success.
They are not the only operator taking this approach. Earlier this week, partypoker added live streaming specialist Moldran to its stable of sponsored pros. The self-described "video game enthusiast and live streamer" will be manning the partypoker Twitch channel on Mondays. The operator officially launched its live streaming channel in October 2016 following the signing of popular live streamer Beata Jambrik.
With the volume of play in online poker tournaments and cash games exploding in recent years, several big scores in many of online poker's biggest events have been captured along the way. These winning moments not only create excitement around poker, they also serve to differentiate the game from esport games that do not offer the potential to win large sums of money.
The importance of reaching new potential poker players was not lost on Spragg.
"I would love for the online poker experience to be as fun as those games I played in the garage with my friends," he stated. "If I can help bring a new audience of players into the game and have them find the passion for it that I did I will consider it a job well done."
Live Events
Online poker operators are not alone in their affinity for live streaming. Land-based operators have also seen the potential to reach wider audiences—often with much less effort than securing a partnership with a major cable network—and have embraced the real-time broadcasting of their products.
Organizers of the Aussie Millions Poker Championship partnered with PokerStars and Somerville to live stream several hours from the Crown Melbourne in Australia in 2016. The project was so successful that Somerville returned to showcase the 2017 Aussie Millions.
As a result of the success of the live streaming pioneers, many poker rooms around the world have jumped on the live streaming bandwagon. For example, the poker room at the Bellagio in Las Vegas recently launched its own Twitch channel, and in Los Angeles, the Bicycle Casino has been live streaming a featured cash game table in its poker room for years under the "Live at the Bike!" brand.
Some are even looking to live streaming as a means of adding another monetization arm to their business.
Live at the Bike! is now a subscription based service with training videos and user forums augmenting its product offering beyond live streaming.
The World Series of Poker, which had been providing live streams of featured tournaments for free to users on its web site, moved to a subscription model in 2017. Forming a partnership with the all-poker channel Poker Central, fans looking to watch WSOP live streaming content were directed to download and subscribe to Poker Central's new app, PokerGo.
While it is difficult to assess the success of the WSOP moving its live stream to a subscription based service, early word that the partnership will be renewed for 2018 would indicate satisfaction levels of both partners.
What is not in doubt is that live streaming of poker has moved up to be more of a must-have rather than an optional marketing tool.
This article originally appeared on Poker Industry PRO and has been republished here as a courtesy to our readers. Please visit Poker Industry PRO for more information on the industry intelligence services that are available, or email sales@pokerindustrypro.com to get a free trial.