Partypoker to Break All its Own Records with $35 Million Powerfest
As PokerStars plays coy with its WCOOP schedule, partypoker grabs the headlines with its largest ever tournament series.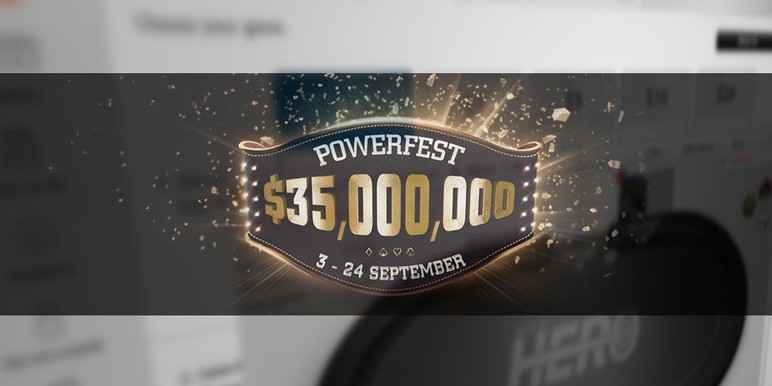 Partypoker has unveiled the first details of the next Powerfest online tournament series, and once again its ambitions have grown: The event this fall will guarantee $35 million across 330 events, more than triple the size of the event last year and making it one of the largest online tournament series of the year.
By all measures, the Powerfest of September will smash all its own records. The $35 million guaranteed is a 75% increase on the $20 million series held in May, and a staggering 3.5 times larger than the series last September.
The number of events also continues to grow, from 301 last May to 330 this September. Yet the average guaranteed prize pool per event—a useful metric to show how confident an operator is in filling seats in each tournament—is also up significantly: On average, each tournament in the upcoming Powerfest will guarantee over $100,000, an increase of one-third over the last series and double the $50k average of last September.
Indeed, Powerfest has grown by all major metrics every series since inception. The inaugural $2.5 million series with 80 events was considered ambitious when it ran two years ago; since then it has grown to more than ten times the size.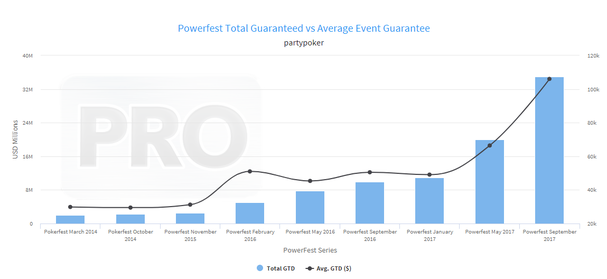 The fall period is one of the most important in online poker, and big operators run some of their largest tournaments of the year. 888 will run another XL Series, and PokerStars will be spreading WCOOP, its most prestigious event on the calendar.
Party On
Partypoker is aggressively pushing its online poker vertical, seeking to attract many players who may be turned off by PokerStars' radical change to its VIP program and staunch commitment to improve the experience for casual players over high volume players.
Over the last six months, party has enjoyed growth in cash game traffic thanks to a new rewards system that unabashedly courts online poker "grinders," in stark contrast to VIP programs of the competition.
It has also made cuts to rake, grown its weekly tournament schedule, and made a marked improvement in player communication on public forums. Owner GVC has boasted of online poker revenue growth for the first time in years.
It also recently appointed Bryan Slick, the former manager of PokerStars' online tournament series, including WCOOP and SCOOP, as a new tournament series consultant.
"As I look at the landscape today, I believe that it's not only possible but eminently doable for another site to re-create a portion of the Golden Age of Online MTTs which existed during a period from say 2008 to 2011," Slick told PRO in an exclusive interview earlier this month.
Only a teaser of the Powerfest schedule has been released, showcasing twelve "Championship" events—ten of which have guarantees of $1 million or more. More details, including the satellite schedule and tie-in promotions, can be expected closer to the time.
Powerfest Autumn 2017 starts on September 3 and runs for 22 days.
This article originally appeared on Poker Industry PRO and has been republished here as a courtesy to our readers. Please visit Poker Industry PRO for more information on the industry intelligence services that are available, or email [email protected] to get a free trial.