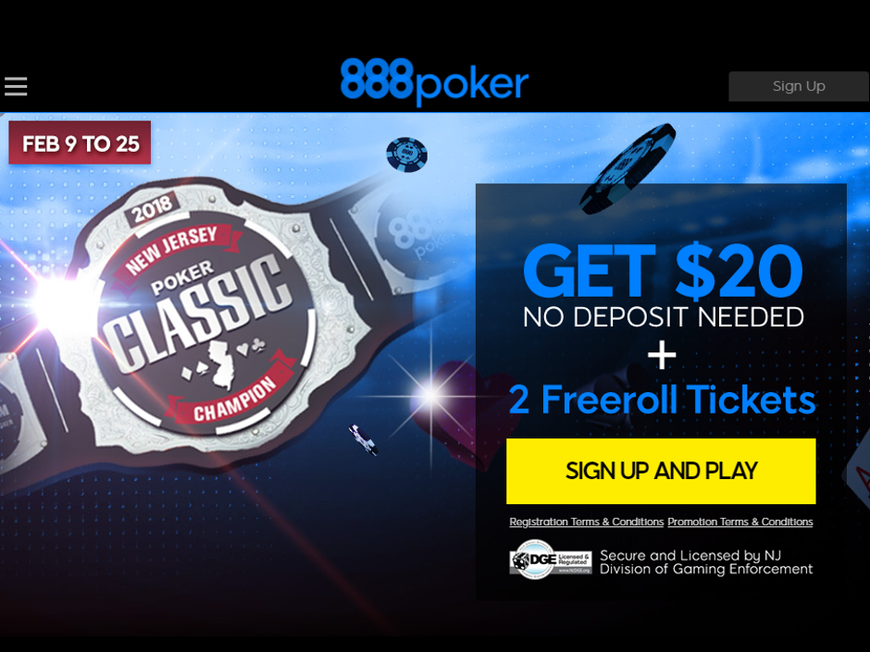 888poker and WSOP.com welcome back the New Jersey Poker Classic in February after its debut outing in November 2017. $800,000 is guaranteed over 57 events and 17 days, making it one of New Jersey's biggest online tournament series of the year.
Get a $20 when you create a new account at 888 in New Jersey. No Deposit Required!
Like last year, there will also be a $100,000 guaranteed Main Event.
The majority of the New Jersey Poker Classic's schedule is comprised of No Limit Hold'em events with a mix of re-buys, turbo and freezeout entries.
Back in November 2017 during its first outing, the New Jersey Poker Classic had $500,000 guaranteed over 38 events. The 2018 series sees an increase of 50% on the number of events and 60% on the guarantees offered compared to last year—showing an investment from the operator to expand its offering to players.
The average guarantee per tournament also sees a slight increase from £13.1k last series to just over $14k this time around.
At that time, the series ran just after PokerStars NJCOOP and partypoker/Borgata's Garden State Super Series—NJCOOP had $1.2 million guaranteed across the board and the GSSS $350,000—making 888's offer comparable at a time where there was not much competition on the calendar.
At present, there is nothing on the calendar in New Jersey competing with the tournament series in February, making it an appealing choice for players looking for some action next month.
"Every tournament schedule is part art and part science. We have data to go off of, but the wants and needs of players change over time. So you have to go into it knowing that a spreadsheet is never going to give you everything," WSOP Head of Online Poker Bill Rini said to the Online Poker Report the series back in November.
"From the beginning, our positioning has been to be the best place to play poker online. We offer a great experience for players, chances to win WSOP packages, and players know and trust the brand. As far as the competition, I don't want to say that we don't pay attention but they're often playing off other strengths and weaknesses, so what works for them might not be right for us. We just try to be very good at what we set out to do."
Get a $20 when you create a new account at 888 in New Jersey. No Deposit Required!
The New Jersey Poker Classic will run February 9 – 25. You can view the full schedule below.
Day
Tournament Name
Buy In ($)
Friday, February 9th, 7:00 PM

NJPC

II #1 – $8,000

NLH

– Kick-off [R&A]
$30
Friday, February 9th, 8:00 PM

NJPC

II #2 – $8,000

NLH

– Friday Fight [Knockout]
$250
Friday, February 9th, 9:00 PM

NJPC

II #3 – $5,000

NLH

– Turbo Deep$tack [Re-entry]
$50
Saturday, February 10th, 7:00 PM

NJPC

II #4 – $4,500

NLH

– Saturday Startup [Freezeout]
$50
Saturday, February 10th, 8:00 PM

NJPC

II #5 – $10,000

NLH

– Saturday Night Shuffle Up [Re-entry]
$150
Saturday, February 10th, 9:00 PM

NJPC

II #6 – $8,000

NLH

– Fast Flight [R&A, Turbo]
$75
Sunday, February 11th, 5:00 PM

NJPC

II #7 – $60,000

NLH

– Sunday Biggy [Re-entry]
$320
Sunday, February 11th, 6:00 PM

NJPC

II #8 – $8,000

NLH

– Short-Handed Sunday [R&A, 4 Max]
$50
Sunday, February 11th, 7:00 PM

NJPC

II #9 – $25,000

NLH

– Big 500 [Re-entry]
$500
Sunday, February 11th, 8:00 PM

NJPC

II #10 – $8,000

NLH

– Classic Freezeout
$100
Sunday, February 11th, 9:00 PM

NJPC

II #11 – $8,500

NLH

– Sunday Closeout Super Addon [R&A]
$20
Monday, February 12th, 7:00 PM

NJPC

II #12 – $8,000

NLH

– The Classic 100 [Re-entry, 8 Max]
$100
Monday, February 12th, 8:00 PM

NJPC

II #13 – $8,000

NLH

– Little Monday [R&A]
$30
Monday, February 12th, 9:00 PM

NJPC

II #14 – $5,000

NLH

– The Classic 50 [R&A]
$50
Tuesday, February 13th, 7:00 PM

NJPC

II #15 – $25,000

NLH

– Big 500 II [Re-entry]
$500
Tuesday, February 13th, 8:00 PM

NJPC

II #16 – $15,000

NLH

– Tuesday Showdown Special [Re-entry]
$250
Tuesday, February 13th, 9:00 PM

NJPC

II #17 – $7,500

NLH

– Turbo Tuesday [R, 6 Max]
$50
Wednesday, February 14th, 7:00 PM

NJPC

II #18 – $5,000

NLH

– Wednesday Warmup Deep$tack [R&A]
$20
Wednesday, February 14th, 8:00 PM

NJPC

II #19 – $4,000

NLH

– Mid-Week Freeze [Freezeout]
$50
Wednesday, February 14th, 9:00 PM

NJPC

II #20 – $7,500

NLH

– Wednesday Biggie [Re-entry, Super Turbo]
$75
Thursday, February 15th, 7:00 PM

NJPC

II #21 – $4,000

NLH

– Thursday 2AND1
$30
Thursday, February 15th, 8:00 PM

NJPC

II #22 – $10,000

NLH

– Thursday Throwdown [1R1A]
$100
Thursday, February 15th, 9:00 PM

NJPC

II #23 – $7,500

NLH

– Chips Chips Chips [Re-entry, Deepstack]
$75
Friday, February 16th, 7:00 PM

NJPC

II #24 – $2,000

NLH

– Friday Kickstarter [R&A, Show Me]
$20
Friday, February 16th, 8:00 PM

NJPC

II #25 – $20,000

NLH

– Weekend Warmup [Re-entry]
$250
Friday, February 16th, 9:00 PM

NJPC

II #26 – $3,500

NLH

– Friday Fight II [Knockout]
$75
Saturday, February 17th, 7:00 PM

NJPC

II #27 – $7,500

NLH

– Saturday Jumpstart [R&A, 4 Max]
$50
Saturday, February 17th, 8:00 PM

NJPC

II #28 – $12,500

NLH

– Super Saturday [Re-entry, 8 Max]
$250
Saturday, February 17th, 9:00 PM

NJPC

II #29 – $8,000

NLH

– The Classic 100 II [Re-entry]
$100
Sunday, February 18th, 5:00 PM

NJPC

II #30 – $80,000

NLH

– Sunday Spectacular [Re-entry]
$350
Sunday, February 18th, 6:00 PM

NJPC

II #31 – $12,500

NLH

– Sunday Funday [1R1A]
$100
Sunday, February 18th, 7:00 PM

NJPC

II #32 – $25,000

NLH

– Super Sunday [Re-entry]
$250
Sunday, February 18th, 8:00 PM

NJPC

II #33 – $6,000

PLO

– The Omaha 100 [Re-entry, 8 Max]
$100
Sunday, February 18th, 9:00 PM

NJPC

II #34 – $8,000

NLH

– Sunday Closeout [R&A, 6 Max]
$30
Monday, February 19th, 6:00 PM

NJPC

II #35 – $5,000

NLH

– Monday Maniac [R&A]
$50
Monday, February 19th, 7:00 PM

NJPC

II #36 – $8,500

NLH

– Sublime Six Max [R&A]
$30
Monday, February 19th, 8:00 PM

NJPC

II #37 – $8,888

NLH

– 8×8 [8R, 8 Max, Turbo]
$88
Tuesday, February 20th, 6:00 PM

NJPC

II #38 – $5,000

NLH

– Tuesday Takeoff Deep$tack [R&A]
$20
Tuesday, February 20th, 7:00 PM

NJPC

II #39 – $50,000

NLH

– High Roller [Re-entry, 6 Max]
$1,000
Tuesday, February 20th, 8:00 PM

NJPC

II #40 – $20,000

NLH

– Tuesday Showdown Special+ [Re-entry]
$250
Wednesday, February 21st 7:00 PM

NJPC

II #41 – $7,000

NLH

– 4 Max Dance [R&A]
$75
Wednesday, February 21st 8:00 PM

NJPC

II #42 – $8,000

NLH

– Special Wednesday [R&A]
-
Wednesday, February 21st 9:00 PM

NJPC

II #43 – $8,000

NLH

– Wendesday 2AND1
$50
Thursday, February 22nd 7:00 PM

NJPC

II #44 – $2,500

NLH

– Teams Tournament [R&A]
$30
Thursday, February 22nd 8:00 PM

NJPC

II #45 – $8,000

NLH

– Thursday's 6 Max [Re-entry]
$100
Thursday, February 22nd 9:00 PM

NJPC

II #46 – $7,500

NLH

– Thursday Night Right [Turbo, 1R1A]
$75
Friday, February 23rd 7:00 PM

NJPC

II #47 – $10,000

NLH

–

TGIF

[Deepstack & Super Addon]
$150
Friday, February 23rd 8:00 PM

NJPC

II #48 – $25,000

NLH

– Play Your Way [3 Re-entry, 1 Add-on]
$250
Friday, February 23rd 9:00 PM

NJPC

II #49 – $5,000

NLH

– Friday Fight

III

[Knockout]
$50
Saturday, February 24th, 7:00 PM

NJPC

II #50 – $8,000

NLH

– Saturday Night 30 [R&A]
$30
Saturday, February 24th, 8:00 PM

NJPC

II #51 – $25,000

NLH

– Saturday's Best [Re-entry]
$320
Saturday, February 24th, 9:00 PM

NJPC

II #52 – $4,000

PLO

– The Omaha 50 [R&A, 8 Max]
$50
Sunday, February 25th, 5:00 PM

NJPC

II #53 – $100,000

NLH

–

MAIN

EVENT

[Re-entry]
$500
Sunday, February 25th, 6:00 PM

NJPC

II #54 – $11,111

NLH

– Sunday One Day [R&A]
$11
Sunday, February 25th, 7:00 PM

NJPC

II #55 – $4,500 – Teams Tournament [R&A]
$50
Sunday, February 25th, 8:00 PM

NJPC

II #56 – $15,000

NLH

– Final Freezeout
$250
Sunday, February 25th, 9:00 PM

NJPC

II #57 – $10,000

NLH

– Closeout Deep$tack [Re-entry, Turbo]
$100