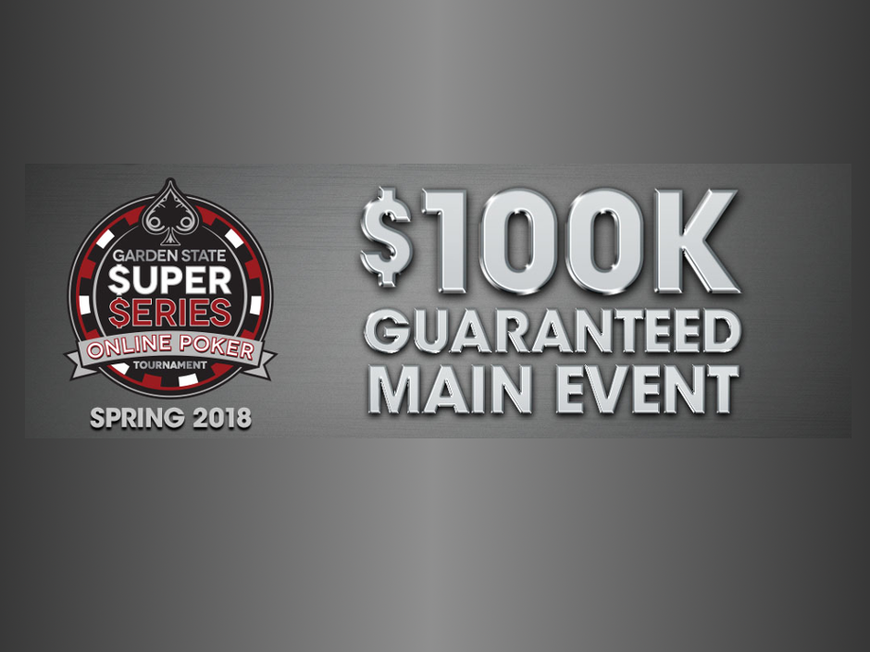 With Garden State Super Series (GSSS) Spring 2018 set to start this Sunday in New Jersey, Borgata's Executive Director of Online Gaming, Ray Stefanelli, took some time out of his busy schedule to field a few questions about the iconic online poker series.
Borgata Poker features one of the most popular online poker tournaments in New Jersey. For those that may not be familiar, tell us what makes the $535 Mega Tuesday event so popular.
The $535 Mega Tuesday offers a 12,500 in starting chips, a player-friendly blind structure and a balanced payout structure. The starting chip stack allows players to feel comfortable playing a wider-range of hands. The blind structure offers the first 25 levels at 10 minutes each and the remaining levels at 12 minutes each – providing more play deeper in the tournament where it counts the most. The payout structure balances a lucrative first place, while paying 1.5 to 2x the buy-in as a minimum payout.
This is a good change of pace tournament for the middle of the week. This tournament appeals to players willing to risk larger buy-in but for a more lucrative prize structure (i.e., increased to $25,000 during the GSSS Spring 2018). We offer many qualifiers into this event, so in reality, anyone has a chance to participate in this event.
Editor's Note: The $535 Mega Tuesday event has been so successful that a brand new $535 Mega Thursday tourney has been added to the series and it will continue on as part of the regular weekly schedule once the GSSS wraps up.
Get $20 FREE when you create a new account to play the GSSS!
We see the network is introducing a new payout and blind structure for 6-max tournaments. How will the new structures be different and what are they meant to achieve?
The new payout structures pay according to tables of six (6). While other sites may not see this is an important feature, we see all components of a tournament as being a requirement for a great experience: starting chip stack, blind structure, and payouts.
We continually monitor the landscape and our goal is to provide the best in all components (we don't believe in smoke and mirrors). For example, some venues will increase the starting chip stack, but without the appropriate accompanying blind structure (and payouts) this does not necessarily equate to a better tournament experience.
Based on the success of qualifiers so far, how do you expect this year's
GSSS

to compare to last year?

With the addition of the following promotions surrounding the GSSS Spring 2018, we anticipate great feedback from the poker community.

First, we are providing the top three (3) winners of each GSSS events #1 – 13 (36 winners) a $320 online entry into the GSSS Main Event, which features a $100,000 Guaranteed Prize Pool on Sunday, March 25.

Second, we are conducting a GSSS Spring 2018 Tournament Leaderboard promotion, which awards valuable leaderboard points for each GSSS event (1 through 17) a player participates in and awards bonus points based on cash place finished, tournament buy-in amount and total number of tournament entries.

The top 300 places at the end of the promotion will be awarded entry into the MILLIONS North America Freeroll Invitational tournament to be held on Sunday, April 8, 2018 at 4PM. The top five (5) place finishers in the MILLIONS North America Freeroll Invitational tournament will each receive a $5,000 prize package (consisting of land-based entry into the PP MILLIONS North America and $900 online cash).

Get $20 FREE when you create a new account to play the GSSS!
The weather service is predicting a beautiful weekend for the start of the
GSSS

. Does weather usually play a factor in turnout for the tournaments this time of year?

We are all looking forward to beautiful weather in New Jersey! Our tournament structures, aggressive reinvestment in our loyal player base, and our commitment to incorporate player feedback for continuous improvement will help us achieve our goals.