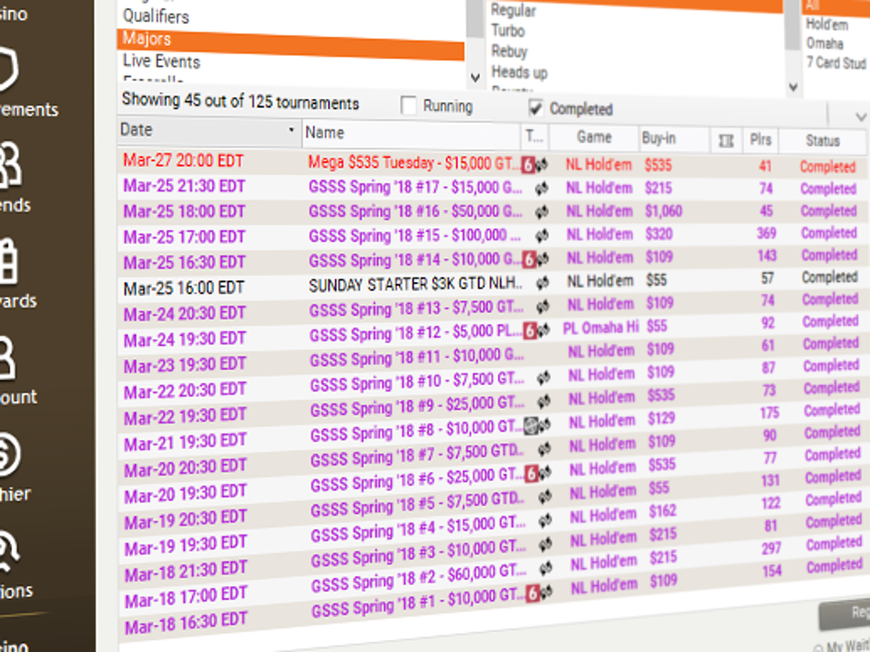 The Garden State Super Series (GSSS) returned for the eighth time this month for its Spring 2018 outing. The series as a whole easily surpassed its total guaranteed prize pool of $365,000 by paying out players a total of $446,900.
The iconic New Jersey online poker tournament series had a mix of 17 events spread over eight days with buy-ins starting at $55, topping out at $1060 for the High Roller event.
There were plenty of re-entry events peppered throughout the schedule, so when players were knocked out of tournaments, they were able to buy their way back into the events. No Limit Hold'em six-max, turbo and bounty events made up the bulk of the schedule. A PLO tournament was thrown into the mix for good measure along with $1060 buy-in a high roller.
Eleven events exceeded their guarantees. While six fell short, two of them were shy just one entry and another missed by just three. However, the overlays were more than made up for by the others exceeding expectations. Compared to GSSS's outing a year ago, Borgata increased the total guaranteed prize pool by $95,000, making the series' success even more impressive.
"We received positive feedback on our six-max payout structures and great support for the GSSS Main Event," Borgata's Executive Director of Online Gaming, Ray Stefanelli told pokerfuse. The $320 buy-in Main Event boasted an ambitious $100,000 guarantee. The event drew 369 entries and surpassed the guarantee by $10,700.
Stefanelli was also pleased with the success of the $535 buy-in Mega Tuesday Six-Max and the $535 buy-in Mega Thursday events. "We introduced the Mega Thursday event during the series with the plan to continue to offer both Mega Tuesday Six-Max and Mega Thursday $535 buy-in events on our weekly schedule, which provides players more opportunities for larger buy-in events and bigger payouts throughout the week." During the GSSS, both event easily exceeded their $25,000 guaranteed prize pools by paying out $38,500 and $36,500 respectively.
Synergies Between Live Poker and Online Poker
As part of the GSSS, Borgata and its network partners looked to increase the connection between the online poker product and the more traditional land-based poker events.
According to Stefanelli: "The top 300 GSSS Leaderboard place finishers received an invitation to participate in the MILLIONS North America Freeroll Invitational Tournament that will run on Sunday, April 8. We are giving away five (5) prize packages each valued at $5,000. The prize package includes land-based entry into the $10 Million Guaranteed PP MILLIONS North America event in April along with $900 online cash. This, together with our continued online to land-based satellite program reinforces our commitment to offer online players the best opportunities to obtain entry into prestigious land-based events for as little as $5."
Switching Things Up
Partypoker/Borgata switched strategy back in 2017. Rather than going wide with their schedule, with dozens of smaller events and an average guarantee per-event of around $15,000, the network has adopted a strategy closer to that of PokerStars—fewer, more prestigious events, and an average of $25,000 guaranteed per event.
One issue the network has faced in the past is technical—previous events have been plagued with geolocation issues, in one case resulting in a Main Event being canceled. The stagnation of the market and the competition from PokerStars also resulted in big overlays in the past.
The reality of the market with such small liquidity is that customers' wallets are limited, and operators are fighting over the same dollars when setting tournament schedules.