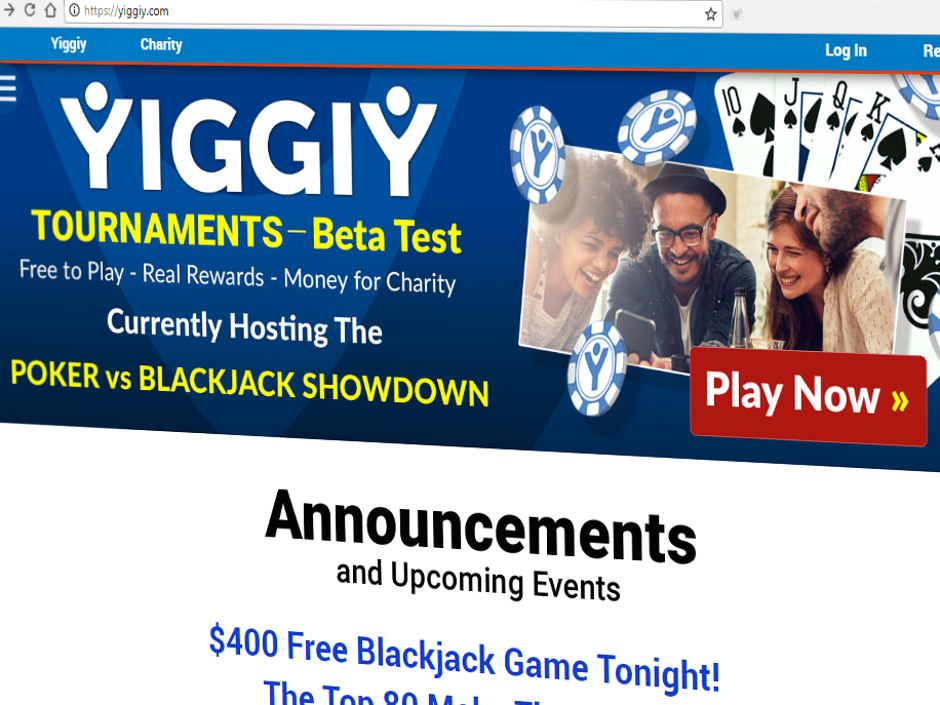 Beta testers are wanted for a new free play poker site which puts charitable initiatives at its core. Players can try out a mix of poker and blackjack games for free on Yiggiy with the chance to win cash and prizes. Other games that can be played on Yiggiy include multi and single player Baccarat, Mahjong, Deuces Wild, and more.
To try out the site all players have to do, if they are over 21, is sign up for an account on Yiggiy, chose a poker or blackjack game in the lobby and start playing for free. If players finish in the top half of the field they are then eligible to play for real prizes such as outdoor home cinemas, BBQs, gift cards and cash.
Beta testers will get to experience the games in their current form and provide feedback on the game design, user interface and more.
For players looking to enter the Texas Hold'em games, this is how it works:
Players enter Qualifying games where the first 16 hands are Limit Hold'em, and the remainder of the tournament is No-limit Hold'em.
Those that finish in the top half of the field (the games will either be 2 or 4 player games) gain entry into a $400 freeroll (all hands are No Limit Hold'em) or the Saturday Night Poker vs Blackjack Showdown.
Qualifying more than once allows you to increase your starting stack in the $400 freeroll. Each additional win gets you an additional $100 in starting chips (up to $400 in additional starting chips are allowed for each game).
The top 20 finishers share the $400. Prizes range from $5 to $50 that can be used for purchases in the Yiggiy Mall, or after you accumulate $100 or more, you can request actual cash.
Poker vs Blackjack Showdown
Every Tuesday and Saturday night at 10pm EST for the months of June and July, Yiggiy is hosting its Poker vs Blackjack Showdown.
Qualify by playing poker or blackjack and then face off against two players at a time with the goal of knocking out six other players to advance to the Finale. The Finale for June takes place on June 30 at 10pm EST and the July Finale kicks off on July 28 at the same time.
Beat 6 players in the Finale and win $500 and a chance for the Grand Prize. "The Grand Prize is 'The Yiggiy Swag Bag', a $3000 bag of goodies ranging from $1000 in cash to some of the latest tech items on the market," according to the web site.
Winning the Grand Prize requires players to defeat all other grand finalist and a Yiggiy pro.
Prizes include Home Depot vouchers, a pre-loaded $1,000 Visa card as well as other gifts such as an outdoor home cinema and BBQ set. Players outside the US can pay additional shipping fees or opt for a cash buyout.
Charity Match Initiative
As part of their Charity Match Initiative, when a player wins on Yiggiy, the company matches the amount with a donation to a charity of the player's choice.
Charities that have already been helped by Yiggiy include; Birmingham Homeless Outreach, Hope for Paws, Animal Rescue, Cure for MND Foundation and We Help The Missing. For a complete list of charities supported by Yiggiy please go here.
If players don't see a charity on the list that they would like to support, Yiggiy encourages players to nominate that charity.
Yiggiy also has its own e-shop where $1 from every sale from its "Bargain Vault" goes directly to charity. The e-shop features shoes, accessories and fashion items for men and women.
To try out Yiggiy and help with charitable donations you can sign up for an account today.