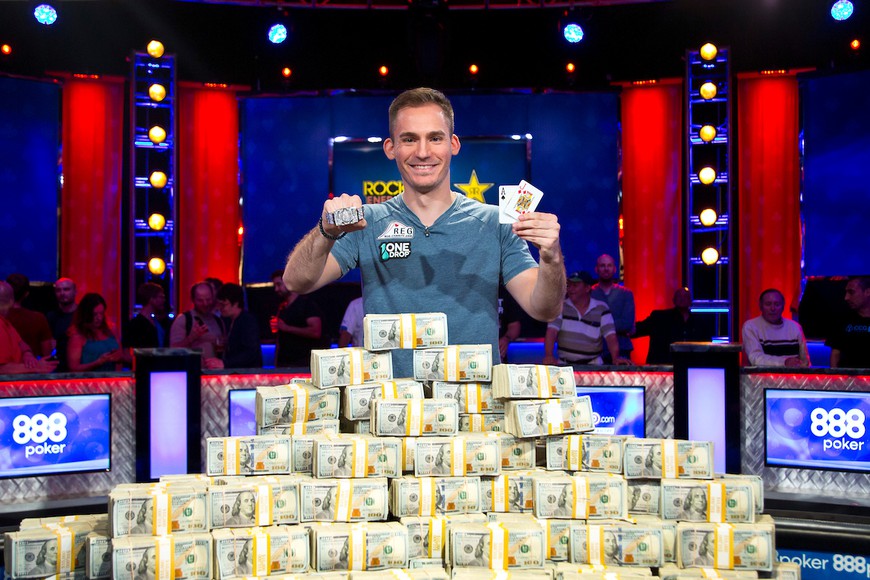 Justin Bonomo has taken down the World Series of Poker Big One for One Drop for $10 million, making it the third WSOP gold bracelet of his career and propelling him comfortably into the All-Time Money List top spot. Bonomo faced off against Fedor Holz to take the win last night in Las Vegas.
Since the start of 2018 Bonomo has cashed a staggering 24 times, coming in 1st place 10 times. Before taking down the Big One for One Drop for the biggest win of his career, Bonomo won the 2018 Super High Roller Bowl for $5 million.
His earnings for 2018 are now over the $24.9 million mark and overall his lifetime earnings stand at $42.9 million.
"Being number one on the all-time money list is sweet," Justin Bonomo told the WSOP after his win. "It's awesome. It feels good. But to be honest, I understand that that is not the measure of who a great player is. At the end of the day, I feel like this past year I've played fantastic poker. … And that's something I can be very proud of. I'm not going to say I'm the best player in the world, but I'm very confident that I'm up there and I'm very proud of what I've done."
Bonomo's win at the Big One for One Drop knocked long time All-Time Money leader Daniel Negreanu off the top spot.
There hasn't been a heater like this since 2016 when Fedor Holz, who ended up coming second in the Big One for One Drop for $6 million, earned $5 million in just one month with back-to-back high roller wins.
In the past 6 months Bonomo has moved from 14th place to 1st place on the All-Time Money list. Fedor Holz is up one place to 4th place, Eric Seidel is down one to 3rd place, and Daniel Negreanu sits in 2nd.
---
Justin Bonomo and Daniel Negreanu By The Numbers
Player
Justin Bonomo
Daniel Negreanu
All-Time Money Ranking
1st
2nd
2018 Earnings (To Date)
24,945,425
4,336,383
All-Time Tournament Earnings
42,979,593
39,656,196
Cashes in 2018
24
13
2018

WSOP

Cashes
3
5
1st Place Finishes (2018)
10
0
---
Effective Altruism
Bonomo is known in the poker community for his effective altruism and as an ambassador for REG Charity —a platform designed by poker players to raise money for the highest impact charities and research foundations.
Bonomo even sold pieces of himself via YouStake at a 1.05 markup, pledging to give all of the proceeds from the 5% markup to Givewell.org.
The Big One for One Drop is in and of itself a charity event in support of One Drop—a foundation that ensures communities in impoverished countries have access to clean water. From each buy-in to the 2018 Big One for One Drop, $80,000 was earmarked for the One Drop foundation and the remaining $920,000 went to the prizepool.
"Everyone kept asking me, 'Are you excited to play One Drop?' And my answer to everyone was 'No." Yes it's a great privilege, but I see it as a great responsibility," Bonomo said on his involvement in the WSOP Big One for One Drop event. "It's more money than I've ever played for in my life so I buckled down during all my breaks, I studied, I took the day off the day before and just studied all day. Meditation every single day. I just took this as seriously as I possibly could and tried as hard as I possibly could."