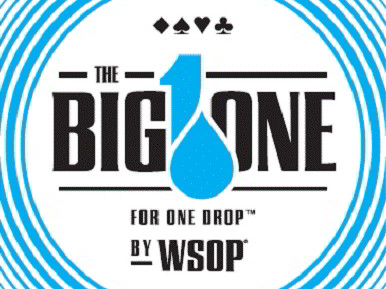 Key Takeaways
In 2014, the Big One will increase its maximum number of players from 48 to 56.
The event will take place from June 29-July with all play right up until the televised final table taking place at Caesars Palace.
Should the event sell out, 20% of the participants are expected to make the money.
$111,111 of each buyin will be removed and given as a charitable donation to the One Drop Foundation
Officials at the World Series of Poker (WSOP) have officially announced the return of the biggest charity poker tournament of all time. The Big One for One Drop, a $1 million dollar No-Limit Hold'em buy-in event, returns for the 45th Annual WSOP.
In 2014, the Big One will be even bigger. As a result of selling out of the inaugural event, organizers have added another full 8-handed table to the tournament increasing the number of potential participants from 48 to 56. With this increase and the likelihood of another sell-out, the first place prize money has the chance to reach $20m, exceeding the $18.3m Antonio Esfandiari won in 2012, and instantly making it the richest first place prize awarded in any WSOP event.
Set to take place from June 29-July 1 the event will also have a change of venue for the first couple days as all play right up until the televised final table will be taking place at Caesars Palace as opposed to the Rio All Suites Hotel and Casino.
With 56 available seats, organizers are planning on a bit of a flatter payout. Should the event sell out, 20% of the participants are expected to make the money. One Drop founder Guy Laliberté has already claimed a seat.
"It was a terrific inaugural event in 2012 with ONE DROP raising nearly $5.3 million from the BIG ONE event," said Laliberté who finished in 5th place back in the 2012 event. "There is still a lot of work to be done to ensure access to water for all. I have no doubt that the poker community will once again live up to its reputation for generosity by helping to transform lives sustainably."
Like last time, a healthy $111,111 of each buyin will be removed and given as a charitable donation to the One Drop Foundation who makes it their continued goal to make clean water accessible to all.
Anyone looking to take the ultimate shot, needs to know that seats are being reserved on a first-come, first-served basis with a deposit needing to be made to guarantee a seat in the tournament. With no rake or house fees taken from the event, the WSOP expects a nearly $50m prizepool.
"This event quickly established itself as special and unique, and for that reason we chose to make it an every other year affair," said Mitch Garber, Caesars Interactive Entertainment's CEO. "But we can't wait to host it again in 2014 and continue to use this vehicle to impact the planet through ONE DROP's platform."
Nearly $10m from the 2012 event ended up in the hands of One Drop charities and event organizers are hoping the poker community can do even better in 2014.
The schedule for the remaining dates and events of the 45th Annual WSOP are currently being developed with more announcements to be made in November.