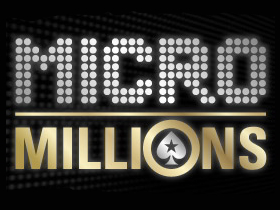 Key Takeaways
Zoom tourneys debut in the upcoming MicroMillions series on March 14th and 17th.
They will carry guaranteed prize pools of $75,000 and $50,000 respectively.
The MicroMillions slate features 100 tournaments and runs from March 14-24, 2013.
PokerStars has announced that its first "Zoom" (fast-fold) poker tournaments will be held in March, as part of the online poker giant's fourth PokerStars MicroMillions series, which will run March 14-24, 2013.
The addition of the patented Zoom technology to Stars' tournament offerings adds to the success which Stars has had in marketing the speedy-action format to its cash-game players, where it has, over the course of the past year, become one of the site's most popular formats.
The two debut Zoom tourneys within the upcoming MicroMillions series are scheduled for March 14 and 17, and will carry guaranteed prize pools of $75,000 and $50,000 respectively. The "Zoom" action will remain in effect until the final three tables are reached, at which point the series will revert to a more traditional format.
The Zoom tourneys are actually just a small part of the overall MicroMillions slate, which features 100 tournaments in a round-the-clock festival designed to provide series action to all Stars players, no matter where on the globe they live.
The total MicroMillions series guarantee is $5 million, including a $1 million guarantee in the series' main event, to be held on March 24th.
Other special MicroMillions offerings include two $11 "Sunday Storm" specials, each with a $300,000 guaranteed purse, and an opening-day triple-rebuy turbo event with a $1 entry fee, offering a $150,000 guarantee.