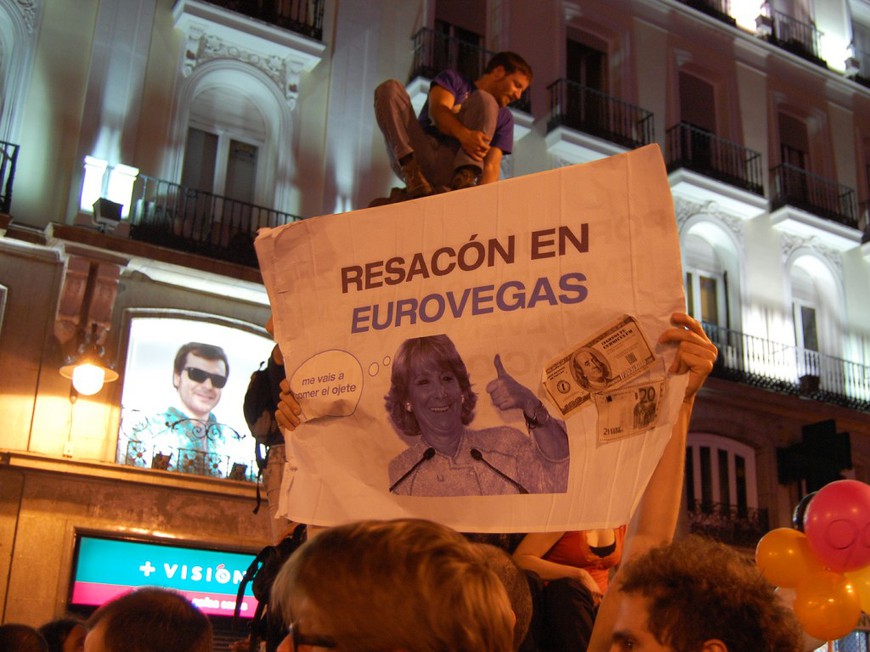 The Mayor of Madrid Ignacio Gonzalez has announced that the regional gaming tax on bricks and mortar casinos will be reduced from 45% to 10%.
The reduction was demanded by billionaire owner of the Las Vegas Sands Corporation, Sheldon Adelson, as a condition for locating his €15 billion EuroVegas hotel and casino complex in the region.
Madrid has the lowest casino taxes in Spain at 22%-45% of profits; other regions tax up to 60%. The reduction will take effect when and if EuroVegas opens for business.
The development plans for twelve resorts, nine theaters, six casinos, three golf courses, and a sports stadium together with extensive conference facilities. Adelson claims the project will create over a quarter of a million jobs.
Spanish online players should not see this as opening the doors to reductions in the online gaming taxes. Gonzalez' concession to Adelson is a direct result of the desperation to secure the billions of dollars of investment, future tax revenues, and jobs in a region with over 25% unemployment and huge regional government debts.
Precedents for establishing separate legal and tax treatment of massive investment projects go back to the Seville Expo in 1992. Gonzalez justified treating the EuroVegas project in the same way: "EuroVegas is not a hotel … it is a comprehensive project and we need a comprehensive framework to deal with a development of this type."
The move has caused concern in the other 16 autonomous regions because the Madrid casinos will have a substantial price advantage. There is a concern that the other regions will effectively be subsidising Madrid's revenues as both gamblers and taxes shift to the capital.
There is still a huge amount of public opposition to the project, which is also seeking special deals to get around restrictive Spanish labor laws and to lift the ban on smoking in public places.
National and Regional Spanish governments have shown themselves perfectly capable of standing up to massive anti-austerity protests in the current debt crisis. The political will is there to brush off these objections. The smoking issue is likely to prove a thornier topic to solve.
Following the smoking ban introduced in 2011, casino revenues fell by between 15% and 18% according to the Spanish Casino Association. In seeking to attract gamblers from the EU and surrounding countries, a relaxation of the smoking ban is seen as essential. In this region: "Gamblers are smokers," as one analyst put it.
Taxes in Las Vegas are between 6% and 8%, so Adelson will accept that 10% is commercially viable. Ignacio Gonzalez has made an important first step but he admits himself that the smoking issue is not within his competence but depends on the support of the Ministry of Health.
Work is due to start in early 2013 but the fantasy of EuroVegas remains insubstantial until the central government makes the additional concessions demanded by the billionaire investor.