Merson Captures 2012
WSOP

Main Event Bracelet, POY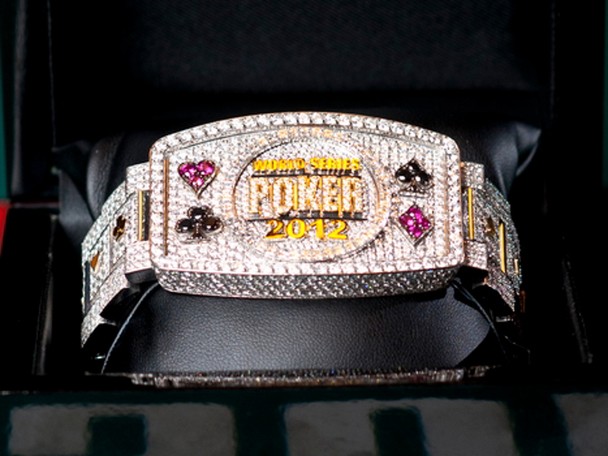 In an up-and-down battle that stayed three-handed for 11 hours and ended after a 45-minute heads up match, Greg Merson won the 2012 WSOP Main Event.
The 24-year-old from Maryland collected more than $8.5m.
On the 402nd hand of play—the most in Main Event history—Merson's K5dd defeated Sylvia's QJss. Merson had raised the button, Sylvia three-bet, Merson shoved and Sylvia tank called.
The board ran out dry: 96367.
Merson rubbed tears from his eyes, as Sylvia spoke to ESPN reporter Kara Scott after play ended, then the two poker pros and friends shook hands.
"I'm trying not to cry anymore," Merson told Scott.
With the win, Merson also nabbed the 2012 WSOP Player of the Year award, surpassing runner up Phil Hellmuth.
He hoisted the bracelet before the crowd, then handed it to his mother.
"Where's Phil Hellmuth?" he said. "Go Orioles."
Merson, who appeared poised behind dark aviator-style sunglasses throughout the exhaustive final table, has said that poker helped him overcome his addiction to drugs.
His stamina and apparent lack of emotional ties to some of the biggest pots of the night clearly paved the way to his success.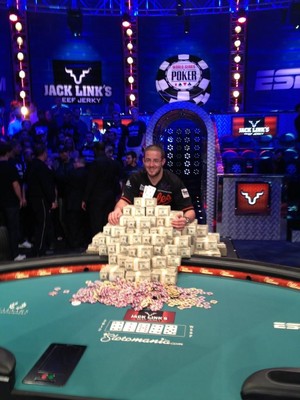 Merson, whose rail included Phil Ivey and Jennifer Harman (his fellow team members on iveypoker.com), knocked out Jake Balsiger to get the match heads up.
During the final table, Merson donned the jersey of Baltimore Orioles outfielder Adam Jones, patched with sponsors from three other sites—draftkings.com, bestbet.com and theppa.com.
In a news conference before three-handed play began, Merson said he turned down offers to advertise on his right sleeve so he could make room for the Poker Players Alliance patch.
An online grinder with millions of hands under his belt, Merson has been an advocate of the return of online poker to the US. As poker's newest ambassador, he said he would push for that to happen.
Sylvia, 26, took home more than $5.2m for second place, while 21-year-old Jake Balsiger picked up nearly $3.8m for third.