WSOP

October Nine Profile: Andras Koroknai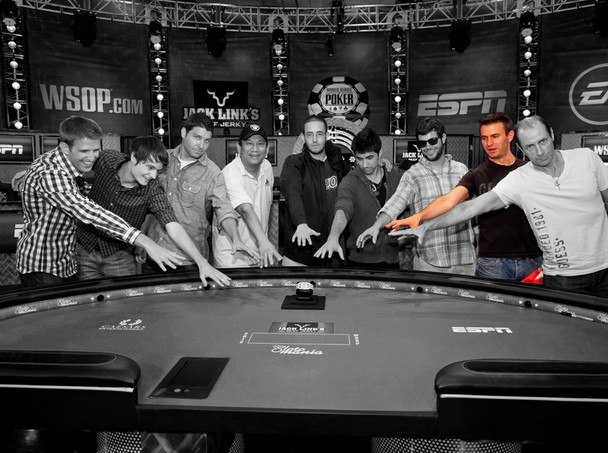 Hungary's Andras Koroknai would have fit right in at last year's World Series of Poker final table, when international players occupied five of the nine seats. This year, Koroknai's the odd man out, the lone non-US player crashing what has otherwise an all-American party.
That Koroknai gets to do so with a giant 29,375,000 stack, placing him second as the final table convenes, puts him into position to keep the WSOP title an international affair. Three of the last four main event winners have come from outside the US – Pius Heinz last year, Jonathan Duhamel in 2010, and Peter Eastgate in 2008.
Koroknai's credentials are stronger than any of his predecessors, too. He has made the leap from obscurity to a major title once already, capturing the 2012 WPT LA Poker Classic, one of the riches titles in WPT history, worth $1,788,040
Not bad for a player who had only turned pro the year before.
Andras Koroknai hadn't always planned on playing poker professionally. After graduating from Hungary's University of Debrecen with a computer science degree, he went to work for his uncle, who ran a small computer shop in Debrecen. But a motorcycle accident in Greece, where he had traveled while on the bounce from a broken relationship, nearly killed Koroknai and changed his outlook on life. From there it was only a few months of grinding before his grander dreams became reality.
After a few months of cash-game and smaller-tournament play, Koroknai cashed in big in 2010 with his unexpected Los Angeles win. The triumph gave Koroknai the bankroll to travel the world in recent years, including participating in EPT and WSOP events.
For all that, Koroknai returns to center stage as the player a lot of fans want to hate. It was Koroknai who knocked out both Elisabeth Hille (in 11th) and Gaelle Baumann (in 10th), preventing either woman from reaching the final table and perhaps logging the best-ever showing by a woman.
Koroknai's knockout of Baumann was especially ironic, in that his own tournament life nearly ended on Day 5, when only a tournament director's proper ruling that Koroknai had mucked his hand kept him from being declared all in against Baumann's K-K and being eliminated himself at that point.
The hand involved Koroknai's view of Baumann (then in the "1" seat) being obscured by the dealer, so that he did not realize she was still in the hand; Koroknai raised to bully a short stack (Gavin Smith, who folded), declaring himself "All in," then mucked, not realizing Baumann was still in the hand, praying for more action herself with her pocket kings.
Instead, Koroknai's hand was declared dead for having been mucked, with Baumann receiving only enough of Koroknai's chips to cover her own raise, a ruling that has been questioned repeatedly but remains in line with other TD calls in similar spots. Both players battled through the remaining field to the cusp of the final table, where fate again went Koroknai's way, when his A-J held up against Baumann's A-9.
Nor did Baumann complain about the decision, noting that it was just an accident of circumstance, and not an angle shot. Often, big titles hinge on such weird moments, and in this case it's Andras Koroknai who has the chance at a second life-altering payday, while Baumann came so close, but is on the outside looking in.
For Koroknai, it's all good. Back in Hungary his uncle's computer shop keeps on, selling and servicing PC's to the locals. It's a long way from there to the bright lights of Vegas. But in other ways, it's not so very far at all.