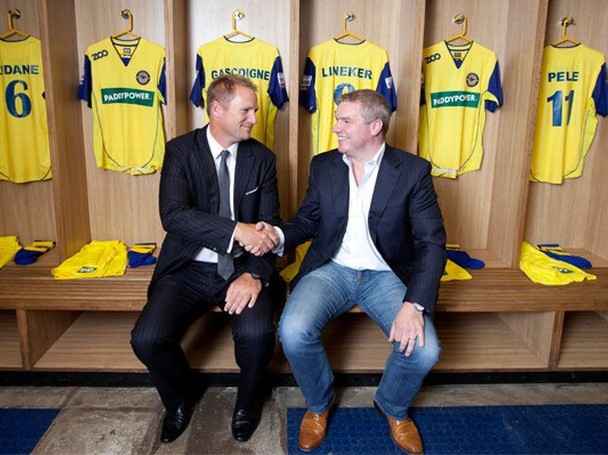 Irish bookmaker Paddy Power announced Tuesday that it has become the title sponsor for UK conference football team Farnborough FC—with it's new backing, Paddy Power hopes to bring new life to the financially-troubled team.
With the new sponsorship, Paddy Power will bring its name to the uniforms, and will rename the stadium "Paddy Power Park"—but the name changes do not end there.
All of the players on the team have agreed to legally change their real names: That means that next season Farnborough fans will be watching a team now consisting of Pelé, Messi, Zidane, Beckham, Lineker and other legendary names of the game.
Every player on the squad, at each position, selected the names of some of the greatest footballers of all time and have adopted those names in place of their own. Even the coaches got in on the action, with the manager formerly known as Spencer Day switching his name to that of Portuguese manager of Chelsea, Jose "The Only One" Mourinho.
"As with anything Paddy Power does there will undoubtedly be critics of this deal. We're a big company taking advantage of a vulnerable club, or some such twaddle," the company blog states in its typical blasé fashion.
"The truth is without this deal yet another club could have gone bust. Which is not what any true football fan wants. So basically if you criticise us at all then clearly you hate football and you spit on babies. Ahem."
Publicly listed Paddy Power is one of the largest brick and mortar operations in the UK, with over 200 betting shops in Ireland and 140 in Great Britain. It operates the largest telephone betting service in Ireland and claims to be the sixth largest online operator in the British Isles. Online, it offers online poker on Playtech's iPoker network alongside sports betting, bingo and casino games.
Farnborough Town FC went into liquidation during the 2006-2007 season, forcing it to change its name to simply Farnborough. It faced further financial troubles in the last two years despite success on the pitch.
For the full squad list, check Paddy Power's blog post.