WSOP

October Nine Profile: Russell Thomas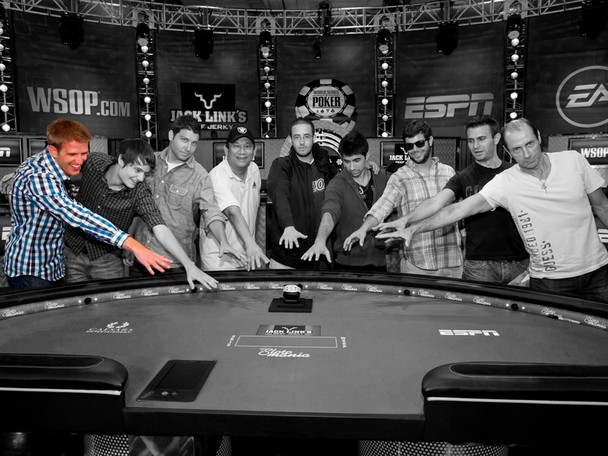 Like many poker players, Russell Thomas caught the poker bug during his college days. Unlike most others, for Thomas that pastime quickly led to bigger things, including a trip to this month's October Nine and a shot at an $8.5m payday.
For Thomas, poker brought quick rewards. Within three years of his first live and online games at Temple University, he'd already parlayed his success into a WSOP trip, where he notched his first two cashes in 2010, including his first WSOP final table.
In 2011 he returned to the Rio, this time making his mark in the main event, recording a 248th-place finish worth $40,654. And in 2012? There's $754,798 already locked up, with a chance for nearly eight million more.
That's quite an outlier for a player who understands numbers better than most observers might expect.
Russell Thomas, though, has his own edges. The Bryn Mawr, Pennsylvanian picked up poker stratagems early by watching his older brother, who also turned poker pro. And Thomas himself quickly cultivated a circle of friends, one of whom is named Jesse Sylvia, who will occupy another of the "October Nine" seats.
And yet it almost didn't happen. When first faced with the choice between poker and "real life," Thomas opted to pursue a more traditional degree, moving to Hartford, Connecticut, and an actuary job with Aetna, where he worked on ObamaCare projections.
Given that his job involved assessing risk and assigning probabilities, he's well aware that his own hot run in the 2012 main event has already beaten the odds. As he told the WSOP's Nolan Dalla in a recent interview, "I am like there is a 50 percent chance I will be playing on Wednesday and a 20 percent chance on Thursday than a five percent chance and then a one percent chance on Saturday or something like that. I guess those probabilities didn't really mean anything."
Few players would evaluate their prospects in that manner, but that's part of what sets Thomas apart, that need to apply structure to poker's chaotic scene.
It almost didn't happen. Like most players who run deep in the ME, Russell Thomas had to pull one out to survive. Thomas ran an all-in bluff with J-8 of clubs against Greg Merson on Day 6, only to discover that Merson, with A-K, had a hand too big to fold. Yet Thomas spiked an eight on the flop, faded the turn and river, and turned that hand's 4-in-11 prospects of survival into a deep stack and an eventual Octo-Nine seat.
Only when Day 6 concluded and Day 7, with 27 players returning, did Russell Thomas allow himself to consider making the final. As he told the fuse, "Day 7 is when you really start to think about the final table. When Day 7 started out well and I had over 20 million chips and was the chip leader of the tournament, the final table was in my sights."
He played steady for most of that final day, finishing with 24,800,000 chips, which kept him in fourth while other stacks clashed. Thomas noted how the aggression ramped up on Day 7, then settled in at the final-table bubble.
"When it was 12- or 13 handed," he said, "I don't really think people changed their play up too much. At least at my table, people were very aggressive pre- and post-flop. When it was 10-handed, I think people (including myself) correctly tightened up as bubbling the final table would be a disaster."
Thomas is among those members of this year's final nine who've already positioned themselves well, win or lose. He's already inked a deal with 888 Poker, and will certainly be part of that venerable site's US-facing efforts in the years ahead. Thomas also belies his young age in understanding the implied responsibilities that winning the main event would bring.
As Thomas told the fuse, "The main event champion of course has some responsibilities as an ambassador for the game. You are given a ton of attention for winning so I think you owe it to the community to do your best to promote the game in the best light possible."
As you might expect, Russell Thomas his taking his chance-of-a-lifetime shot seriously, having taken a three-month leave of absence from Aetna to hone his game. Yet for all the quantifying and study and preparation – including bringing on Jason Somerville as a personal coach and filming his experience for the poker world to see—he's also not afraid to enjoy the moment.
The "Thomas contingent" may turn out to be the largest in attendance in the Rio's Penn & Teller Theater in a couple of weeks, with more than 100 of his friends and family scheduled to make the trip. Will they get to see him wearing the bracelet? Whatever the chances, Russell Thomas plans to make the most of them.