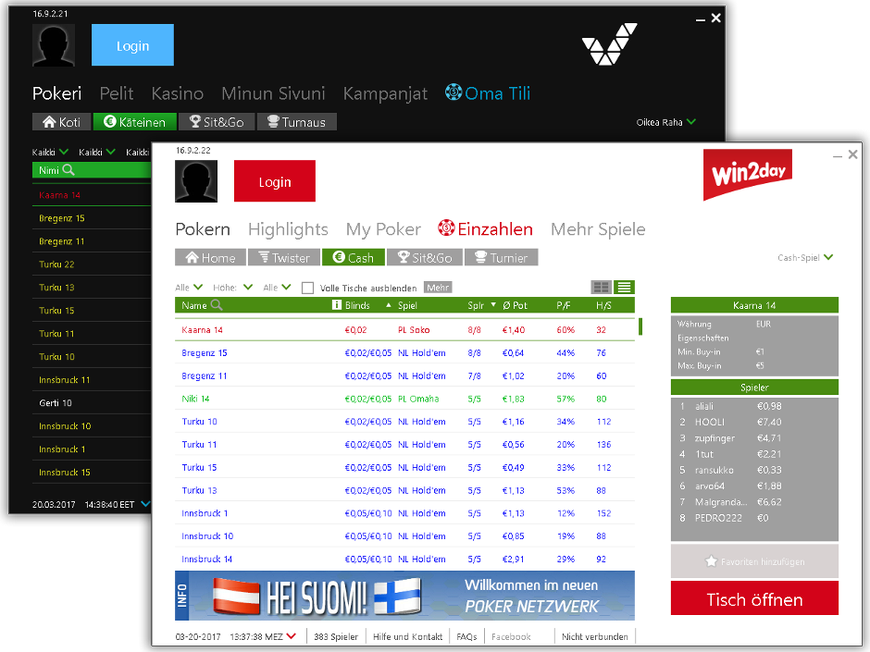 In what is a first in the history of regulated online poker in Europe, the monopoly online poker providers in Austria and Finland have combined their player pools.
Win2day, owned by the Austrian Lotteries and Casinos Austria, and Veikkhaus, the new brand controlled by the Finnish Slot Machine Association, both recently announced that they had completed the project of combining the player pools of their two online poker rooms.
"The Finns are here!" reads an announcement on the Win2day site. "We are now combining poker forces with the state-licensed Veikkhaus from Finland. This is the start of the first cross-border, regulated online poker network."
Veikkhaus posted a similar announcement on its site, boasting of a "new era in online poker." The site predicts that the online player pool will at least double, and promises bigger tournaments, better cash games and more games running around the clock.
Playtech has for a long time provided online poker software to Ray, which recently consolidated its online gaming offer under the single Veikkhaus brand, and last year coaxed win2day to move onto its platform.
This paved the way for the pair to consider shared liquidity, something
iPoker said was on the cards last August. It received final approval from Finnish authorities in December; the final integration has since taken around three months.
As part of the integration effort, a new rake table has been agreed upon, Ray has posted. There is also a new, "optimized" tournament schedule promising bigger tournaments and larger guarantees.
According to win2day, its Twister games—iPoker's name for its lottery sit and go games—will remain exclusive to Austrian players; potentially this form of poker is not permitted under Finnish law. All other games, with the exception of some freerolls, will be shared.
The new network has also launched with a new game—Soko Poker, also known as Canadian Stud. This game plays like Stud, with four of a player's five cards played face up. The hand rankings have also changed, with a Four Flush and Four Straight ranking above one pair.
This is understood to be the first time iPoker's software has spread this variant; indeed, it is believed to be the first time it has been spread online for real money.
The successful integration of the player pool across two regulated sites in two separate jurisdictions, each with their own regulations and tax systems, is a first for online poker in Europe. The only other occasion such an integration has been undertaken is the shared liquidity of Nevada and Delaware in the United States.
This article originally appeared on Poker Industry PRO and has been republished here as a courtesy to our readers. Please visit Poker Industry PRO for more information on the industry intelligence services that are available, or email sales@pokerindustrypro.com to get a free trial.