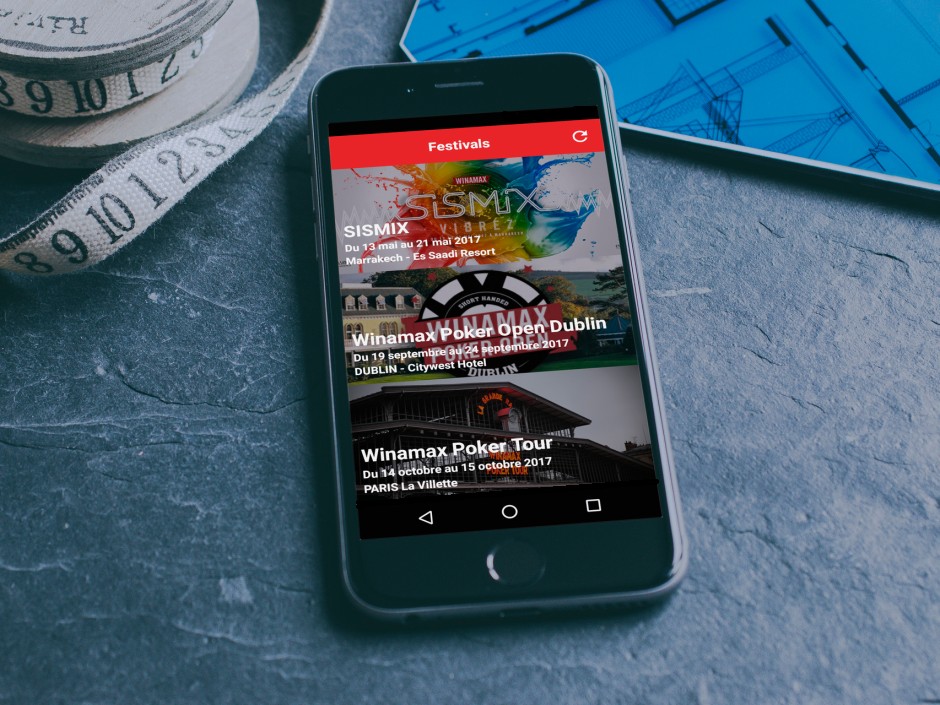 Leading French online poker operator Winamax has announced Winamax Live, a new mobile app that provides up-to-date information on its live event schedule. The app is available in the Apple and Google app stores.
Dubbed as an "essential companion" to event goers, Live provides information for each tournament on the schedule, letting players look up start times, check their structure and compare buy-ins. Push notifications will keep users up-to-date with the latest information.
In the future, the company plans to expand the app to add in real time news and live reporting. It is separate from Winamax's real money online poker app, which is available on Apple, Android and Windows phones.
Winamax has built up a strong following in live events in its home country of France; its long-running flagship Winamax Poker Tour offers accessible, regional live poker to every corner of the country. The 2016/2017 season spanned three months and visited a total of 46 stops.
The operator also visits Ireland for the Winamax Poker Open in Dublin, which will be hosted in September this year. And the operator recently ran its fourth annual Sismix event in Marrakesh, a stop that was as much party as it was poker—with a focus on music, pool parties and other live entertainment on offer across the schedule.
Winamax is not the only operator to offer a special app to help live event goers: PokerStars has a similarly named app that provides much the same information to attendees of its Championship and Festival events. Indeed, it comes at a time when the entire industry is refocusing on live poker, with PokerStars, 888 and partypoker all recently announcing overhauls and fresh investment in their live tours.
Winamax enjoys a dominant position in French online poker, recently hitting the milestone of controlling 50% of the cash game market. For the meantime at least, its primary competitor PokerStars appears to be willing to concede defeat.
Still, the status quo will be shaken up if and when shared liquidity arrangements are made between France, Italy, Spain and Portugal, with the most optimistic estimates eyeing the end of 2017.
PokerStars will be the largest benefactor, with a controlling market position in every market but France. But Winamax is preparing as well, hiring staff and applying for licenses in other jurisdictions. Taking its successful live poker formula from France and bringing it to other countries, as it has done so far in Dublin and Marrakesh, could be key to keeping competitive.
This article originally appeared on Poker Industry PRO and has been republished here as a courtesy to our readers. Please visit Poker Industry PRO for more information on the industry intelligence services that are available, or email [email protected] to get a free trial.