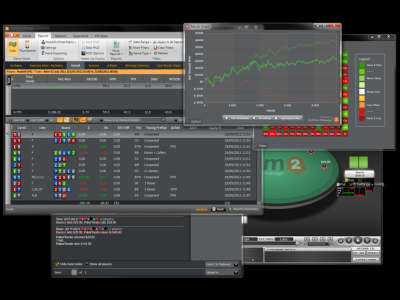 After 18 months of development, six months of private and public beta testing, 20,000 development man-hours and multiple release date delays, the next generation of Hold'em Manager – dubbed HM2 – was released November 1.
New features include a redesigned interface, hundreds of new HUD and report stats, online backup and synchronization, and iPhone and iPad applications.
The purchase price is currently the same as Hold'em Manager 1 – $90 for the Pro version, $60 for the restricted "small stakes" version, and $150 for a combined Hold'em and Omaha package.
For existing users, anyone who purchased after May 1, 2011 receives an upgrade for free, those who purchased after November 1, 2010 will receive a 50% discount, and prior to that, a 33% discount.
Video Preview: Learn all about HM2 in our 4-part in-depth feature →
One of the much-touted new features is the first-class support of NoteCaddy, an automated note-taking, color-coding and custom HUD stat package. A basic application is included free and a premium version retails for $60.
Although this week marks an important milestone for HM2, the team is quick to inform customers that the final release does not mean development on the HM2 project comes to an end:
"Yes, there is more functionality to be added to HM2 even after it goes on sale," writes an HM2 customer rep. "Build-Your-Own-Stats, powerful new exception-based reporting in the HUD and a free version of HM Vision," are some of the features that hope to debut after the first public release is out of the door.
---