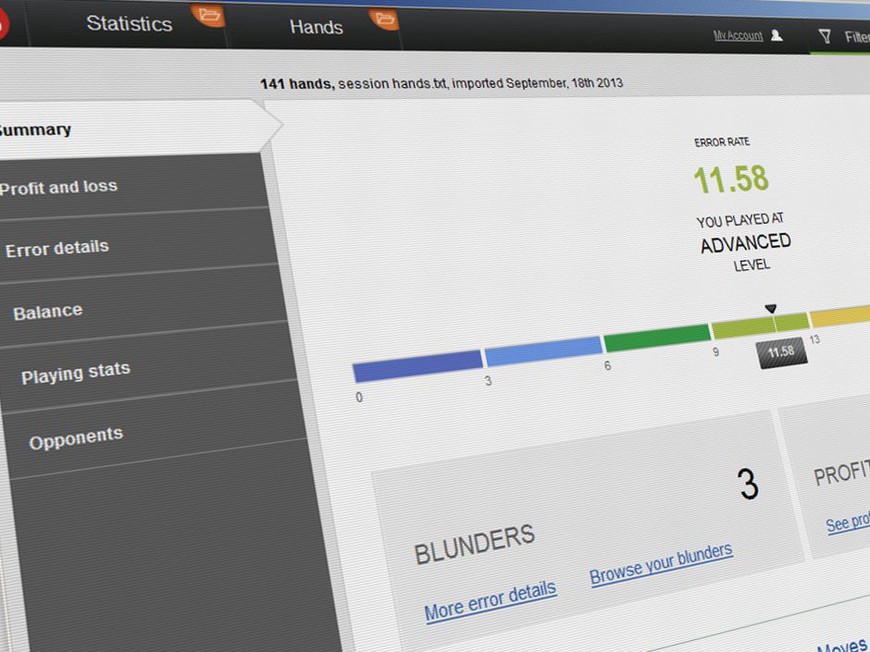 Poker Snowie, the poker education software that boasts "near perfect" game theory instruction, has released a major update that now allows subscribers to play directly against the engine itself.
The new "Challenge" feature lets you play heads up or in ring games against up to nine Snowie opponents. You can even play two tables at once. All played hands are uploaded automatically to their servers, allowing you to immediately review your play in the analysis section of the tool.
Power Snowie uses a proprietary neural network system trained over billions of hands, that Snowie claims makes it the best NL strategy engine in the world.
The tool centers around hand analysis and review. You can import import hands from real-money sessions played online or construct your own scenarios. The engine then analyzes the hands and points out mistakes and blunders. It gives recommendations for each action on each street of the hand, including the EV (expected value) of each decision. It even indicates when mixed strategies (say, raising and calling a percentage of the time) are optimal.
The new facility to play directly against Snowie will allow players to test the burning question—just how good is the engine? It won the endorsement of Dan 'Jungleman' Cates who had the chance to play one-on-one with the bot in October; now anyone interested can test their mettle.
We plan to have a more in-depth follow-up review on this and other new features introduced since we last took a look at the software. Until then, you can sign up for a free trial on pokersnowie.com.
Editor's note: Snowie Games is a pokerfuse sponsor and advertises on the site. However, sponsorship does not affect the editorial decision to give coverage. Pokerfuse also does not accept money for reviews, favorable or otherwise.