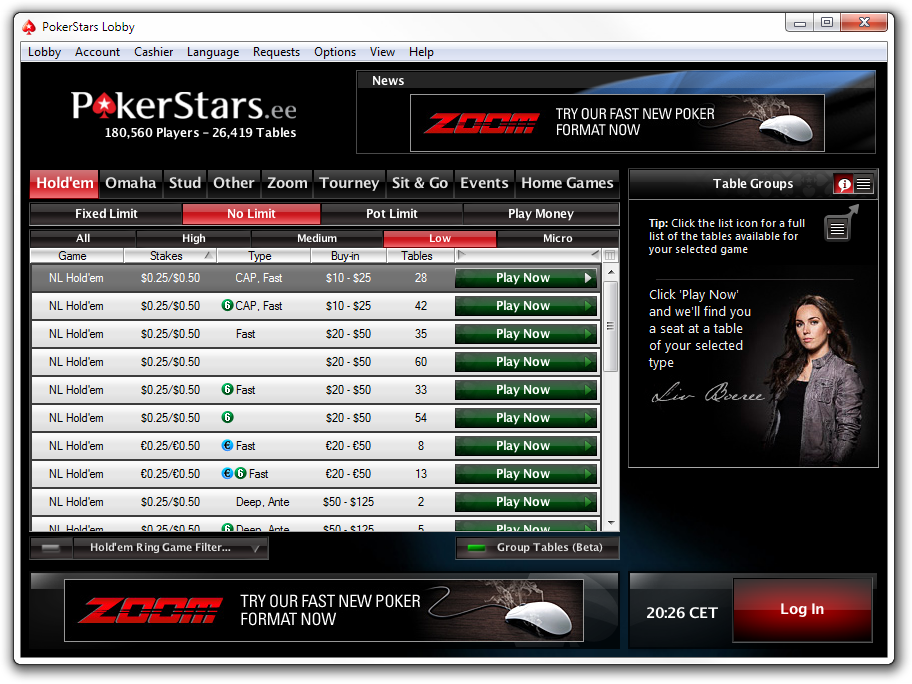 A new update to the Estonian dot.EE and free-play dot.NET client today brought a renovated "tables groups" feature to both play money and real money lobbies.
The new innovation—currently enabled by default on play money tables and disabled for real money games—groups tables by stake level and game type in to a single row in the lobby. A single "play now" button automatically seats a player at a table of the chosen type.
The new concept debuted back in April on the dot.COM play money tables. The design in the latest incarnation has been reworked: Groups no longer expand to show tables below, but instead are fixed on a list to the right. A player list for individual tables is also displayed below. The "play now" button replaces a smaller "seat me."
Assuming the current trials go well, if the feature is rolled out on all sites and enabled by default it may go a long way in addressing a growing concern with lobbies—pages and pages of tables that make it hard for a player to find a game they want to play. It is an issue that afflicts all poker sites but, given their size, is especially noticeable on PokerStars.
The problem is exacerbated with many poker players wanting to start new tables, creating long lists of tables with one player waiting.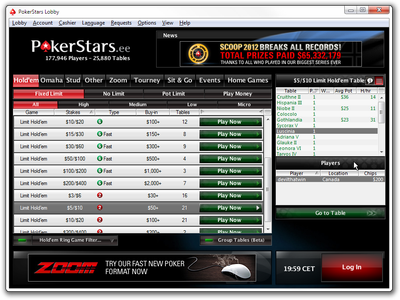 This issue particularly affects heads-up lobbies, where waiting games can outnumber active games by a factor of 50:1 or even more. A common complaint is this "looks bad" to a recreational player who may be put off by an apparently predatory waiting game.
It is likely to be welcomed by many players as it should have a positive effect in keeping games running and making it more appealing to join games. Players who prefer to start new games may suffer, as players using the table groupings feature will be taken to fuller tables by default.
Estonian players who want to give it a try for real money must first enable it through Options > Lobby Display Options. Once enabled, a "Group Tables" toggle button appears in the bottom right allowing players to quickly switch back to the traditional lobby list when needed.