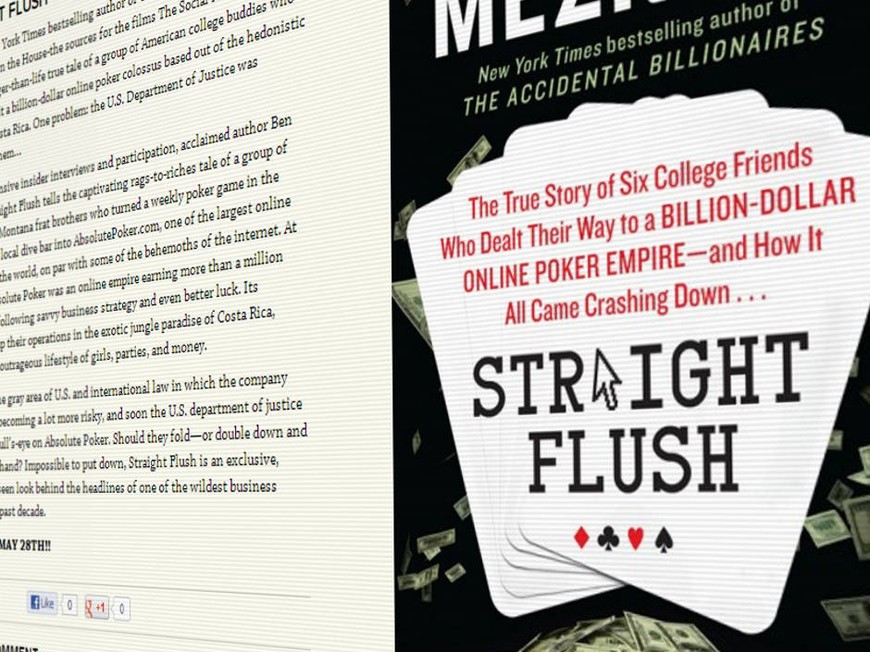 Straight Flush, a new book about the rise and fall of Absolute Poker that has drawn criticism from the poker community well before hitting the shelves, will be released next month.
Author Ben Mezrich's site calls the story a "larger-than-life true tale of a group of American college buddies who brilliantly built a billion-dollar poker colossus."
When Mezrich announced that he would be writing the book, calling the story "very American," members of 2+2 urged him to tell both sides of the story.
The description of the book, now available for pre-order and out May 28, appears to dismiss the heavily documented cheating scandals at Absolute Poker that robbed players of millions of dollars.
Instead, Mezrich writes of "rags-to-riches" University of Montana frat brothers "earning more than a million dollars a day, following savvy business strategy and even better luck."
Mezrich is well-known for writing Bringing Down the House, about the MIT blackjack card counting syndicate, and The Accidental Billionaires, the story behind Facebook. Both those books were turned into movies.
Pokerfuse learned late last year that Mezrich also had apparent ties to the founders of Absolute Poker as early as 2007.
Straight Flush is "based on extensive insider interviews and participation," according to Mezrich's site. While it's unclear how much of the cheating scandal will be detailed in the story, Mezrich writes that the DOJ was "gunning" for AP—and ultimately shut down the site—because it operated in the "gray area of US and international law."
Attempts to reach Mezrich by email were unsuccessful.