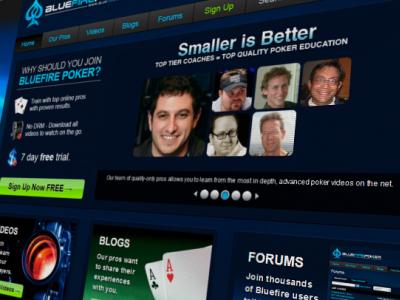 Bluefire Poker, the poker training site founded by high-stakes cash game player Phil Galfond, has announced a new team of multi-table tournament (MTT) instructors to produce instructional video content. Aaron Been, Stéphane "FouTight" Bisson, Andres Pereyra and Jacob "Vekked" Meyer join the stable of 20+ coaches that produce videos for Bluefire.
Until now, Bluefire has focused exclusively on NL Hold'em, PLO and SNG content, from instructors including cash game players Martin "Giggy" Fournier Giguère, Jason "PBJaxx" Senti, new signing Dusty "leatherass" Schmidt and Phil Galfond himself, and SNG instructors including Dustin "DDBeast" Bowman and Chip "Z32fanatic" Ferguson. Bluefire is also notable for it's French-language output, pitting it alongside French-only mainstay limpers.com.
"For the past few months we have reached out to numerous top pros … looking not only for potential pros that crush online MTTs that could also effectively teach their styles at a level Bluefire Poker members have grown to expect, but also guys that are active and respected in the poker community," states the Bluefire announcement. "After receiving audition videos for over 6 months, we are happy to announce that we have finalized our MTT team."
New signings are of particular note in a niche industry hit hard by the events of Black Friday. A significant reduction in customer base coupled with increased competition among instructors – as many find themselves otherwise without work – has lead to reductions in output and cuts in coaching rates. Competition has increased further since incumbent Goliath PokerStrategy.com recently opened their doors to US customers and started to offer monthly subscription-based packages.
Bluefire bills itself as a premium-quality training site, under the strap line "Quality over Quantity." While other sites have eschewed signup fees and have come to agreements with poker rooms to offer content for free, Bluefire maintains a $100 signup fee along with a $30 monthly subscription.