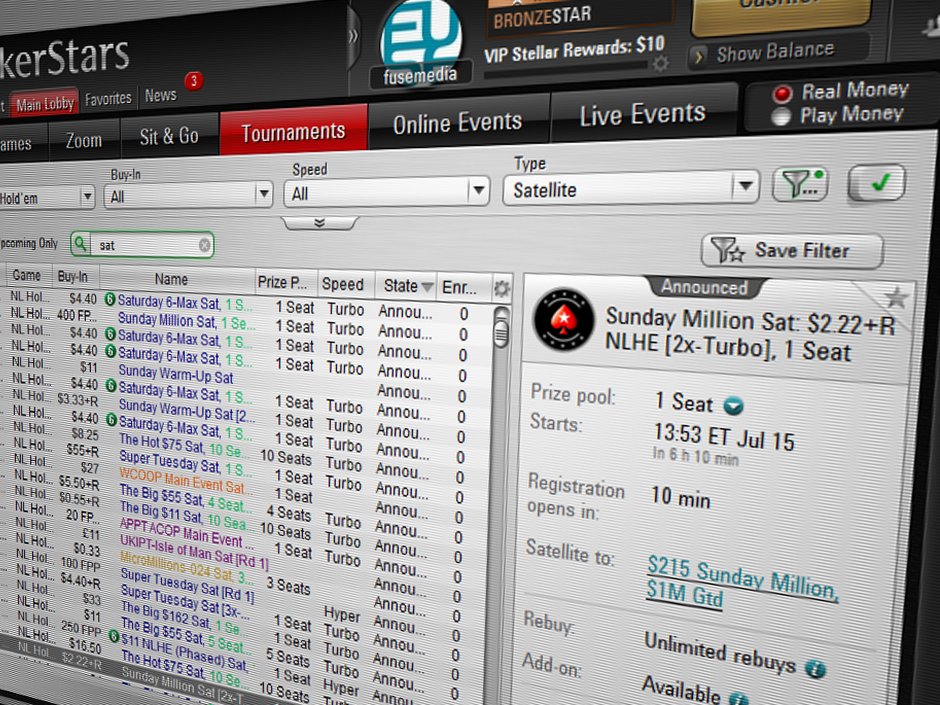 PokerStars has changed its policy for tournament satellites where players buy in for Frequent Player Points (FPP).
As of July 14, players who win tournaments seats through these satellites are no longer able to un-register from the event.
Previously players would receive the event buy in credited to their account in Tournament Dollars ($T) which could be used to enter any tournament or sold to other players for cash.
Cash game players in particular took advantage of the system to turn their FPPs into $T, which they could then sell to tournament regulars for 95%-99.5% of their value—or use them to play tournaments at the buy in and start time of their own choosing.
Supernova Rates
The move most affects cash game players below the VIP status of Supernova, who were effectively able to exchange their FPPs for a higher rate than that available in the PokerStars VIP store.
A Bronze Stars VIP can purchase a $10 VIP Reward Bonus for 1,000 FPPs, at Gold Star status, the $75 bonus costs 6,250 FPPs—the equivalent of $12 per 1,000 FPPs.
At Supernova, the $1,600 VIP Reward Bonus costs 100,000 FPPs – a rate of $16 per 1,000 FPPs.
The most popular FPP satellites cost 235 FPPs to enter and award two $11 tickets to first and second, with the third place finisher receiving 10 FPPs. A breakeven player of these satellites would receive slightly over $15.7 per 1,000 FPPs.
The hyperturbo six max format of these satellites allowed cash game players to convert their FPPs to $T in very little time—and receive a very similar rate to that of Supernova status players.
In response to a player query, PokerStars confirmed that players would still receive $T if they win seats for a tournament where they are already registered.
Impact
Two impacts are immediately noticeable. The volume of the FPP satellites has reduced considerably—fewer high volume players are registering, and players are posting on forums seeking advice on alternative ways to get the best value.
Players who used the facility as a regular part of their play have naturally expressed their anger at the decision.
Some have admitted that using the satellites in this way was not what PokerStars intended—and that the recreational players who want to win entry to a particular tournament should not be faced with a table full of cash game regulars who have no intention of playing the event.