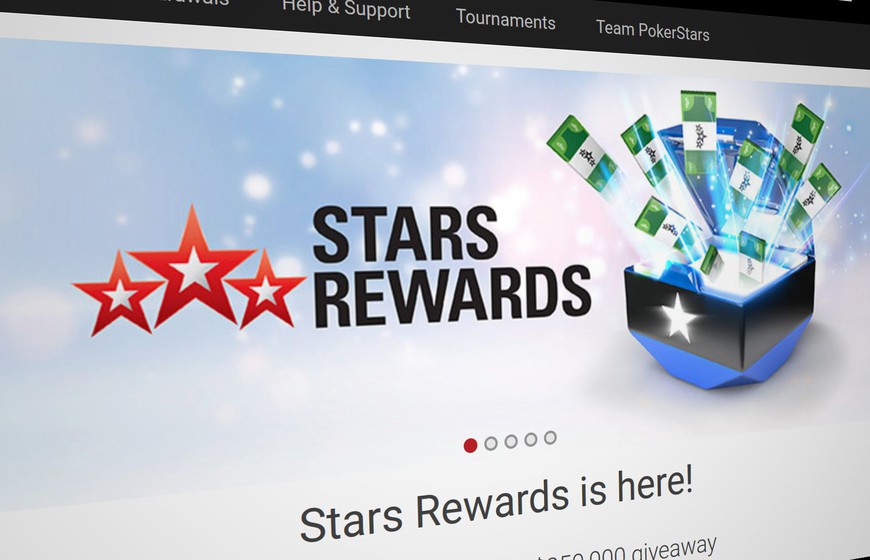 The world's largest online poker room has launched its randomized loyalty program Stars Rewards in the New Jersey market.
With this rollout, PokerStars has finally completed the switch from its traditional VIP program to its Chests-based random prizes system across all its markets. New Jersey was the last market to use the decades-old VIP tier system, which rewarded high volume players with big cashback incentives.
In June, technical issues with the VIP program surfaced on its New Jersey platform causing players to unable to track their VIP progress. A month later, Dylan Coady, the Head of Customer Loyalty of PokerStars, stated that the operator has been unable to fix the issue, which was a result of maintaining two different programs—the VIP Club in New Jersey, and Stars Rewards elsewhere—at the same time.
"We don't expect to fix the issue before we are in fact able to launch the new Stars Rewards program in New Jersey later this year," wrote Dylan Coady in Two Plus Two forum in late July.
Old
VIP

Traditional Program vs Stars Rewards

Rather than focus purely on volume when rewarding players, Stars Rewards considers a variety of factors including stakes played, the frequency of play and the amount a player deposits ("net" deposits). Unlike the traditional VIP programs where players are awarded on a monthly or annual basis, players in this new program are awarded on a daily basis.

One of the cornerstones of Stars Rewards is that players earn reward points not just on poker but also on PokerStars' other gaming verticals, including PokerStars Casino and its sports book, BetStars. The introduction in New Jersey is thus well time, as the sports book (which was only recently launched in New Jersey market).

Upon completing enough points, players earn "Chests" which contains a wide range of mystery prizes including tournament tickets, free sports bets, seats to live tournaments, and even a chance to win cash prizes up to $1000. There are six tiers of chests with each of them awarding different prizes. The higher the level of chests, the bigger the rewards.

"The majority of the NJ playerbase will be receiving more with Stars Rewards than the previous VIP Club. This is especially true if they play more than just poker," explained Coady.

What separates Stars Rewards from traditional VIP programs is that prizes are individually tailored—meaning a tournament poker player could score tournament tickets, a spin and go player could win free spin and go tickets, a sports bettor might win a big bet or a casino player can win an instant casino bonus. Moreover, chest requirements and benefits vary from player to player so an exact estimation of rakeback percentages is difficult to compute.

"We don't advertise rakeback percentages; that's because Stars Rewards isn't a traditional rakeback program," Coady added.

When the system rolled out in the international markets, it was stated that two thirds of players received on average 20% more in rewards. However, the remaining one third—the higher volume grinders—saw big reductions in their cashback, with the top grinders saw rewards reduced by 85%.
"Very Positive" Response to Stars Rewards
The Stars Rewards program was first rolled out in Denmark in May last year followed by another trial in the Italian market in June.
After a successful trial in both these markets, the operator expanded the program across multiple markets including the international dot-com and European segregated markets. This left New Jersey as the only market not yet to transition to the new rewards program.
The new loyalty program was heavily criticized by high stakes players for reduced their rewards, instead rewarded more to casual and recreational players.
However, the company in its Q3 2017 financial report (the first full quarter following the global rollout of the new rewards system), stated that Stars Rewards had a "very positive" impact on poker revenue. That quarter, poker grew 13% and was largely attributed to this new program.
This was once again confirmed by Head of Customer Loyalty of PokerStars who recently commented, "what we've seen with Stars Rewards in the ROW is that there is a high-level of engagement with the program and players open their Chests and use the rewards inside at a rate that exceeded our highest expectations."
$250,000 Added Prizes
Stars Rewards in the New Jersey market is being accompanied by a huge launch promotion that pays out $250,000 in prizes, with plenty of random chests containing $1000 cash prizes.
They are being distributed randomly to anyone who simply participates in the new program. All Chest "tiers" have a chance of holding a $1000 prize, though the higher tiers have a higher probability the hold the special prizes.
The promotion started on November 7 and will continue to run until at least $250,000 of rewards has been distributed.