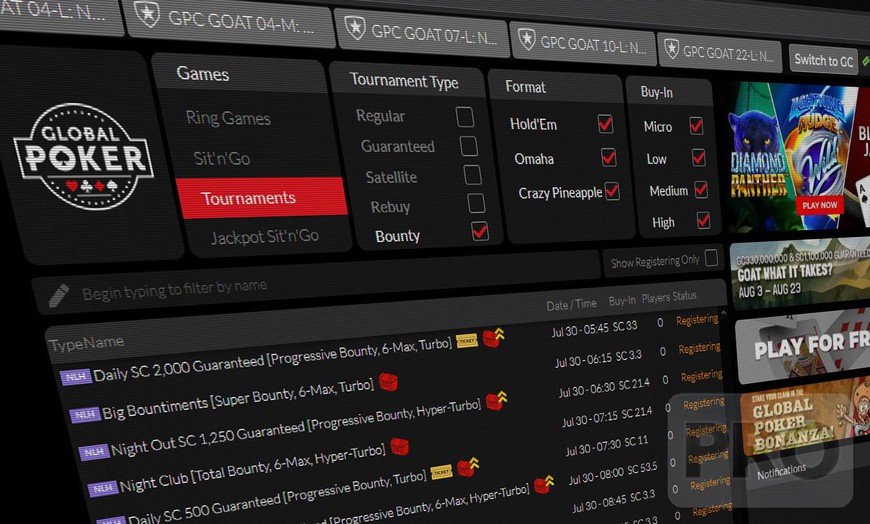 Global Poker, one of the few legally-operating online poker rooms offering real cash prizes available across the United States, is back with their headlining GOAT Championship.
Set to kick off on July 19, The GOAT III features 1,400,000 in Sweeps Coins (SC) prizes, equivalent of $1.4 million in USD, and 630,000,000 in Gold Coins (GC), alongside trophies and branded merchandise up for grabs.
The Championship will last until August 8, with 204 unique events. Players looking to play for real money prizes can get involved with SC tournaments, while those playing in GC events can still get their hands on trophies and unique GOAT III merchandise.
Valuable and Interesting Prizes up for Grabs
In addition to Sweeps Coins and Gold Coins that will be spread among tournament winners, GOAT III offers a variety of unique prizes that players cannot get elsewhere.
All GC and SC event winners will receive a unique, custom made avatar that will make them stand out from the crowd. The room has also prepared a Champion Pack for all the winners, which includes a GOAT trophy and some branded merchandise.
Winners in SC tournaments will also have an opportunity to pick a live tournament they want to play in and represent Global Poker.
On the other hand, the operator will also give out exclusive apparel featuring the new GOAT logo to all GC event winners. These prizes are not available via SC tournaments, so Global Poker is trying to incentivize players to get involved on both fronts during the series.
Once all tournaments have concluded and all winners are known, there will be two Tournaments of Champions taking place on August 15. One will gather all SC winners, and the other one is open to all GC event winners. All qualifying players will have a chance to win even more prizes at no additional cost.
Plenty of Freeroll Action
Global Poker will provide players with plenty of opportunity to get involved with the GOAT III Championship for free. The operator is running a series of freerolls in July and August, giving out free tournament entries.
The Opening Freeroll on Sunday, July 18, features 5000 SC worth of prizes. The tournament will take place at 2 pm ET and it will award a total of 237 SC event entries. Top three finishers will receive tickets for a 218 SC tournament.
The room will also host a series of pop-up freerolls on weekends. These tournaments take place on Saturdays and Sundays, but the exact starting time is revealed only an hour before the start. There will be three tournaments on each of these dates, featuring prize pools of 500 SC.
| Date | Time | Prize Pool |
| --- | --- | --- |
| Saturday, July 17 | Between 12:00 pm and 8:00 pm | 3 × 500 SC |
| Sunday, July 18 | Between 12:00 pm and 8:00 pm | 3 × 500 SC |
| Saturday, July 24 | Between 12:00 pm and 8:00 pm | 3 × 500 SC |
| Sunday, July 25 | Between 12:00 pm and 8:00 pm | 3 × 500 SC |
| Saturday, July 31 | Between 12:00 pm and 8:00 pm | 3 × 500 SC |
| Sunday, August 1 | Between 12:00 pm and 8:00 pm | 3 × 500 SC |
How Is Global Poker Legal in the US?
Global Poker is currently the only poker site providing its services across the US. The operator only does not accept players from Washington. You might be wondering how this is possible given the current online poker climate in the USA.
The operator does not adhere to the traditional online poker room setup, but instead uses a sweepstakes model. Players can purchase Gold Coins (GC) on the site for real money. These coins can be used to participate in cash games and tournaments, where you can win more Gold Coins and any other prizes provided by the room. However, Gold Coins can never be exchanged for real money.
But, every time you purchase Gold Coins, the operator will also treat you to an equal amount of Sweeps Coins (SC). The player is not buying these—they are simply awarded to them by Global Poker as a gift for their purchase.
You can use Sweeps Coins to enter different cash games and tournaments, the ones using SC instead of GC. The main difference between the two is, you can exchange SC for real money. Because players have never actually purchased Sweeps Coins, Global Poker says there are no legal obstacles.
What this means for the GOAT III Championship is that there is $1,400,000 worth of real money prizes up for grabs. So, those looking for some tournament action, especially if living in one of the states where online poker has not been regulated yet, might want to check out what Global Poker has in store.